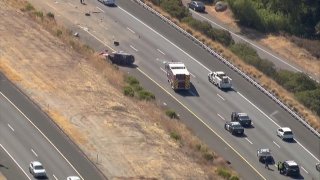 A woman died and two children were hurt after she lost control of an SUV and crashed on Interstate 8 near Alpine Friday morning, California Highway Patrol said.
The 35-year-old woman was driving her Chevrolet Tahoe westbound on I-8 near Tavern Road at about 8:30 a.m. when, for reasons still under investigation, she lost control and traveled onto the center dirt portion of the roadway and into eastbound lanes.
The Chevrolet was carrying a 9-year-old and a 3-year-old in the rear seat. The driver of the Chevrolet, was unrestrained, was ejected from the vehicle, and died at the scene, CHP said. The two children were both restrained and suffered moderate injuries and were taken to Rady's Children's Hospital.
Debris from the Chevrolet struck a Mazda 3 traveling in the eastbound lanes, CHP said. The driver of the Mazda 3 was wearing a seatbelt and sustained no injuries.
The identity of the woman was not yet released pending family notification.
The investigation is ongoing, anyone with information can contact the CHP at (619) 401-2000.
No other information was immediately available.
This is a developing story. Details may change as information is released.