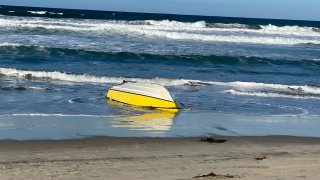 A boat capsized during an apparent smuggling attempt Monday morning, resulting in one death, one person in critical condition and the arrest of a half-dozen people, according to the U.S. Border Patrol.
At 2:30 a.m., the Joint Harbor Operation Center spotted a "suspicious vessel" off the coast of Imperial Beach. The agency said the open-platform Bayliner style boat had problems in the high surf.
A few minutes later, the center noticed the vessel had capsized in the cold water, so it called Border Patrol.
"Smugglers often overcrowd small, open vessels, and in the cases where personal flotation devices are provided, they are often unsafe and insufficient," Chief Patrol Agent Aaron M. Heitke explained
Border Patrol agents responded to the scene and found seven people on the beach. Two of them needed medical attention and were transported to a nearby hospital, according to Border Patrol.
Once at the hospital, officials confirmed one of the two people, a 62-year-old Mexican national, had died. The second person, a 44-year-old Mexican national, remained at the hospital with life-threatening injuries, agents said.
Border Patrol arrested the remaining five people, Mexican nationals ranging ages 22 to 51 years, for allegedly entering the country illegally. The group was taken to a nearby Border Patrol station.
The captain of the boat, 51, will remain in federal custody to face criminal charges, Border Patrol said.