Depending on the type of emergency, when San Diegans call 911, it may be a while before an officer arrives on scene. Police callout data and internal communications reveal the department's staffing issues are far from over and could linger for years to come.
The San Diego Police Department is budgeted for 2,036 sworn officers for the current fiscal year. A memo from Chief David Nisleit last August reveals only 1,861 of those positions are filled. And at that time, 232 officers weren't available for duty for a variety of personnel reasons.
Jared Wilson, the president of the San Diego Police Officers Association, said there are plenty of explanations for the staffing shortage. Principally, he said, it's a difficult and dangerous job that doesn't pay enough.
"It's incredibly difficult for large-city officers and throughout the nation, particularly here in San Diego, we are seeing we are understaffed and really overworked," Wilson said.
Wilson also said that putting on the uniform these days carries some baggage in the wake of high-profile incidents like the killing of George Floyd. Community leaders NBC 7 spoke with, like Benjamin Prado, agree there's a history of mistrust.
"We see that there's continued tension," Prado said, "in the relationship between law enforcement and the community itself."
Prado is with American Friends Service Committee and operates the U.S.-Mexico Border Program out of an office in the Gateway neighborhood. Prado said the police department needs to change the way it serves and protects.
"It requires a fundamental shift in the philosophy of policing here, and not only in civics in San Diego but all throughout this entire country," Prado said.
It's SDPD Lt. Steven Waldheim's job to recruit new men and woman to wear the uniform. He said convincing people to consider a career in policing is difficult.
"They say, 'I have to do different shift work, work weekends, look at what's going on in the country pertaining to the protests,' " Waldheim said. "A lot of people have gotten college degrees and they can find pay doing something else that they wouldn't have to put their lives on the line."
In addition, the department is having trouble keeping its current officers in an SDPD uniform. A staffing report from January shows 120 officers have left the department so far this fiscal year. That's 17 a month on average. Forty-two of those cops bolted to work for other California law enforcement agencies.
Those departures hurt because, Walheim said, it costs about $200,000 to train a sworn officer their first year on the job. He said that data shows officers are more likely to retire with SDPD if the department can hold on to them for the first five years of their employment.
Fewer officers means longer emergency response times. NBC 7 Investigates dug through years of data and found the department generally isn't meeting city goals that are laid out in the budget.
An exception relates to the most serious types of emergencies, which the department terms as "priority zero." That is defined as, "an imminent threat to life," which could include an officer or person down, attempted suicide or a vehicle accident that dispatch doesn't have any details about. The goal time for police response for a priority-zero callout is seven minutes. Our review of the data found that officers are arriving within six and half minutes on average.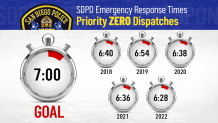 The dropoff in speedy responses is immediate when you look at the next most-serious type of emergency, "priority one" dispatches. Those involve "serious crimes in progress or a threat to life," which could include missing children, child abuse, domestic violence, disturbances involving weapons/violence and bomb threats. The city's goal time for priority one callouts is 14 minutes, but NBC 7's review of callout data showed the average response time was more than 36 minutes. The data shows San Diegans have seen response times get slower and slower for these types of callouts.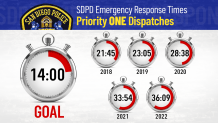 "This is why people are not joining, because there is a lack of confidence in these police departments to carry out a function that needs to be fully integrated with the needs of the community," Prado told NBC 7.
That same Nisleit memo from last August provides an explanation of why lower-priority dispatches are taking longer. He writes:
"If available staffing levels continue to fall in FY23, the initial and pending operational decisions outlined in this memorandum will not be sufficient to keep responses to emergency calls for service at seven minutes or less. SDPD will be forced to make more drastic service reductions to maintain emergency response times, which will result in community expectations going unmet and a corresponding increase in complaints."
How a New State Law Could Increase Police Applicants
Some hope a new state law could help. Since January, candidates don't have to be a U.S. citizen or a permanent resident who has applied for citizenship to become a sworn police officer. SB-960 only requires a person to show that they have their federal work permit.
"It's certainly a benefit if it gives us a larger pool range of applicants that we get to choose from and want to apply with the San Diego Police Department," Waldheim said.
The law still requires applicants to have graduated from a public school or other accredited higher school, have passed an equivalency test, or gotten a degree from a two-year or higher accredited institution.
Wilson said the union has concerns.
"It's a slippery slope," Wilson told NBC 7. "We've seen other jurisdictions in America lowering their standards for police officers —large police agencies — that have lowered their standards just to get people in their door and we don't want to do that."
"I don't think so," Waldheim responded, "because one difference is if they're permitted to work here in the state of California, and same thing with the military folks, you don't have to be a U.S. citizen to fight for your country."
Although the legislation seeks to provide inclusion, diversity and offers a new hiring tool for local leaders, Prado said it's not enough to obtain transparency and restore trust in the community.
"It's important that the state of California does not discriminate against migrants who want to be or want to become part of law enforcement," Prado said. "That's an important step, but it doesn't solve the more broader, bigger institutional issues that come with policing."
NBC 7 Investigates reached out to all local police agencies in San Diego County. To date, no department has received a single applicant under this new law.
SDPD said it's taken steps to entice people to join the force. The last budget increased salaries for new recruits, offered a $15,000 bonus for officers that transfer from other agencies and even will give current officers up to $5,000 if they personally bring in new recruits.
The department has also created the Blue Arrow Program, which aims to bring in new recruits with a six-month program. Participants learn how to become the ideal candidate with lessons on integrity, personal conduct, responsible driving, social media and more.
NBC 7 Investigates reached out to SDPD to give the department an opportunity to respond to our data analysis of its emergency response times and discuss what Chief Nisleit wrote in that city memo. A spokesperson directed us to another section of that memo, which stated:
"The department has met emergency response time goals in recent months by shifting motor officers' duties from traffic safety to responding to calls for service, moving community resource and juvenile service officers away from solving neighborhood and juvenile concerns to handling radio calls, and allocating full-time SWAT operators back to patrol commands to backfill their losses. These decisions, along with closing front counters at patrol divisions due to staffing, are prompting complaints from community members but are essential to maintain responses to emergencies and critical incidents."
The spokesperson went on to say:
"Staffing has improved slightly since the memo was written, and in some cases, I know front counters are reopening in some commands like Northeastern. In terms of not meeting response times beyond those for priority zero or emergency calls for service, this remains a concern for SDPD and the communities we serve. Community members have expectations that when they request police services, we will respond to meet their needs. SDPD continually strives to meet or exceed those expectations and will continually look for solutions that enhance performance goals."