The drains inside the boys' locker room showers at Poway High School don't drain. The clay pipes, installed when the school was built in 1961, aren't just clogged, they're busted beyond repair.
Ruben Arras, the director of facilities for Poway Unified, said a true repair would mean ripping up the floor not only of the shower room but the entire wooden floor of the gymnasium as well. The projected cost is $20 million. The district says it doesn't have the money unless it comes at the cost of cutting student programs. So for now, there's only one solution.
"We vacuum it out daily," Arras said. "We remove the water."
Outside the showers are rows of broken lockers. Some are so rusted that they no longer open or close. Students just leave their backpacks out in the open.
To the untrained eye, the gymnasium itself may look normal, but a closer inspection reveals sunlight peeking through the roof. Poway High Principal Richard Nash is very familiar with what happens when it rains.
"A couple times we've had to cancel a game in the middle of the game because the water is coming through the roof," Nash said.
Poway High's gym doesn't have air conditioning at all, and more than half of the antiquated heat lamps in the ceiling no longer work.
Poway Unified School District'S Deteriorating Buildings
Nash told us new Poway High parents are often surprised when they hear stories from their children or see it for themselves.
"I think nobody's accepting of this," Nash said. "I think the reason we're talking about this today is because we know it's unacceptable."
Many other Poway Unified schools have similar problems. For more than two weeks this past August, students at Rancho Bernardo High and Bernardo Heights Middle dealt with a failing air conditioning system. To cope, classes moved outdoors, fans and portable AC units were brought in, and school days were shortened or canceled outright.
"Every student in our school will come through this space with the expectation to learn and it's substandard," Nash said. "It needs to be improved."
Poway Unified associate superintendent Ron Little said the district has only been able to take a "Band-Aid" approach to fix major issues. He showed us an assessment report from 2020 that details the conditions at each school and lays out an ominous forecast for when problems will rise to a level where students can no longer learn safely.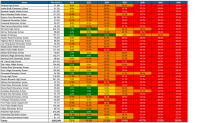 "It's just a matter of time until all of the major systems at all 39 schools eventually fail," Little told NBC 7. "By 2024, two-thirds of our schools will be in orange, almost critical condition. And by 2028, something like 90% of our schools — their major systems will be failing."
How Poway Unified Got Into This Position
So how did one of San Diego's wealthiest communities end up with a school district with infrastructure this bad? Answering that requires an understanding of how districts fund facility construction, repairs and upgrades.
California doesn't provide specific funding for K-12 district facility upgrades or modernization. While districts can use money from their general funds, that money is intended for student-related expenses. So for construction and repair costs, most districts pass general obligation bonds with voter approval. If school districts are successful, the state may match the bond amount. The borrowed bond amount and interest are paid for with property tax money.
"That school district funding model really relies on the local community to pony up and support school districts and their facilities' needs," Little said.
Little says Poway Unified passed a bond measure in 2002 that gave the district $198 million and one in 2008 for $179 million. By 2011, that money had been spent. That same year, Poway voters approved a ballot measure for a third bond.
The deal that was struck gave the district $105 million but required payback of nearly 10 times that amount: $981 million. The district has to begin making payments on that bond in 2031.
The 2011 loan was so fiscally irresponsible, two years later, the state outlawed those types of bonds for school districts. Rules now cap the interest repayments for school bonds so they can't exceed four times the amount borrowed. They also require districts to pay back bonds within 25 years. Bond deals must also allow for early repayment if the timeline is longer than 10 years. The rules were created to prevent the burden from being passed on to future generations.
In 2014, Michelle O'Connor-Ratcliff expressed an opinion of the 2011 deal many in the community still share.
"It was a terrible mistake," O'Connor-Ratcliff said. "Such a travesty. It is now illegal in this state to sell such bonds in the state. Disappointing that the school board wasn't paying attention or they thought it would be OK."
O'Connor-Ratliff is now the Poway Unified School Board vice-president. At the time she made those comments, she was a candidate for the board. She shared those thoughts during a failed effort to restructure the 2011 bond.
The money from that 2011 bond has long since been spent, and the district has been trying to pass a new bond. The most recent attempt happened in 2020. Many voters still had a bad taste in their mouths, however, and only 53% of voters said yes, just shy of the 55% needed to approve the measure.
"Without community support at the ballot box, we're left with little to no resources to invest in our schools," Little said. "Our facilities will continue to fail until the community steps up to the plate."
Little believes the state should set aside funds for districts where a majority of homeowners consistently vote against property tax bond measures.
"There are school districts that, because of their political makeup, have difficulty passing general obligation bonds because their voters are fiscally conservative," Little said. "I mean, what are those districts left to do?"
In Poway, Little told NBC 7 he believes most parents don't realize just how bad these buildings have become. So this time, the district is working to educate families about the state of schools in hopes of convincing them to vote yes on a future bond measure potentially on the 2024 ballot.
That education includes a public event on Friday, March 31, from 9 a.m. to 1 p.m., when Little will deliver a budget presentation at a governance workshop with the Poway Board of Education. That's at 15250 Avenue of Science. During the next year, the district will also provide school-building tours and town halls so parents can see infrastructure in need of repair.
The details of the bond are still being worked on, including how it might impact property tax rates. Little said most of the current district leadership wasn't in place in 2011 and added that they've learned from their predecessors' mistakes.
"We've taken all the steps I feel we can take with respect to mitigating the impacts of that unfortunate decision," Little said. "So I think sharing that message with the public … so they feel better about supporting us at the ballot."
It's a message Poway High's principal hopes families hear, with their children in mind.
"I think our students deserve far better than what we are providing them now," Nash said.
The Condition of Your Child's School
California requires school districts to report the conditions of buildings in yearly School Accountability Report Cards, or SARCs. You can search by district or school here.
You can find information on the latest bond measure for local school districts on their individual websites. We've included information on several districts below: