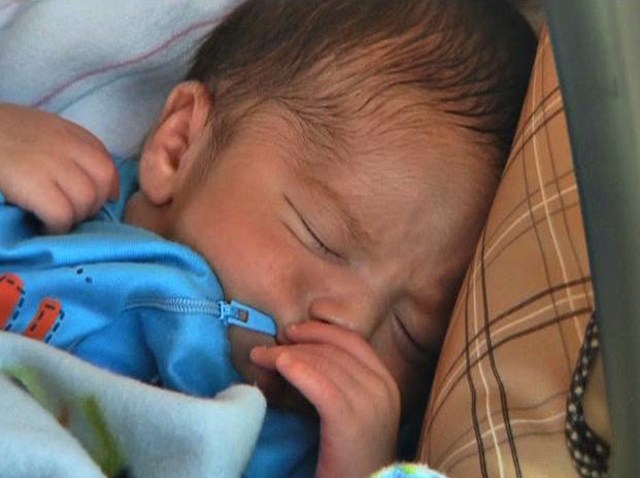 "She loved being a mom," said Jose Castillo. "I don't know how to describe it -- that's what she lived for, was her kids and their happiness."

Martha Castillo, 29, was the mother to Jose Rodriguez's 11-year-old son, their 5-year-old daughter and their newborn son, Nicholas Theodore Vincent, who was born two weeks early.

"I think she knew something was wrong because she said she was scared," Rodriguez said.

Nicholas was born healthy on Oct. 24, two days after Castillo was taken to the hospital with flu-like symptoms.

"She just thought she had a cold that developed into a real bad cough and a 103 degree fever," Rodriguez said.

In fact, what she had was the swine flu. Castillo died 11 days after her baby was born. She never got to see him.

"At the time, I didn't know she was high-risk," Rodriguez said. "It's one of those things where it's happening to people but you don't know the real effects until it hits someone you know."

Rodriguez said the couple's daughter had received the nasal spray but that a shot for Martha was not available.

"I don't want to sit there and be mad or frustrated or what could have been," Rodriguez said. "I just feel bad for her because she was dealt a bad hand."

Now Rodriguez is left to care for the three kids without Castillo, who, he said, took care of everything for the family, with the kids always coming first.

"Now I'm the one who's doing it, I have a newfound respect for what women do for their families," Rodriguez said. "It's real hard."
Rodriguez is asking for the public's help to pay for Castillo's funeral expenses; donations can be sent to his PayPal account (croookeed@yahoo.com).

The county's Health and Human Services Agency said Castillo's story is tragic but that pregnant women should not panic. Rather, officials said, women should take steps to protect themselves against the virus.

At this point, the county's vaccine stocks are severely depleted; authorities said pregnant women should contact their primary care doctors, who are getting the vaccine now.