Republicans Touting Their Chances in November
State GOP delegates convene in San Diego this weekend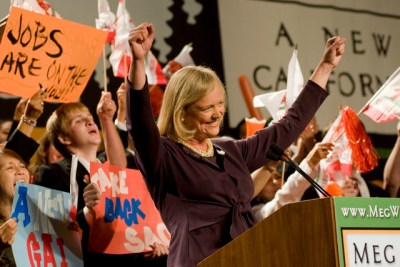 The mid-term election is still two and a half months away. But the Republican Party already is savoring the prospect of regaining a lot of power.
"We have a fresh new crop of exciting candidates who came up through the grass roots, who get it, who aren't career and professional politicians," said Tony Krvaric, chairman of the Republican Party of San Diego County.
Krvaric, who's helping host some 800 state GOP delegates and guests at their party's convention here in San Diego this weekend, is touting the chances of the two wealthy businesswomen who are the party's nominees for governor and U.S. Senator.
"I think we have a renewed vigor and sense of getting back to basics," Krvaric said. "And that will last for a long, long time."
The latest polls of likely voters show GOP gubernatorial nominee Meg Whitman and senatorial candidate Carly Fiorina, within the 'statistical margin of error' of their front running opponents, State Attorney Gen. Jerry Brown, and Sen. Barbara Boxer, respectively.
Republican leaders say Whitman, Fiorina, and G-O-P candidates statewide represent 'change' in their right.
"The crowd and the elected officials that get swept in on this wave will not lose their way," Krvaric said.
Whitman, the former CEO of eBay who's already spent $104 million of her fortune on her campaign, was the keynote at Friday night's banquet session of the state GOP convention.
Fiorina, the former CEO of Hewlett-Packard, headlines today's luncheon session.
John Dadian, a Republican political consultant and campaign strategist, says the two definitely have potential to win their races.
But on Friday he offered this caveat: "In California, unfortunately, the Republicans have a history of shooting themselves in the foot. And there's 74 days left from today until Election Day, and that's what everybody's watching. If they keep their momentum going, Republicans make major gains."
Local Democrats, meantime, say they like their party's chances against the Republicans' slate.
"Voters are tired of bored rich people running for office, paying for their own campaigns ... all (Whitman) has is a bagful of cash and no other credentials for holding public office," Democratic Party spokesman Kennan Kaeder said, referring to Whitman.
Kaeder said the election comes down to "the party of 'No' vs. the party of 'Yes, we can'."