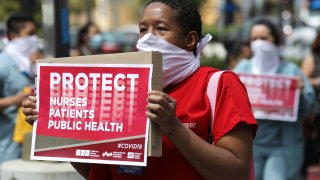 President Donald Trump warned Saturday that the country could be headed into its "toughest" weeks yet as the coronavirus death toll mounts, but at the same time he expressed growing impatience with social distancing guidelines and said he's eager to get the country reopened and its stalled economy back on track.
"There will be a lot of death, unfortunately," Trump said in a somber start to his daily briefing on the pandemic. "There will be death."
Joining Trump were Vice President Mike Pence, virus task force coordinator Dr. Deborah Birx, and Dr. Anthony Fauci, the U.S. government's foremost infection disease expert. Each stood far apart from one another on the small stage.
Trump added a twist on his familiar push for a drug that hasn't been clearly shown to work to stop the virus — he said he may start taking it as a preventative measure after consulting with his doctor, even though there's no evidence to show it works for that, either.
Scarce supplies of medical equipment are leading to growing competition within the U.S. and among nations stretched to their limits by the coronavirus pandemic, in what one French politician called a "worldwide treasure hunt."
The governor of New York state, the epicenter of the U.S. outbreak, vowed to seize unused ventilators from private hospitals and companies, while President Donald Trump said he was preventing the export of N95 respirator masks and surgical gloves, a move he said was necessary to ensure that medical supplies are available in the U.S.
The number of people infected in the U.S. exceeded 300,092 and the death toll climbed past 8,078, with New York state alone accounting for more than 3,565 dead, an increase of over 1,000 in just one day. Most of the dead are in New York City, where hospitals are swamped with patients.
Puerto Rico Discovers Protective Supply Cache Amid COVID-19
The suspected mismanagement of essential supplies during Hurricane Maria has turned out to be a boon for Puerto Rico as it fights a rise in the coronavirus cases.
Health Secretary Lorenzo González said Saturday that officials discovered a cache of urgently needed personal protective equipment at a hospital in the nearby island of Vieques that remains closed since the Category 4 storm hit in September 2017.
He said the equipment includes face masks, gloves, gowns and face shields that were in good condition.
Puerto Rico has reported 18 deaths, including that of a nurse, and more than 450 confirmed cases, including police officers who have demanded more personal protective equipment.
President Trump Holds Call With Sports Commissioners
The White House says President Donald Trump spoke with commissioners of the country's sports leagues on Saturday and told them he recognizes "the good work being done by many teams and players" to care for their communities and fan bases dealing with the new coronavirus.
The virus has decimated the sports world with the National Basketball Association and the National Hockey League suspending their seasons indefinitely and Major League Baseball and the WNBA postponing the start of their season.
The NCAA basketball tournament was also canceled, as were college spring sports such as baseball and softball, lacrosse and track and field.
The White House says the commissioners thanked Trump for his "national leadership and for his interest in the sports industry." He called on them to continue efforts to support their fellow Americans during the current challenge.
A wide range of sports league officials participated in the call, including Roger Goodell, commissioner of the National Football League, and Adam Silver, commissioner of the NBA.
Trudeau Says Canada Won't Retaliate for US Mask Export Ban
Prime Minister Justin Trudeau says Canada won't bring retaliatory or punitive measures against the United States after the Trump administration announced it would prevent the export of N95 protective masks.
Trudeau says he will speak to President Trump in the coming days. He says his officials are having constructive conversations with American officials.
Trudeau says he will tell Trump both countries are interlinked in ways that it would damage both if supply chains are cut. The prime minister says Canada ships gloves and testing kits to the U.S and notes materials from the N95 masks originate in Canada.
Canadian nurses also cross the bridge in Windsor to work in the Detroit medical system every day.
Manufacturing giant 3M says there are significant humanitarian implications of ceasing N95 masks to health care workers in Canada and Latin America, where 3M is a critical supplier of respirators.
6,434 Coronavirus Cases Diagnosed in DC, Maryland, Virginia
The District of Columbia has announced 145 new positive infections from the COVID-19 coronavirus, bringing the total up to 902, with six new deaths bringing the total to 15. Mayor Muriel Bowser has issued a stay-home order for Washington's approximately 700,000 residents. Neighboring Maryland and Virginia have done the same. Bowser has declared a state of emergency, shuttered all schools and ordered all non-essential businesses to close. White House and Capitol tours have been canceled and the National Zoo, Smithsonian museum network and Kennedy Center have closed.
CDC Recommends Covering Faces With Cloth, Basic Masks
The U.S. Centers for Disease Control and Prevention on Friday announced new guidelines recommending the use of cloth materials and basic masks to cover faces.
President Donald Trump made the announcement on Friday during a White House coronavirus task force briefing.
Trump suggested that if people wanted to voluntarily cover their faces with cloth materials or basic masks, that they do so with items that could be home-made, washed and reused.
The recommendation does not extend to medical-grade face masks, including surgical masks and N95 masks, Trump said, adding that those should be reserved for medical professionals.
Trump has repeatedly suggested people use scarves to cover their faces. Trump said he would not be participating in the CDC's voluntary suggestion.
The U.S. Surgeon General Jerome Adams said the reason the guidance on face coverings changed after evidence showed increased transmissions from people who are presymptomatic (people who have not yet shown symptoms) and asymptomatic (people who carry the virus but do not show symptoms).
Adams also stressed that surgical masks and N95 masks should be saved for health care workers. He added that social distancing is still the most important aspect of slowing the spread.
"This is not a substitute for social distancing," Adams said.
---
#SomethingGood: Stories of Comfort, Generosity, Solidarity Amid Pandemic
The COVID-19 pandemic has thrown daily life across the U.S. into chaos. Families suddenly losing loved ones cannot come together to mourn. Health care professionals are putting their lives at risk to treat the untreatable. And the leaders to whom we turn in times of crisis don't have all the answers.
One bit of good news is there is still good news: Self-isolating Americans are rising to this unprecedented challenge to bring relief, comfort, moments of joy and glimpses of normalcy to a locked-down world.
From merciful landlords to "shopping angels" and teddy bear hunts to a cul-de-sac troubadour, check out these heartwarming stories on this week's edition of #SomethingGood here.
---
The Associated Press/NBC