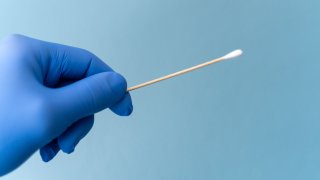 As of Dec. 20, 397,374 San Diegans have tested positive for the novel coronavirus. There are dozens of locations around San Diego County to be tested for the coronavirus, with most government-operated locations conducting the exam for free, while many of the medical centers performing the tests may require insurance — check before you go.
Free County- and State-Run Sites
The county of San Diego Health and Human Services Agency and local healthcare systems have coronavirus testing sites across the county.
---
To see testing sites by location, click here. To see testing sites by day, click here.
---
County testing sites are managed by the California Department of Public Health and the County of San Diego Health and Human Services Agency
The county has also deployed mobile testing sites in an effort to make testing widely available for priority populations.
Additionally, the San Diego Metropolitan Transit System (MTS) will host free pop-up COVID-19 testing sites at select transit stations. No appointments will be necessary and every station will be accessible by bus or trolley. Click here for more information.
The county recommends that people with and without symptoms who are at higher risk for COVID-19 be tested. Healthcare and essential workers should also get a test, as well as people who had a close contact test positive, whether they are showing symptoms or not, or live in communities that are being highly impacted
Testing results generally come back in one to two days
While waiting for results, stay home if you are experiencing symptoms
If you are unvaccinated and your results come back positive, or if you were around someone who tested positive, you should stay home and self-isolate
All testing sites are weather permitting; call 211 to double-check which ones are open or visit this website, which has testing sites broken down by day of the week.
The migrant community is considered a vulnerable population and when calling 211 should let a nurse know of their insurance status to receive an appointment and be connected with a community health care provider, the county said.
Medical Center Testing, Which May Require Insurance
CORONAVIRUS IN SAN DIEGO COUNTY: What You Need to Know: Latest Developments | Resources | How to Help | What Has Reopened? | Photos: Coronavirus Impact in SD