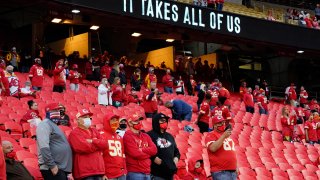 The day after attending the NFL season opener in Kansas City last week, a fan tested positive for COVID-19, prompting authorities to tell 10 others who were at the game to quarantine, NBC News reports.
The Sept. 10 contest between the Kansas City Chiefs and the Houston Texans had fans in the stands — 15,895 of them — but far fewer than the number Arrowhead Stadium can hold, 76,000. To help prevent the spread of coronavirus, the Chiefs implemented several new policies, including a mask requirement inside the stadium, changes to concessions and rules about social distancing.
"By design, the stadium's COVID protocol plan limited potential exposure to a single seating zone within the stadium," the Chiefs said in a statement Thursday.
The city's health department said the Chiefs responded quickly, which helped everyone who may have been exposed to be quickly identified.
Read the full story on NBCNews.com