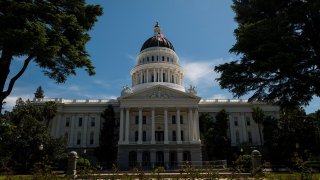 A member of California Gov. Gavin Newsom's office staff tested positive for COVID-19 and contact tracing has begun, the office said Wednesday.
The staff member had not interacted with Newsom or with staff who routinely interact with the governor, the statement said.
Separately, a state employee who works in a space shared with some staff from the governor's office also tested positive for COVID-19 but the person also had not interacted with the governor or his close staff, the office said.
The governor's office said it received word of both positive tests earlier this week and COVID-19 protocols for California state agencies were implemented.
"Under privacy laws, we cannot disclose the office location where these employees worked," the statement said.
Newsom said Wednesday that he has been tested multiple times and has never been positive. He said his last test was an hour before he met with President Donald Trump on Sept. 14. "And I look forward to getting tested again," the governor said.
The protocols when a state employee has potentially been positive at work include deep cleaning of shared spaces and asking those who interacted with the person or shared work spaces to isolate and seek testing, the office said.
The governor's office said mask wearing is mandated, minimal staff is physically present at work, most meetings have been converted to video conferencing, and seating capacity is reduced when meetings can't be done remotely.
The news about the governor's office came as California's statewide positivity rate fell to a record low of 2.4%.
The coronavirus has already impacted state leadership.
A Republican state senator who tested positive for the coronavirus had exposed nine of his colleagues during a caucus lunch in late August, and Senate Democrats, who control the chamber, ordered those Republicans to vote remotely on bills for several days during the last legislative session.
The process, in which lawmakers voted via video on a Zoom call, has never been tried before in the state Legislature. An opinion from the Office of Legislative Counsel in May said it is likely illegal, meaning there could be a lawsuit.
The Legislature was shut down for nearly 2½ months starting in March. And when lawmakers returned, they had to keep their distance from each other.
In other states, Missouri Gov. Mike Parson said Sunday he has been cleared to return to the office after battling the coronavirus. Parson and his wife, Teresa Paulson, both tested positive on Sept. 23. Neither developed serious symptoms.
Virginia Gov. Ralph Northam and his wife, Pam Northam, tested positive on Sept. 25. He said Monday that he had "a little bit of cold-like symptoms over the weekend" and had lost his sense of taste and smell, The Washington Post reported.
Oklahoma Gov. Kevin Stitt in July became the first governor to announce he'd tested positive. He recovered and returned to work less than two weeks later.
In August, Ohio Gov. Mike DeWine announced that a rapid test was positive. But a short time later, DeWine said a more sensitive test was negative.
Copyright AP - Associated Press