An officer shot multiple times by a gunman at a Los Angeles Police Department station remained hospitalized in "great spirits" Tuesday as authorities released more details about the shooting and identified the suspect.
Police confirmed early Tuesday that the officer was not wearing a protective vest when he was shot by a man Monday night who entered the LAPD's West Traffic Division station in the Mid-City area. Initial reports indicated he was wearing the vest, but investigators later determined that was not the case.
"Our interview with the officer determined that he was not wearing that vest, making this even more miraculous that he was not killed," said LAPD Sgt. Barry Montgomery.
The victim who was shot in the upper body and limbs and another desk officer returned fire in the lobby and wounded the gunman, police said. The victim remained hospitalized Tuesday in "good spirits," police said.
During an interview with Force Investigation Division officers Tuesday morning, it was determined the officer was not wearing the protective ballistics vest. Officers are required to wear the ballistic vest while on duty or in uniform in the field, police said.
It's likely a "backup weapon" (pictured, right) in the officer's pocket stopped what could have been the
fatal round, LAPD Chief Charlie Beck said. The weapon was described as a small pistol that the officer kept in his pants pocket.
One of the rounds -- authorities have not confirmed how many shots were fired -- hit the gun instead of the officer's leg, Beck said.
The gunman, identified Tuesday as 29-year-old Daniel Christopher Yealu, was taken to Cedars-Sinai in critical condition, police said. Several weapons (pictured, right) were found at the subject's home, according to LAPD investigators.
LA Superior Court documents show that Yealu was convicted for a vehicle code violation in March 2006.
LAPD Cmdr. Dennis Kato said the gunman had an unspecificied complaint.
The shooter parked in a West Traffic Division parking lot and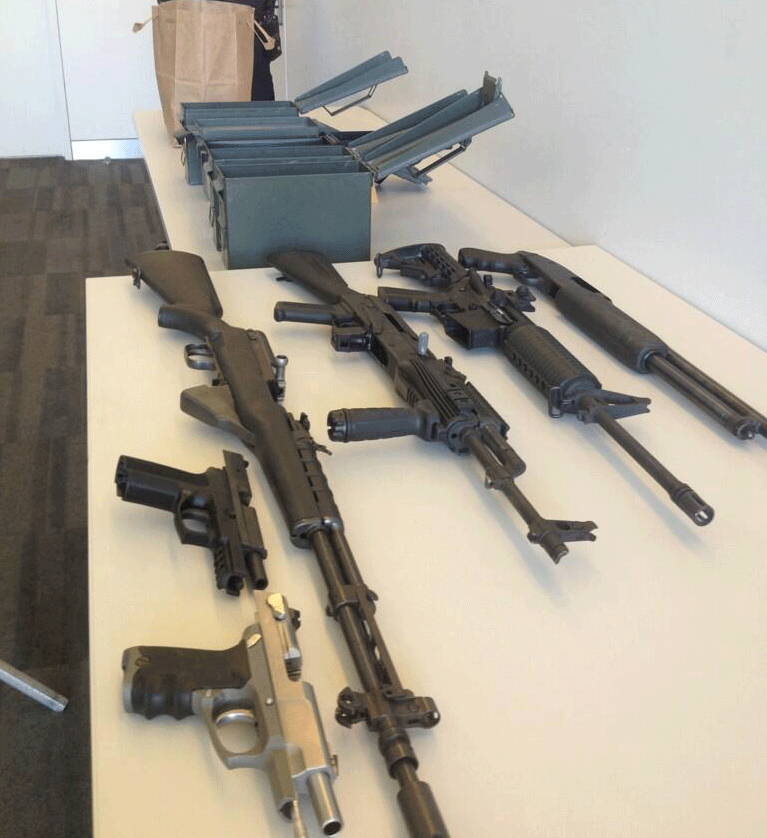 walked into the lobby, which is not equipped with a, metal detector. The shooter's semi-automatic pistol was recovered inside the lobby, police said.
A bomb squad team checked a vehicle believed to be connected to the gunman, officials said. A rifle and multiple ammunition rounds were found in the vehicle, police said Tuesday morning.
Police said a meeting was underway in a community room at the station at the time of the shooting. Usually, the West Traffic Division doors are locked at night, but the entrance was open because of the community meeting.
"I ran behind a lectern, and hid my whole body behind the lectern -- everybody else hit the ground," said Daphne Brogdon, who attended the meeting. "We kept hearing shots. It was terrifying -- a bullet came into our room."
No one at the meeting was injured. The people who attended were being questioned, police said.
A gunman ambushed LAPD detectives last year outside the Wilshire station, the scene of Monday's shooting.
Published at 12:40 PM PDT on Apr 8, 2014