Family members and law enforcement colleagues from around the United States gathered in downtown Los Angeles Tuesday morning to remember a 51-year-old Los Angeles Police Department motorcycle officer -- described as a good man with a big heart -- who was killed earlier this month when he was struck by a driver at a San Fernando Valley stoplight.
Officer Chris Cortijo, a 26-year veteran and former Marine, was struck by the driver of a Chevrolet Blazer April 5 as he waited on his patrol motorcycle at a red light at Lankershim Boulevard and Saticoy Street. He died four days later.
Los Angeles Roman Catholic Archbishop Jose Gomez conducted the funeral Mass at the Cathedral of Our Lady of the Angels after Cortijo's casket was escorted into the Cathedral by his LAPD motorcycle colleagues. LAPD Chief Charlie Beck was among the officers on motorcycles.
"If you pause for a minute, you can feel the breaking of 13,000 hearts," Beck said at the service, referencing department members. "He was part of our family, too."
A funeral procession led by rows of motorcycle officers to Forest Lawn Hollywood Hills followed the church service. Members of the Los Angeles Fire Department stood atop a fire truck and saluted as the officers passed on the northbound 101 Freeway.
A patrol vehicle towed a trailer with the officer's motorcycle in the procession, which at one point stretched for more than three miles.
The life-long Southern California resident was born in Torrance and raised in Simi Valley and North Hollywood. He enlisted in the United
States Marine Corps, where he was a member of Kilo Company 3rd Battalion 5th Marine Regiment and served as a member of the Military Police.
He joined the Los Angeles Police Department in 1987 and became a motorcycle officer in 1992. He was assigned to the Valley Traffic Division in 1995 and worked on the DUI Task Force.
Cortijo was twice named officer of the year, most recently in 2013 when he made 171 DUI arrests.
"All the drunk drivers he put in jail -- I've heard 3,000," said Sgt. Larry Jones. "That's what he did. He showed up to work and he did his job."
He is survived by his partner, Lillie Price, his son Jonathan, his daughter Christina Beal, and his brother.
"You will continue to be my guardian angel from heaven," said Jonathan.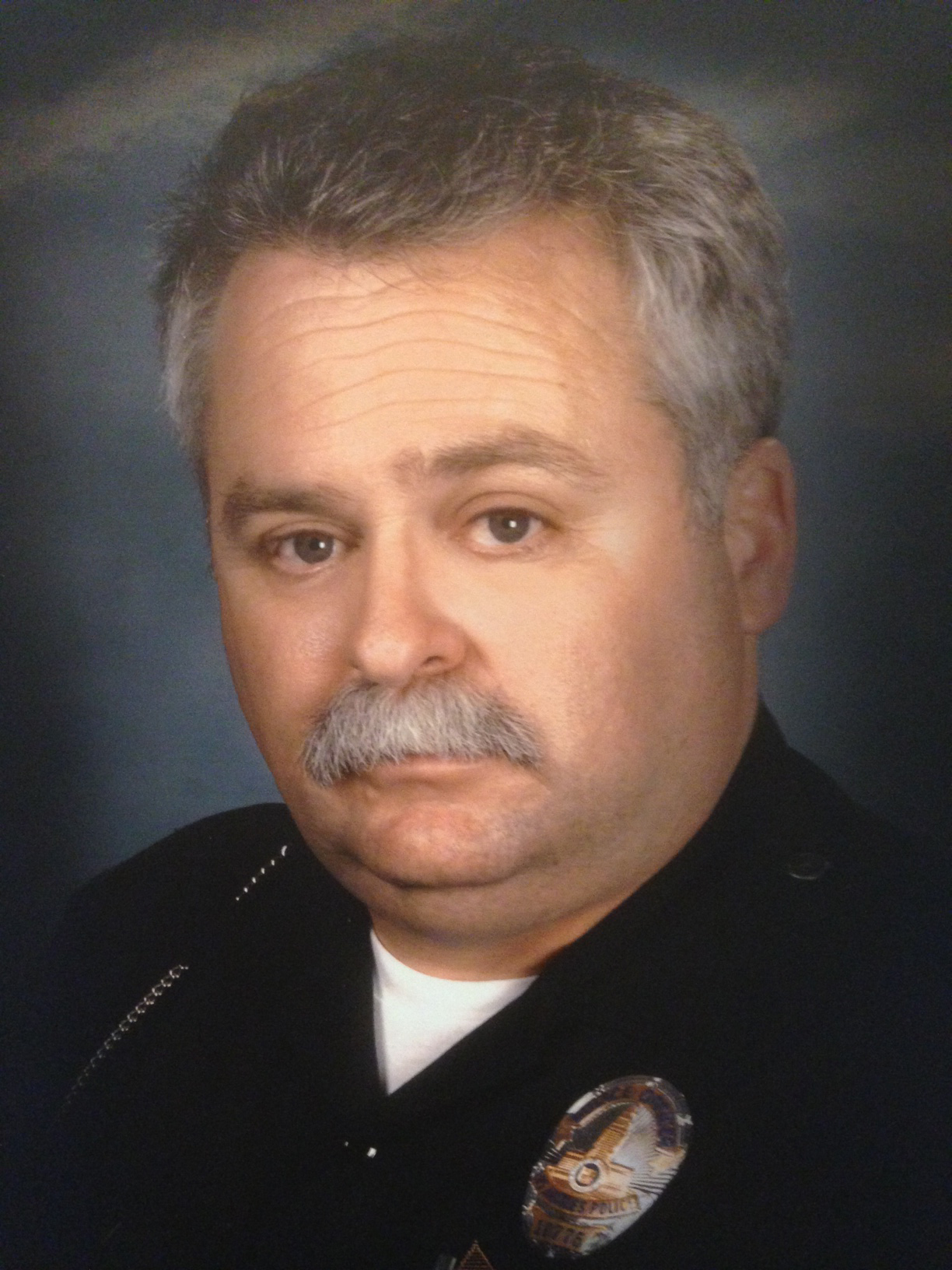 "Thank you for being here," his daughter told service attendees. "Thank you for making my dad the hero."
The 3,000-seat Cathedral was at full capacity for Tuesday's service with law enforcement officers from around the country in attendance.
A Pacoima woman accused of striking the officer pleaded not guilty to charges of driving under the influence of a drug and possession of cocaine. Cortijo was trapped between the woman's sport utility vehicle and a Honda Accord that was stopped in front of his motorcycle.
The suspect's next court appearance is scheduled for May 30.
Cortijo was the second LAPD officer to die in the past seven weeks. On March 7, Los Angeles police Officer Nicholas Choung Lee, 40, was killed when an out-of-control truck on steep Loma Vista Drive in Beverly Hills struck his patrol car head-on.