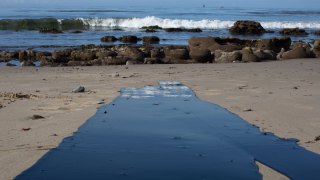 A spokesman says ExxonMobil has temporarily ceased oil production on three platforms off the coast of Santa Barbara because an oil spill last month crippled the pipeline it used to transport crude oil to refineries.
Richard Keil said Tuesday the company was forced to shut down the platforms last week after the county rejected its emergency application to truck oil to a refinery.
A Santa Barbara County official said the company's problem delivering the oil was not an emergency.
ExxonMobil had significantly cut production from the three rigs after the Plains All American Pipeline spilled up to 101,000 gallons of crude on the coast on May 19.
ExxonMobil was storing oil at a facility onshore but it was reaching capacity when it requested permission to transport oil by truck.