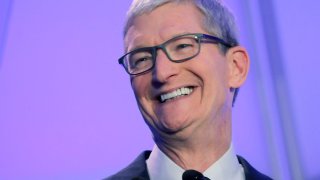 (This article was sent first to members of the CNBC Investing Club with Jim Cramer. To get the real-time updates in your inbox, subscribe here.)
What I am looking at January 13, 2022:
Snap (SNAP) downgraded buy to hold at Cowen... says impacted by iOS 14.5 measurement and response, hard compares, shrinking valuation... $75 price target down to $45...
Caterpillar (CAT)... Citi $225 goes to $230 PT... says demand is strong, supply is question mark... could be like Deere...
Credit Suisse starts ASML (ASML) -semi equipment- with a buy... lithography shortage... Barclays likes Lam Research (LRCX)….
Taiwan Semi (TSM) to spend $40 billion to relieve chip shortage, but spending now will change nothing for two years...
KB Home (KBH) better-than-expected guidance... multiple price target bumps... sees strong selling season... Good upside margin guidance, says RBC... rather remarkable considering all of the supply chain issues…
Netflix (NFLX) slowing according MoffettNathanson... as we said on Mad—too many choices... Paramount plus and Peacock make it too many, says Moffett...
Twitter (TWTR) PT $67 to $50 at Cowen...hurt by iOS changes… they need a paid and a free track now...
Cowen still likes Alphabet (GOOGL) and takes price target to $3,500 from $3,360... this is a big call because the ad buys are being limited more by iOS... owned by the club...
Viacom (VIAC) might be undervalued because of success of Plus and NFL... See Mad Money segment last night... NFL ratings up 10%, best since 2015...
(Programming note: Watch CNBC's "Crypto Night in America" at 6 p.m. in place of Mad tonight...)
Mizuho raises Micron (MU) price target $98 to $110... says 5G doing well, same with memory and ev... They also raise for Western Digital (WDC), Seagate (STX) and ON Semiconductor (ON) all the fuller featured non-high end products... ON is heavy auto
Susquehanna says buy Delta (DAL) and United (UAL) but downgrades Southwest (LUV) buy to hold... not your old LUV…Delta has got international exposure that could be wind at back…
Upstart (UPST) price target $300 to $223 at Piper... rerating downward...
Deutsche Bank Robinhood (HOOD) price target $17 to $15... no interest rate sensitivity... Is this just a gaming app for dogecoin, GameStop and options?
MarketAxess (MKTX)...Deutsche Bank lowers price target $386 to $369...be careful here—dreaded fintech with no interest rate exposure...
Blackstone (BX)... $190 to $176 at Deutsche Bank...is TPG Partners (TPG) better? Comes public today...30-year old profitable firm... puts a lot of the newer IPOs to shame...
Deutsche Bank sees auto makers to have better than expected earnings—miss for the parts makers...
Haliburton (HAL) upgraded hold to buy at JPMorgan... primed to benefit from leading position in North America...
Devon Energy (DVN)... on Mad last night—bigger special dividend coming... business is at $30 BOE and hedges taken off big—only 20% hedged...
JPMorgan suggests Apple (AAPL) will have big revisions upwards... getting worried that too many people think this...
JPMorgan still doesn't like Kimberly-Clark (KMB), but raises PT $122 to $127...
Clorox (CLX) $147 to $157 at JPMorgan but this could be the low quarter in the cycle...
Analyst Tusa from JPMorgan  says Dover (DOV), Hubbell (HUBB) and Fortive (FTV) are good into q... but he says buy Cramer fave trust name Honeywell (HON) on any weakness... stock has started to run...
UBS calls American Eagle (AEO)... (trust name)... says one of the misunderstood stocks out there and is using a PT of 97% upside... Makes sense—doing very well..
Bloomberg says Boeing (BA) to resume 737 MAX service in China as soon as this month... big call if true.
Wedbush's Ives says cloud spending robust at Microsoft (MSFT), sees strong year ahead...
Penn National (PENN)... $95 to $70 at Truist... real issue with digital Barstool rerating lower...
DraftKings (DKNG) $50 to $30 Truist too... just recognizing the tortured reality of the situation...
The CNBC Investing Club is now the official home to my Charitable Trust. It's the place where you can see every move we make for the portfolio and get my market insight before anyone else. The Charitable Trust and my writings are no longer affiliated with Action Alerts Plus in any way.
 As a subscriber to the CNBC Investing Club with Jim Cramer, you will receive a trade alert before Jim makes a trade. Jim waits 45 minutes after sending a trade alert before buying or selling a stock in his charitable trust's portfolio. If Jim has talked about a stock on CNBC TV, he waits 72 hours after issuing the trade alert before executing the trade. See here for the investing disclaimer.
 (Jim Cramer's Charitable Trust is long GOOGL, AAPL, HON, AEO, BA, MSFT.)

Copyright CNBCs - CNBC