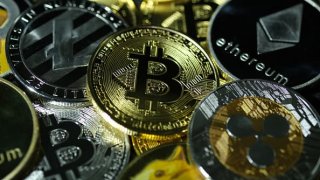 LONDON — British detectives have seized a record-breaking haul of cryptocurrency worth almost £180 million ($249 million) in London.
The Metropolitan Police — the force that oversees the Greater London region — said Tuesday it was the largest amount of cryptocurrency ever seized by police in the U.K., adding it was also believed to be one of the largest ever seizures of cryptocurrency globally.
The cryptocurrency was discovered on Saturday after the Met's Economic Crime Command received intelligence relating to the transfer of criminal assets.
In late June, the Met confiscated £114 million worth of cryptocurrency, which at the time set a record for a cryptocurrency seizure in Britain.
A 39-year-old woman was arrested on June 24 on suspicion of money laundering offences following the first cryptocurrency seizure. She was also interviewed in relation to the seizure of the £180 million haul, and was bailed until late July, the Met said.
Graham McNulty, the Met's deputy assistant commissioner, said in a press release Tuesday that new technologies were helping criminal operations to evolve.
"While cash still remains king in the criminal word, as digital platforms develop we're increasingly seeing organized criminals using cryptocurrency to launder their dirty money," he said. The Met did not give any specific information on any illicit activities the cryptocurrency was linked to, other than money laundering.
"Whilst some years ago this was fairly unchartered territory, we now have highly trained officers and specialist units working hard in this space to remain one step ahead of those using it for illicit gain," McNulty added.
Copyright CNBCs - CNBC