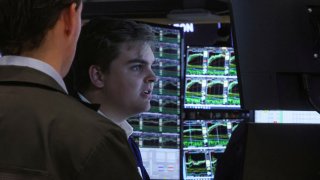 The yield on the 10-year Treasury note fell below 3% Thursday as investors digested the ongoing deluge of corporate earnings and continued to assess the outlook for growth and inflation.
The yield on the benchmark 10-year Treasury note dropped to 2.893% while the yield on the 30-year Treasury bond fell to 3.062%. Yields move inversely to prices.
The yield on the 2-year note retreated to 3.093%, but remained above the 10-year, continuing the inversion of the closely-watched 2-year/10-year yield curve.
Yield-curve inversions — when shorter-term government bonds have higher yields than longer-term ones despite carrying lower risk — are often viewed by markets as signs that a recession is imminent.
Markets are attempting to gauge whether the Federal Reserve will hike interest rates by 75 basis points or the more aggressive 100 basis points at its policy meeting next week, as it looks to rein in sky-high inflation.
The European Central Bank on Thursday raised interest rates for the first time in 11 years to combat inflation in the euro zone. The central bank increased benchmark rates by 50 basis points.
On the economic front, initial jobless claims climbed to 251,000 for the week of July 16, up from an adjusted 244,000 claims from the prior week. It's the third straight weekly gain, and the highest level since November 2021.
The Philadelphia Fed manufacturing index registered a reading of -12.3, worse than the 1.6 estimate from the Dow Jones.
Risk sentiment among investors has remained volatile, but Wall Street has been enjoying a July rebound, fueled by a rally in tech stocks.
Copyright CNBC