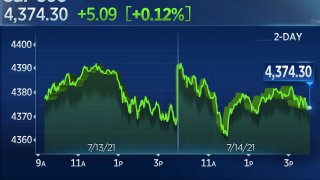 The S&P 500 closed slightly higher after Federal Reserve Chairman Jerome Powell said the central bank will maintain its easy monetary policies.
The broad index added 0.12% to reach 4,374.30 after hitting a new high earlier in the session. The Dow Jones Industrial Average added 44.44 points, or 0.13%, to close at 34,933.23. The Nasdaq Composite fell 0.22% to 14,644.95.
Powell said in his semiannual testimony before the House Committee on Financial Services Wednesday that the central bank can wait before it starts to ease its bond purchases despite surging inflation readings. The Fed chair said he still expects inflation to moderate.
"At our June meeting, the Committee discussed the economy's progress toward our goals since we adopted our asset purchase guidance last December. While reaching the standard of 'substantial further progress' is still a ways off, participants expect that progress will continue," Powell said.
The central bank chief is also scheduled to testify before the Senate Committee on Banking, Housing and Urban Affairs on Thursday.
The yield on the 10-year Treasury fell amid Powell's remarks, continuing its decline in recent months. Yields fell even as a reading on producer prices from June showed higher than expected inflation. This follows the biggest jump in the consumer price index since 2008, released on Tuesday.
Meanwhile, the Nasdaq 100 closed at an all-time high, boosted by Apple's record close.
Apple shares gained 2.4% after the company reportedly asked suppliers to ramp up production of its next-generation iPhones by 20%. JPMorgan also added the tech giant to its focus list and raised its price target on the stock to imply 20% potential upside from Tuesday's close.
Second-quarter earnings reports from big banks and other major companies continued on Wednesday.
"As we ease into Q2 earnings season, markets appear to be intensifying their attention on the next step for the economy and whether inflation will accompany it," Goldman Sachs' Chris Hussey said in a note.
With investors focused on Fed headlines and inflation readings, earnings so far this week have not led to major stock moves despite better-than-expected results.
All 12 of the S&P 500 companies that have posted quarterly fiscal results this week have beat earnings-per-share estimates, but the group is averaging a 0.56% decline after reporting, according to a CNBC analysis Wednesday morning.
Bank of America shares fell after it reported second-quarter revenue of $21.6 billion, just under the $21.8 billion estimate from Refinitiv. Low interest rates knocked net interest income by 6%, the bank said.
Meanwhile, American Airlines shares jumped after the carrier forecast better revenue and a narrower loss than its previous estimate for the second quarter. The company is set to report quarterly fiscal results on July 22.
The S&P 500 is up more than 16% in 2021 and more than 36% in the past 12 months, signaling good news might be priced into shares. S&P 500 profit growth is expected to total 64% year-over-year for the quarter, according to analyst estimates collected by FactSet.
Become a smarter investor with CNBC Pro. 
Get stock picks, analyst calls, exclusive interviews and access to CNBC TV. 
Sign up to start a free trial today
Copyright CNBC