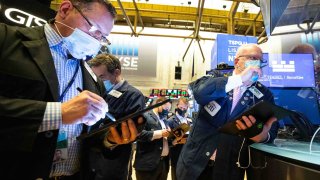 U.S. Treasury yields moved lower on Thursday after weekly jobless claims data came in higher than expected.
The yield on the benchmark 10-year Treasury note fell 2 basis points to 1.263% in afternoon trading The yield on the 30-year Treasury bond dropped a similar amount to 1.9%. Yields move inversely to prices, and a basis point is equal to 0.01 percentage points.
The U.S. Department of Labor said Thursday morning that there were 419,000 initial jobless claims last week, up from a revised 368,000 claims in the prior period. Economists polled by Dow Jones are expecting the number of first-time filings to be 350,000 for the week ended July 17.
"While the low 300k's is where claims were in the mid 2000's expansion (vs low to mid 200k's in the mid 2010's), this begs the question that with 9.2mm job openings why are claims not falling faster. While the trajectory is down, it's a fair debate," Bleakley Advisory Group's Peter Boockvar said in a note.
Bond yields have been volatile in recent days, with the 10-year trading below 1.2% earlier this week before rising sharply on Wednesday.
The 10-year yield is much higher than where it began the year but has surprised many investors by pulling back from its recent highs of around 1.75% in late March. The slump in yields has come even as inflation readings show prices rising and the Fed signaling that it may tighten monetary policy sooner than previously expected.
Overseas, the European Central Bank reaffirmed its dovish stance and left interest rates unchanged in its late policy statement, which was released on Thursday. Yields on German and Italian government bonds moved lower.
ECB President Christine Lagarde said that recent high inflation readings are expected to be "mostly temporary."
The National Association of Realtors said Thursday that existing home sales rose slightly in June, breaking a four-month slide. The supply of homes on the market also ticked up.
Auctions were held on Thursday for $40 billion of 4-week bills, $35 billion of 8-week bills and $16 billion of 10-year Treasury inflation-protected securities.
— CNBC's Pippa Stevens contributed to this market report.
Copyright CNBC