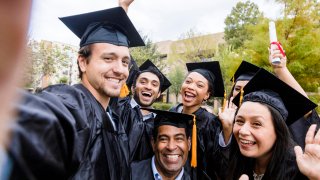 The student loan crisis has made it clear that many borrowers have gotten in over their heads, said Sheila Bair, who has served as both a bank regulator and a college president.
She blames the lack of transparency and confusion around this category of loan.
About 44 million Americans owe a combined $1.7 trillion in student loan debt. Roughly a quarter are estimated to be in default or delinquency.
"We have a lot of students that have taken out unsustainable debt levels," said Bair, who was chair of the Federal Deposit Insurance Corporation during the 2008 financial crisis. She later served as president of Washington College, based in Chestertown, Maryland.
More from Invest in You:
New college grads underestimate starting salaries by $10,000
Millions of students leave college with debt but no degree. Here's why
Student loan forgiveness could help narrow the racial wealth gap, say advocates
Debt impact 'is not readily apparent' to young borrowers
As college tuition has increased, so has the average loan balance, which has tripled since the 1990s, to $30,000 from $10,000. Some 7% of borrowers have more than $100,000 in debt.
"Young people, mostly we're dealing with high-school students, they've never probably borrowed before," Bair said.
"Because we don't do as good a job on financial education as we should ... the basics of debt, and what it means, is not readily apparent and just understandable to students — and sometimes to their families," she added.
Decide: How much student loan debt is affordable?
Before you take out a student loan, you should have an idea of how much debt you can manage, instead of looking at how much money you can borrow, said Bair, a member of the CNBC Invest in You Financial Wellness Council.
"A lot of students do not think about what they can afford [and] how much they're going to be earning," she said. "They are not encouraged to think that way."
To that end, Bair has been working with the Peter G. Peterson Foundation, which recently announced a new student debt initiative. The nonpartisan foundation is "dedicated to increasing awareness and accelerating action on America's long-term fiscal challenges," according to its website.
Part of the program includes an affordability calculator, which takes into account your major, college, the year you'll start school and where you want to live after graduation.
The location of your life after college matters because it determines your expenses and income potential, Bair said.
The calculator then tells you the maximum amount you can borrow and still be able to afford the payment.
"This will be empowering for students and their families, because it will give them an all-in number of the maximum amount of debt the student should have, once they graduate," Bair said.
Students can then take the number to college financial aid offices to figure out if it works. If it doesn't, you can ask about additional scholarships and work-study arrangements that may help to offset the cost, she suggested.
If a college can't work with you, find those that can.
"This will also empower you to be a competitive shopper in terms of the financial aid package that a college is providing," Bair said.
SIGN UP: Money 101 is an 8-week learning course to financial freedom, delivered weekly to your inbox. For the Spanish version, Dinero 101, click here.
Disclosure: NBCUniversal and Comcast Ventures are investors in Acorns.
Copyright CNBCs - CNBC