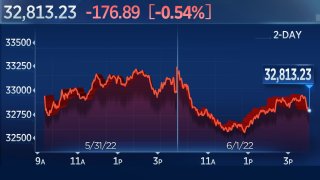 U.S. stocks pulled back in choppy trading Wednesday amid worries about the health of the economy, as Wall Street turned the page to another month following a volatile May.
The Dow Jones Industrial Average shed 176.89 points, or 0.5%, to 32,813.23. The blue-chip index was up more than 280 points at its highs and down 400 points at its lows. The S&P 500 eased about 0.8% to 4,101.23. The technology-heavy Nasdaq Composite retreated 0.7% to 11,994.46.
"We probably see volatility for the first half of June, and maybe a decent portion of June, because we're not going to have any new information that calms us down before then," SoFi's head of investment strategy Liz Young said on CNBC's "Halftime Report."
Financial stocks comprised the worst-performing S&P 500 sector Wednesday. Goldman Sachs and JPMorgan Chase each pulled back more than 1%.
Materials names typically linked to the economic cycle were among the biggest laggards on the S&P 500. Albemarle dropped 7.8% and Mosaic shed 6.1%.
Travel names also struggled Wednesday. Norwegian Cruise Line and United Airlines each dropped about 4.5%.
On the upside, Salesforce surged roughly 9.9% after the company's first-quarter results topped expectations.
Economic 'hurricane'
Weighing on investor sentiment, JPMorgan CEO Jamie Dimon on Wednesday said the economy is headed for a "hurricane."
"You better brace yourself," Dimon said at a financial conference. "JPMorgan is bracing ourselves and we're going to be very conservative with our balance sheet."
One factor that's worrying Dimon, he said, is the Federal Reserve tightening monetary policy by raising rates and reversing stimulative measures implemented at the onset of the pandemic. Wednesday marks the start of the Fed's plan to reduce its balance sheet, which ballooned to nearly $9 trillion during the Covid pandemic.
The Fed has raised rates twice this year, with one of those hikes being for 50 basis points. The central bank has also signaled it intends to keep raising rates to fight inflation. On Wednesday, San Francisco Fed President Mary Daly said she backs raising interest rates aggressively until inflation quells.
Concerns over tighter monetary policy gained even more steam Wednesday, after the Institute for Supply Management said its manufacturing PMI came in at 56.1 for May, up from 55.4 the previous month. Meanwhile, job openings fell sharply for April, but remained high relative to historical levels.
Meanwhile, the benchmark U.S. Treasury yield climbed Wednesday. Rising rates discount the value of future earnings and can make stocks look less attractive.
"Taken together, and when coupled with last week's higher-than expected Core PCE reading and rise in Personal Spending ... the macroeconomic data is painting a picture of a US that is still humming along," Goldman's Chris Hussey wrote in a note.
"Normally, such signs of a strong economy would be welcomed by markets," Hussey added. "But, today, investors are doing the opposite, perhaps out of concern that the Fed's hikes thus far have not done enough to tamp down inflation, and that the Fed may have to do more than previously expected, and risk skipping the 'soft landing' they're aiming for, and sending the economy into a recession."
Wild May
Stocks are coming off a down session Tuesday as investors weathered choppy trading to close out the month.
For the month of May, the Dow and S&P 500 finished little changed, after last week's strong rally chipped away at long losing streaks for the indexes. The Nasdaq Composite underperformed, shedding more than 2%.
However, the ride for stock investors was far more turbulent than the month-end results suggest. The S&P 500 briefly dipped into bear market territory last month, trading more than 20% below a record at one point. The Nasdaq, meanwhile, is deep in a bear market — down about 26% from an all-time high at Wednesday's close.
—CNBC's Jeff Cox contributed to this report.
Copyright CNBC