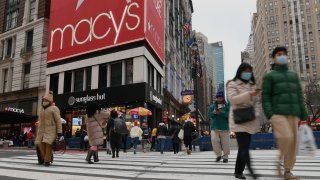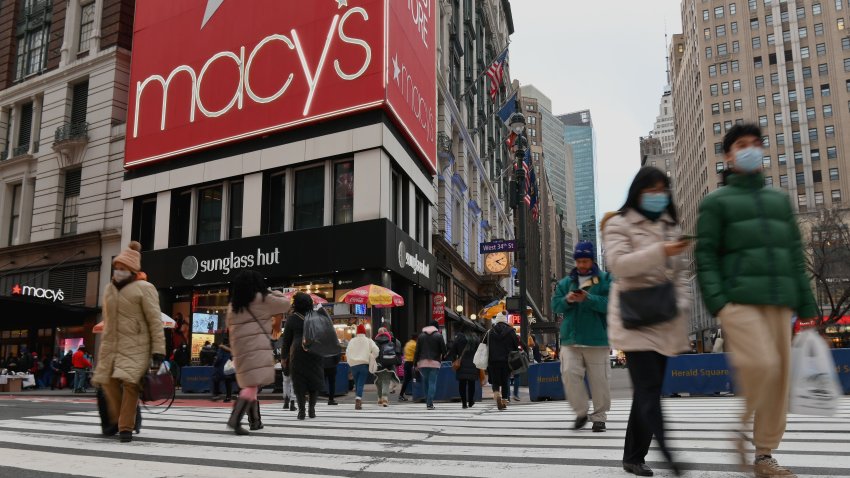 Macy's reported its first quarterly profit in a year, thanks to its efforts to cut inventory levels and rely less on deep discounting over the holidays.
But same-store sales fell 17.1% from a year earlier, despite Macy's booking double-digit growth online.
Macy's said 2021 will be a year for recovery and rebuilding.
Macy's on Tuesday reported its first quarterly profit in a year, as its efforts to slash inventories and rely less on deep discounting during the holidays paid off.
While shoppers stocked up on items for their homes and bought beauty products, jewelry and watches, many continue to divert spending away from clothes and fancy shoes, as they work from home and attend fewer social events. And the shift is weighing Macy's results.
The department store operator saw steep sales declines, which won't be abating anytime soon. Traffic to its brick-and-mortar stores remains suppressed. Mall-based retailers like Macy's are increasingly ceding sales to online platforms like Amazon, and clothing brands like Lululemon.
Macy's said it expects 2021 to be a year for recovery and rebuilding, as it claws its way back from the losses it has suffered during the pandemic. It offered an outlook that anticipates continued obstacles from the health crisis during the spring, with momentum escalating in the back half of 2021.
Macy's shares initially rose about 3% on the earnings report, but by mid-morning were up less than 1%.
Here's how the company did during the fourth quarter ended Jan. 30, compared with what analysts were anticipating, based on a poll by Refinitiv:
Earnings per share: 80 cents, adjusted vs. 12 cents expected
Revenue: $6.78 billion vs. $6.5 billion expected
Net income fell to $160 million, or 50 cents per share, from $340 million, or $1.09 per share, a year earlier. Excluding one-time charges, the company earned 80 cents per share, better than the 12 cents expected by analysts.
Sales fell to $6.78 billion from $8.34 billion a year earlier, better than the $6.5 billion that analysts were expecting.
Macy's said same-store sales on an owned plus licensed basis fell 17.1% from 2019 levels. Analysts were calling for a 21.3% drop, according to Refinitiv data.
E-commerce sales were up 21% in the period. The company said digital sales accounted for 44% of net sales, while roughly a quarter of Macy's digital sales were fulfilled from its stores during the quarter.
The company said it saw nearly 7 million new customers in the fourth quarter, with many of them under the age of 40 and shopping online, not in stores.
"With the digital engine that we have, that has opened up lots of new customers to us that are shopping more on digital," said Macy's CEO Jeff Gennette, during a conference call with analysts.
Apparel still needs a fix
Analysts attributed the better-than-expected results, in part, to a boost from Americans spending their stimulus checks. But even if Macy's is on the road to recovery, its results still severely lag others in retail, particularly those that are less reliant on selling apparel, GlobalData Retail Managing Director Neil Saunders said.
"Given Macy's focus on clothing, if it can't make this part of its business work properly then its long term trajectory does not look promising," he said. "Some small wins in various categories were not sufficient to offset the general malaise in the rest of the business."
Macy's said its apparel sales were down 33% in the fourth quarter. But it said it is betting on a recovery in the category, especially in the back half of 2021, as more Americans resume pre-Covid activities and hope builds around the ongoing Covid vaccine rollout.
Gennette said the department store chain has plans in place to quickly restock its shelves with new work wear and outfits for special occasions.
Looking to fiscal 2021, Macy's is calling for sales to fall within a range of $19.75 billion to $20.75 billion. Analysts had been calling for annual revenue of $20.13 billion.
It expects adjusted earnings per share to fall within a range of 40 cents to 90 cents. Analysts had forecast adjusted earnings of 77 cents a share.
Notably, that forecast doesn't currently anticipate a recovery in tourism this year. In 2019, Macy's said international tourism made up a little more than 4% of total sales.
New revenue streams
Thanks to a shift accelerated by the pandemic, digital is playing a bigger role in many retailers' businesses — including Macy's.
The company said it expects annual online sales will eclipse $10 billion within three years, as the department store operator anticipates that shoppers' preference for internet purchases will stick beyond the health crisis. It also is planning for its online business to become even more profitable.
In a search for new income streams and looking to offset the added expenses that come with digital transactions, Macy's said it launched a new media network during the quarter, which has already grown to generate more than $35 million in annual revenue.
Macy's is in the midst of pruning its real estate, too, to keep better-preforming stores in America's top malls open. In early 2020, the company said it would shut 125 locations by 2023. Earlier this year, Macy's released the locations of more than 40 stores to shut by mid-2021, as part of its three-year closure plan.
On Tuesday, Gennettte said the company remains committed to this plan, as it continues to explore opening more smaller-format locations, off-mall. Following the 125 closures, at least 85% of Macy's sales will stem from so-called A- and B-rated malls, he said.
"Our [store] fleet continues to have high value, relevant and vibrant stores, mostly in A- and B-rated malls, which will remain a critical part of Macy's future," Gennette said.
As of the end of its latest quarter, Macy's operated 512 of its namesake department stores, along with 53 Bloomingdale's shops and 162 Bluemercury locations.
As of Monday's market close, shares are down about 6% from a year ago. Macy's has a market cap of $4.74 billion, which is less than Kohl's and Nordstrom.
Copyright CNBC