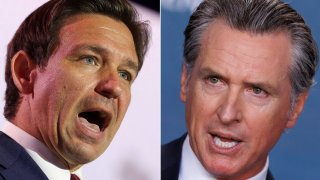 Republican Gov. Ron DeSantis of Florida and Democratic Gov. Gavin Newsom of California are set to participate in a Fox News debate.
The 90-minute debate will take place Nov. 30 in Georgia, with Fox host Sean Hannity moderating, according to Fox News.
DeSantis is set to participate Wednesday in the second Republican presidential primary debate, which Donald Trump is skipping.
Republican Gov. Ron DeSantis of Florida and Democratic Gov. Gavin Newsom of California are set to debate on Fox News in November in what is being billed as a clash of America's two dominant and starkly divided political philosophies.
The 90-minute debate on Nov. 30 will be moderated by conservative Fox host Sean Hannity at a yet-to-be-determined location in Georgia, Fox News said in a press release.
"I'm looking forward to providing viewers with an informative debate about the everyday issues and governing philosophies that impact the lives of every American," Hannity said in that release.
DeSantis is badly trailing former President Donald Trump in polls of 2024 Republican presidential nomination contenders.
His agreement to debate Newsom is highly unusual.
Not only does DeSantis not remotely have the GOP nomination secured, but Newsom is not even running for the Democratic presidential nomination.
President Joe Biden, who is seeking that nomination, is well ahead of his only well-known challenger, Robert Kennedy Jr., in polls for that contest.
After the announcement of the debate with Newsom, DeSantis tweeted, "Decline is a choice and success is attainable."
"As President, I will lead America's revival," DeSantis wrote in the post on X, formerly Twitter. "I look forward to the opportunity to debate Gavin Newsom over our very different visions for the future of our country."
DeSantis is due to participate in the second Republican presidential primary debate Wednesday at the Ronald Reagan Presidential Library in Simi Valley, California.
Trump for the second time this election cycle is skipping the GOP debate.
He plans instead to travel to Detroit, the epicenter of historic strikes by thousands of autoworkers, to deliver a speech to current and former union members, his campaign said.
DeSantis, once seen as Trump's biggest threat for the 2024 nomination, is sliding backward into a pack of more than a half-dozen other Republican contenders, polls show.
In New Hampshire, the crucial first-in-the-nation primary state, a recent survey shows DeSantis losing ground as some of his rivals, including former United Nations Ambassador Nikki Haley and entrepreneur Vivek Ramaswamy, pick up steam.
The Trump campaign, which has aggressively targeted DeSantis, has set a "kiss of death" countdown clock for the governor's campaign that is due to run out Oct. 23.
The countdown reflects a dire statement on Aug. 24 by Jeff Roe, the chief strategist of a super PAC closely backing DeSantis' campaign, who reportedly told donors that day that the governor needed to beat Trump in "the next 60 days."
Copyright CNBC