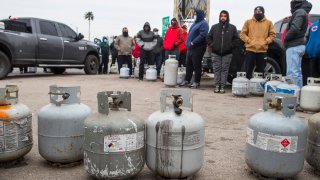 A deadly snow and ice storm is wreaking havoc across Texas, leaving millions in the state without power for a third straight day.
These outages have pushed oil prices higher as production slows to a crawl.
With "oil wells and refineries offline, we could be facing a significant shortfall for a number of days, further tightening supply at a time when it has already been," wrote one market analyst
Millions in Texas shivered through power outages for a third day Wednesday as the deadly storm that brought snow and ice to the region wreaked havoc to the state's energy infrastructure.
An estimated 3 million barrels per day of oil production remained offline. Power production from natural gas, coal, renewables and other sources has been impacted as consumers turn up their thermostats amid the frigid temperatures.
"A significant amount of capacity remains offline," noted Morris Greenberg, senior manager at S&P Global Platts Analytics.
West Texas Intermediate crude futures prices advanced 1.82% to $61.14 per barrel, the U.S. benchmark's highest settle in more than a year. International benchmark Brent crude settled 1.56% higher at $64.34 per barrel, also the highest level since Jan. 2020. Gasoline futures advanced more than 2%, bringing the gain since Friday to more than 9%. Natural gas jumped 3%, after rising more than 7% on Tuesday. Since Friday it's up more than 12%.
With "oil wells and refineries offline, we could be facing a significant shortfall for a number of days, further tightening supply at a time when it has already been restricted and demand is expected to return," wrote Craig Erlam senior market analyst at Oanda.
Wholesale power prices in Texas have surged as contractual obligations forced companies to buy at any price. And some of the heightened cost could end up on Texas consumers' utility bills. Companies such as Griddy — which gives consumers access to wholesale electricity prices — have outlined ways for its users to switch power providers in an effort to shield them from volatile price swings.
"Real-time power prices in Texas hit the $9,000/[megawatt hour] mark multiple times across the state, with day-ahead on-peak prices averaging more than $7,000/MWh in all four zones in the Electric Reliability Council of Texas region," Citi analysts wrote in a note. The normal price would be around $70/MWh.
The unusually harsh winter storms left more than 3 million in Texas without power, along with nearly 100,000 in Kentucky and more than 70,000 in West Virginia, according to PowerOutage.us.
The outages raised questions about the stability of the electric grid, pushing some members of Congress to call for hearings on why the system failed.
"Ultimately, those responsible for the operation and management of our energy grid will have to answer for the glaring collapse of our energy infrastructure and inadequate communication to the public," Rep. Van Taylor, R-Texas, said in a statement.
The S&P 500 energy sector advanced more than 1% on Wednesday. Devon Energy gained 4.5%, while Chevron and Exxon rose 2.8% and 1.2%, respectively. Apache traded slightly higher. The sector gained 2.3% on Tuesday, making it the best-performing group in the broader-market index
Energy is the top-performing sector this year, up more than 19%. The financials sector is a distant second, registering an 8.5% gain for 2021.
Copyright CNBC