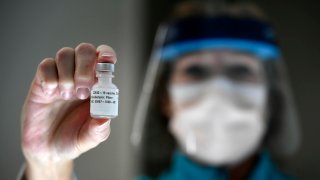 The coverage on this live blog has ended — for up-to-the-minute coverage on the coronavirus, visit CNBC's latest live blog.
The Pfizer vaccine rollout continues for the second day in the U.K., but a health regulator has warned that people with a history of severe allergic reactions should skip the shot for now. Members of the U.S. Food and Drug Administration are set to meet and discuss the drug on Thursday. Briefing documents circulated by FDA staff on Tuesday ahead of the meeting confirmed the safety and efficacy of the Pfizer-BioNTech vaccine and said the drug offers some protection after the first dose.
Here are some of the biggest developments Wednesday:
The following data was compiled by Johns Hopkins University:
Global cases: More than 68.86 million 
Global deaths: At least 1.56 million
U.S. cases: More than 15.38 million
U.S. deaths: At least 289,373
South Korea installs hospital beds in shipping containers amid shortage
South Korea rushed to install hospital beds in shipping containers to help alleviate a shortage stemming from a resurgence of cases, Reuters reported.
A Seoul quarantine officer told Reuters that only about 3% of hospital beds in the city are available for severe cases.
"We're in a critical situation where our anti-virus efforts and medical system's capacity could reach their limits before long," Health Minister Park Neung-hoo said, according to Reuters.
The country reported 682 new cases Thursday, which Reuters noted was the second highest daily total since the country reported its first case in January.
— Kendrea Liew
FDA will likely look into allergic reaction to vaccine in UK, Trump vaccine chief says
The U.S. Food and Drug Administration will likely consider the two allergic reactions reported by U.K. health-care workers vaccinated against Covid-19 as it decides whether to authorize Pfizer's vaccine in the U.S. — though the incident shouldn't be surprising, medical experts said.
Moncef Slaoui, chief science advisor for the White House's Operation Warp Speed, said during a press briefing that it's not unusual that people with severe allergic reactions to vaccines aren't included in clinical trials. Dr. William Schaffner, a professor of infectious diseases at Vanderbilt University Medical Center, echoed Slaoui's remarks in an interview with CNBC.
Schaffner said if the FDA doesn't discuss the allergic reactions during its Vaccines and Related Biological Products Advisory Committee meeting on Thursday, it's possible they will be discussed during a meeting with the Center for Disease Control and Prevention's Advisory Committee on Immunization Practices in the coming days, he said.
It's the sort of issue that the committee "deals with routinely because lots of vaccines are associated with allergic reactions in some small percentage of the population," Schaffner said. However, the allergic reactions shouldn't interfere with the vaccine's authorization, he added.
—Noah Higgins-Dunn
U.S. prepares to ship 2.9 million vaccine doses
The federal government has prepared 2.9 million Covid-19 vaccine doses to be distributed immediately after the FDA grants emergency clearance on Pfizer and BioNTech's candidate, U.S. officials said.
An additional 2.9 million doses will be set aside for patients to get their second shot and 500,000 doses have been put in a reserve as a precaution, Gen. Gustave Perna, who oversees logistics for President Donald Trump's vaccine program Operation Warp Speed, said during a press briefing.
Eventually, the federal government and states will be more "confident" in the distribution process of the vaccine and a reserve will no longer be necessary, Dr. Moncef Slaoui, who is leading Operation Warp Speed, said at the same press briefing. 
The first doses will be sent to 64 jurisdictions as well as five federal agencies, which all locked in their plans to distribute Pfizer's vaccine last Friday, Perna said. The Centers for Disease Control and Prevention asking states to prioritize health-care workers and nursing homes first.
–Berkeley Lovelace Jr.
Congress struggles to reach Covid relief consensus
Familiar sticking points in coronavirus relief efforts are hampering efforts to send help to millions of struggling Americans.
As lawmakers try to strike an aid deal before the end of the year, they have failed to reach a consensus on state and local government relief, liability protections for businesses, unemployment insurance and direct payments. They hope to pass a rescue bill by next week, before an expansion of jobless benefits and an eviction moratorium expire.
Democratic leaders have backed a push by rank-and-file lawmakers to craft a $908 billion bill, which would include small business loans, state and local aid and a $300 weekly federal unemployment supplement, among other provisions. They rejected a proposal from the Trump administration that includes legal immunity for businesses and support for state and local governments but lacks an extra federal jobless benefit.
They also cast aside an offer from Senate Majority Leader Mitch McConnell to set aside the two thorniest issues in the talks: protections from lawsuits and state and municipal support.
—Jacob Pramuk
Pennsylvania Gov. Tom Wolf tests positive for Covid
Pennsylvania Gov. Tom Wolf has tested positive for Covid-19 and is isolating at home, according to a statement. Wolf said he has no symptoms and continues to work remotely.
"As this virus rages, my positive test is a reminder that no one is immune from COVID, that following all precautions as I have done is not a guarantee, but it is what we know to be vital to stopping the spread of the disease," Wolf said in the statement.
Pennsylvania recorded more than 10,000 new coronavirus cases on Tuesday and is currently treating 5,561 patients hospitalized with the virus.
—Sara Salinas
Delta asks more employees to take unpaid leave
Delta Air Lines is asking more employees to agree to unpaid leaves next year to help cut costs as the carrier and its rivals struggle to cut costs.
Delta and other airlines have warned about a slowdown in travel bookings as coronavirus cases climb.
The Transportation Security Administration said it screened 501,513 people at U.S. airports on Tuesday, the fewest since July 4 and about a quarter of the 1.9 million people TSA screened a year ago.
Delta's CEO Ed Bastian told CNBC that he doesn't expect demand to recover to more than a third of last year's levels this month, despite the upcoming holidays.
—Leslie Josephs
Vaccine offers exhausted health-care workers hope, but not immediate relief
The nation's hospitals are treating 104,600 Covid patients, the most at any point during the pandemic, according to data compiled by the COVID Tracking Project, which is run by journalists at The Atlantic.
Unlike the first wave of Covid hospitalizations in the spring when nurses rushed to hot spots to help care for sick patients, several parts of the country are now experiencing simultaneous strains on their health systems, experts say.
A forthcoming vaccine could soon help alleviate some of the burden facing hospitals and long-term care facilities since health-care workers and vulnerable populations are first in line to be inoculated, said Nancy Foster, vice president of quality and patient safety at the American Hospital Association.
But even successful vaccine rollouts likely won't slow virus spread and deaths until the late spring, according to a White House task force weekly report, which was obtained by CNBC.
"We are so tired — emotionally, physically, spiritually," said Tayler Oakes, a 27-year-old travel nurse from Tennessee who is treating Covid-19 patients at a small Navajo Nation health-care facility.
"But then you also have this guilt of like, 'I have to go to work because this isn't a normal job. People are dying.' It's a big moral burden to carry," Oakes said.
—Noah Higgins-Dunn
Pentagon looks to distribute its first 44,000 doses of Pfizer vaccine next week
As early as next week, the Department of Defense is slated to start distributing its first 44,000 doses of Pfizer's coronavirus vaccine to priority populations.
The Pentagon will offer the vaccine at 13 military installations within the U.S. and three abroad to health-care providers, emergency services, public safety personnel as well as select service members and their dependents. Those eligible for the department's allotment include active duty, reserve and civilian defense employees.
Defense officials added that the vaccine, at this time, is not mandatory but is strongly encouraged.
—Amanda Macias
Some Covid patients may have lingering symptoms for more than a year, Mayo Clinic doctor says
Some Covid-19 patients may experience lingering symptoms for more than a year, according to a Mayo Clinic doctor studying what is known as "post-Covid syndrome."
Among the most-common symptoms experienced by coronavirus "long haulers" include brain fog, fatigue and shortness of breath, Dr. Greg Vanichkachorn told CNBC. However, the occupational medicine specialist said it's not yet clear what causes Covid-19 patients to experience this while others are able to recover more quickly.
"I think one of the real startling things about this is that those kind of patients, hospitalized patients or the elderly, don't make up the majority of the patients we have been seeing," Vanichkachorn said on "Squawk Box." "In fact, many of the patients we are seeing are younger in age and are quite healthy and physically fit before their Covid infection. So, unfortunately, it does seem like this is something anybody can come down with after their infection."
—Kevin Stankiewicz
Covid relief bill extends unemployment programs, pays more benefits
A bipartisan Covid relief proposal would pay a $300 weekly supplement to unemployment benefits and extend benefits for millions of workers for 16 weeks, according to a summary of Senate legislation unveiled Wednesday.
The $908 billion framework would issue the weekly benefit enhancement starting in late December, meaning it wouldn't be retroactive for earlier weeks of unemployment as many had hoped.
A separate White House offer on Covid relief issued Tuesday threatened to derail continuing bipartisan negotiations. That proposal wouldn't pay a weekly benefit subsidy.
—Greg Iacurci
Canada signs off on Pfizer-BioNTech coronavirus vaccine
Canada approved use of the Covid-19 vaccine developed by Pfizer and BioNTech, the Associated Press reported, becoming the second country to clear that vaccine.
With the clearance by Health Canada, 249,000 doses are expected to be shipped to the country by the end of the month.
"Canadians can feel confident that the review process was rigorous and that we have strong monitoring systems in place. Health Canada and the Public Health Agency of Canada will closely monitor the safety of the vaccine once it is on the market and will not hesitate to take action if any safety concerns are identified," the department said in a statement.
—Chris Eudaily
Dr. Fauci is skipping Christmas with his family this year
Dr. Anthony Fauci, the nation's leading infectious disease expert, said he is not celebrating Christmas with his three adult children "for the first time in more than 30 years," he said during CBS News' the Milken Institute's Future of Health Summit.
Fauci has warned that the Christmas and Hanukkah holidays could result in a larger spike in cases than Thanksgiving, because people typically travel and congregate through New Year's Day. "That extends that vulnerable period by two or three times what you do in Thanksgiving," Fauci said. The United States is expected to see "the full brunt" of cases caused by Thanksgiving in the next week.
According to Fauci, "even modest size gatherings of family and friends in a home" can contribute to the spread of Covid. "We're starting to see infections that are emerging from what otherwise seemed like benign settings, namely a typical gathering of 10 or so people in a social setting," he said.
Despite "Covid fatigue" during the holidays, "we've got to pull together, as difficult as it is," Fauci said.
—Cory Stieg
Surge in new cases is setting up not-for-profit hospitals for a difficult 2021, Fitch Ratings says
The escalating surge in Covid-19 cases and hospitalizations is positioning U.S. not-for-profit hospitals for a difficult 2021, Fitch Ratings said in its 2021 outlook report.
Following a year of weak margins in 2020, Fitch said it expects more of the same next year. As a result, Fitch revised its sector outlook to "stable" from "negative" for NFP hospitals in 2021.
Senior Director Kevin Holloran said, however, that another nationwide shutdown is unlikely. "Elective procedures, even at a reduced clip, should not hit hospitals as hard financially as the nationwide shutdown that cut top-line revenues by around 40% in spring of 2020," Holloran said.
He added that hospitals are better prepared to handle Covid cases. "It's a case of 'been there, done that' in a sense with hospitals treating Covid-19 patients more efficiently, which is leading to shorter hospital stays," said Holloran.
The report noted that hospitals will continue to come under pressure — and face higher operating costs — particularly in the first half of 2021 until a viable vaccine is widely available.
—Terri Cullen
Delta gets rid of $200 international change fees
Delta Air Lines became the latest airline to scrap change-fees for most international tickets, joining American Airlines as the struggling industry tries to loosen its long-restrictive policies to entice travelers to book travel.
Along with United, the airlines in August announced they were eliminating domestic-ticket change fees, which could run as high as $200. All travel demand is weak because of the pandemic but international travel has been especially hard-hit due to travel restrictions.
Passengers are still responsible for paying for any difference in fare and once pandemic waivers are lifted basic economy tickets won't be eligible for the fee-free changes.
—Leslie Josephs
Sens. Warren, Smith tell Azar they discovered 'significant gaps' in testing capacity
Sens. Elizabeth Warren, D-Mass., and Tina Smith, D-Minn., have informed the secretary of Health and Human Services they have discovered "significant gaps in Covid-19 testing capacity."
In a letter this week to HHS chief Alex Azar, Warren and Smith said they made the discovery after contacting five of the world's largest Covid testing labs: Quest, BioReference, ARUP Labs, LabCorp., and Mayo Clinic.
The senators said the labs informed them that they experienced a "large spike in Covid-19 diagnostic testing needs" during the summer surge. The letter said the labs are also developing additional testing capacities but are still short on supplies and are experiencing "confusion about payment and reimbursement for Covid-19 diagnostic testing as a result of congressional and administration inaction."
Warren and Smith said the lab companies "called on Congress and the administration to clarify when third-party payers, the government, or other responsible parties should provide reimbursement for various types of Covid-19 testing, including for diagnostic, screening, or surveillance purposes."
The labs also requested more federal funding for additional testing.
—Brian Schwartz
Dow and S&P 500 open higher on optimism for stimulus deal
U.S. stocks opened higher amid optimism around a fiscal stimulus deal and a coronavirus vaccine, reports CNBC's Fred Imbert and Maggie Fitzgerald.
The Dow Jones Industrial Average advanced 128 points, or 0.4%, and the S&P 500 climbed 0.2%. The Nasdaq Composite hovered around the flatline.
—Melodie Warner 
Lancet editor says Oxford-AstraZeneca vaccine has 'distinct comparative advantage' over peers
The editor-in-chief of The Lancet medical journal believes the Oxford-AstraZeneca coronavirus vaccine has a notable advantage over the other leading candidates when it comes to storage and distribution.
Speaking to CNBC's "Street Signs Europe," Dr. Richard Horton said, "The Oxford AstraZeneca vaccine is the vaccine right now that is going to be able to immunize the planet more effectively, more rapidly than any other vaccine we have."
He said it was "not practicable" to launch a global vaccination campaign with storage needs of minus 70 degrees Celsius (minus 94 degrees Fahrenheit), ostensibly referring to the Pfizer-BioNTech vaccine.
Comparatively, the Oxford-AstraZeneca vaccine can be stored at regular refrigerator temperature. It is also cheaper than its peers.
"So that is why I think over the next few weeks we need to be looking for the approval, the emergency authorization of this vaccine, and then we need to get manufacturing scaled up to immunize the world," Horton said.
—Sam Meredith
Israel receives initial shipment of Pfizer vaccine
Israel received its first shipment of Pfizer's coronavirus vaccine and a distributor predicted the country would have enough to vaccinate about a quarter of its population by the year's end, Reuters reported.
Distributor Teva Pharmaceutical Industries said Israel plans to start administering the vaccine on Dec. 20, according to the Reuters report.
Pfizer and its partner BioNTech had agreed to provide Israel with 8 million doses of the vaccine. Israel has also ordered vaccines from Moderna and AstraZeneca.
Reuters reported an Israeli cabinet member this week said Pfizer vaccines would arrive in Israel on Thursday to be administered to the elderly and other high-risk populations and would be followed by Moderna vaccines.
—Melodie Warner 
UAE says China's Covid vaccine from Sinopharm is 86% effective in its trials
Phase 3 human trials of a Chinese vaccine in the United Arab Emirates have yielded an 86% efficacy rate, the UAE's Ministry of Health said. The UAE's Phase 3 trials included 31,000 volunteers across 125 nationalities between ages 18 and 60.
The announcement cited an "interim analysis" conducted by Sinopharm's China National Biotec Group (CNBG), whose Beijing Institute of Biological Product unit developed the vaccine itself. The Gulf state of 10 million people began Phase 3 human trials of the experimental vaccine in July, and in September approved its emergency use for health workers. Several high-ranking UAE officials, including the Dubai's Prime Minister Sheikh Mohammed bin Rashid al Maktoum, have taken the vaccine.
The ministry stated that "the analysis shows no serious safety concerns," but its release left out several details, including information on how many patients were given the vaccine dosage versus placebos, and whether patients experienced any side effects.
—Natasha Turak
People with a history of 'significant' allergic reactions shouldn't have Pfizer shot, UK regulator says
People who have a history of "significant" allergic reactions should not currently receive the coronavirus vaccine developed by Pfizer and BioNTech, the U.K. drug regulator has said.
The U.K's Medicines and Healthcare products Regulatory Agency updated its guidance on who should receive the vaccine, cautioning that "any person with a history of a significant allergic reaction to a vaccine, medicine or food (such as previous history of anaphylactoid reaction or those who have been advised to carry an adrenaline autoinjector) should not receive the Pfizer BioNtech vaccine," it said Wednesday. 
The precautionary advice came after two members of Britain's National Health Service, who received the vaccine on Tuesday, experienced allergic reactions to the shot.
Both are recovering well, according to Professor Stephen Powis, the national medical director for the NHS, who added:
"As is common with new vaccines, the MHRA have advised on a precautionary basis that people with a significant history of allergic reactions do not receive this vaccination," he said in a statement.
—Holly Ellyatt
Roche partners with Moderna to include antibody test in vaccine trial
Roche and Moderna are partnering to include a Covid antibody test in the vaccine maker's ongoing trials, Reuters reports. Roche's antibody test will potentially show whether Moderna's vaccine is effective.
Roche's test, which received Food and Drug Administration emergency use approval in November, can provide evidence of the presence and levels of antibodies, according to the wire service.
"This could play a role in assessing if, or when, an individual needs revaccination, or in helping to answer other clinically relevant questions," Roche said in a statement.
—Terri Cullen
Read CNBC's previous live coverage here:
Covid updates: U.S. adds 1 million cases in just four days, now above 15 million
Copyright CNBCs - CNBC