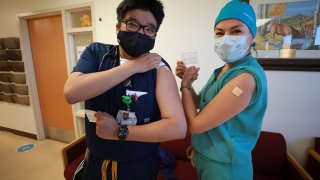 The coverage on this live blog has ended — but for up-to-the-minute coverage on the coronavirus, visit the live blog from CNBC's U.S. team.
U.S. lawmakers are racing to nail down a Covid relief bill after months of negotiating, as a Friday deadline to fund the government approaches and key aid measures are set to expire. Leaders from each side of the aisle met Tuesday afternoon and appeared to make progress. A final deal could include extended unemployment benefits, temporary student loan relief, a continued eviction moratorium and additional funding for small businesses. It's unclear whether a bill would send a second round of checks to Americans, but any combination of those efforts would help millions of people during a period of historic unemployment.
The U.S. is recording at least 212,200 new Covid-19 cases and at least 2,400 virus-related deaths each day, based on a seven-day average calculated by CNBC using Johns Hopkins University data.
Here are the biggest developments Wednesday:
The following data was compiled by Johns Hopkins University:
Global cases: More than 74.22 million 
Global deaths: At least 1.64 million
U.S. cases: More than 16.97 million
U.S. deaths: At least 307,501
Singapore minister says Covid vaccination will be free, so cost won't hinder people
Singapore will make Covid vaccines free for all long-term residents — regardless of nationality — so that "cost won't be a factor in people's decision making" on whether to take the voluntary shot, said Singapore's Minister for Foreign Affairs Vivian Balakrishnan.
The Southeast Asian country is expected to receive its first shipment of Pfizer and BioNTech's vaccine by the end of this month.
While vaccines will help the world to recover from the pandemic next year, technology such as artificial intelligence and robotics will continue to alter jobs and economies around the world, Balakrishnan told CNBC's "Squawk Box Asia."
"There will be recovery in 2021, the question is to what extent that bounce back will be. But it will be a fallacy, it will be very dangerous to assume we're going to go back to business as usual," he said.
— Yen Nee Lee
Amazon exec urges CDC panel to give its front-line workers priority access to Covid vaccine
Amazon has asked a Centers for Disease Control and Prevention panel to give its front-line workers priority access to the Covid-19 vaccine.
On Wednesday, Dave Clark, Amazon's senior vice president of retail operations, sent a letter to the Advisory Committee on Immunization Practices, an outside group of medical experts that advises the CDC. In it, he vied for warehouse workers, data center employees at Amazon Web Services and Whole Foods employees to "receive the Covid-19 vaccine at the earliest appropriate time."
Clark emphasized that Amazon's front-line workers have played an essential role in picking, packing and delivering the mountains of essential and non-essential goods ordered online during the coronavirus pandemic. Consumers across the country have turned to Amazon and other online retailers amid the pandemic as local governments ordered people to stay indoors and retail stores to close.
Earlier this month, a CDC panel voted to give health-care workers and nursing homes the first Covid-19 vaccine doses. Amazon and other tech companies, like Uber and DoorDash, along with a range of industries, are vying for their businesses to be considered a priority in the second wave of recipients.
—Annie Palmer
Vice President Mike Pence to get the vaccine Friday
Vice President Mike Pence and his wife, Second Lady Karen Pence, will both publicly get the Covid-19 vaccine Friday at the White House, NBC News confirmed.
Surgeon General Jerome Adams will also be vaccinated at the event.
The Food and Drug Administration started granting emergency use approval last week for the first vaccines and the first shots were administered Monday.
—Chris Eudaily
New York Gov. Cuomo warns a January economic shutdown is possible
New York's non-essential businesses may be forced to close again in January if the state doesn't clamp down on escalating coronavirus cases, Gov. Andrew Cuomo said during a press briefing.
However, whether the state imposes an economic lockdown like officials did in the spring depends on what New Yorkers do over the remaining holidays and whether new Covid-19 infections decline or grow, he said.
New York is grappling with a surge of Covid-19 cases, averaging roughly 10,294 new infections every day over the last week, a more than 7% increase compared with a week ago, according to a CNBC analysis of data compiled by Johns Hopkins University data.
"Of course a shutdown in January is possible," Cuomo said at a press conference in Albany. "But there's a big but," he said.
—Noah Higgins-Dunn
Fauci says U.S. could return to normal by mid-fall if most people are vaccinated
The United States could return to some semblance of normality by mid-fall next year if enough people are vaccinated against Covid-19, White House coronavirus advisor Dr. Anthony Fauci told CNBC's Meg Tirrell during a special edition of "Healthy Returns."
That means people could resume dining inside at restaurants, go to the movies and return to school safely, he said. To get there, however, Fauci said between 75% and 85% of the population will need to to get inoculated against Covid-19. That would create an "umbrella" of immunity to prevent further spread of the virus.
"That would be able to protect even the vulnerables who have not been vaccinated, or those in which the vaccine has not been effective," he said.
—Noah Higgins-Dunn
Trump appointee pushed for herd immunity, emails show
Top Trump appointees at the Department of Health and Human Services pushed this summer to adopt a Covid-19 strategy in the U.S. that would expose "infants, kids, teens" and others to the virus in an attempt to achieve so-called herd immunity, according to emails obtained by House lawmakers.
Rep. James Clyburn, chairman of the Select Subcommittee on the Coronavirus Crisis, which obtained the emails, said the documents demonstrate "a pernicious pattern of political interference by Administration officials."
The emails surfaced as part of an investigation into political interference by the Trump administration after former HHS scientific advisor Paul Alexander and long-time Trump ally Michael Caputo were accused this summer of meddling with the work of career scientists at the Centers for Disease Control and Prevention.
"Infants, kids, teens, young people, young adults, middle aged with no conditions etc. have zero to little risk....so we use them to develop herd...we want them infected....and recovered...with antibodies," Alexander wrote in a July 4 email.
—Will Feuer
FDA authorizes Abbott's rapid Covid test for at-home use
The Food and Drug Administration on Wednesday announced that it has authorized Abbott Labs' rapid Covid-19 test for at-home use, though doctors must prescribe the test for patients.
The test, which is an antigen test that delivers results in about 15 minutes, had previously been authorized for use by trained personnel only, but the new clearance will allow patients to test themselves at home with virtual assistance from a doctor. It's the third test authorized in the U.S. "that can be used completely at home," Dr. Jeff Shuren, director of the FDA's Center for Devices and Radiological Health, said in a statement.
To deliver the test, which is called BinaxNOW and costs $25 for at-home use, to people's homes and to supervise the collection and testing process, Abbott said it has partnered with telehealth provider eMed. Patients collect the sample with a nasal swab themselves and an app helps guide the testing process and provide results, Abbott said.
The authorization comes after the FDA cleared Ellume's at-home Covid test on Tuesday. That product was authorized for use in anyone 2 years or older and does not require a prescription.
—Will Feuer
Holiday shoppers make fewer impulse buys amid pandemic
As holiday shoppers buy more gifts online during the pandemic, they're adding fewer extras to their baskets.
Impulse shopping usually drives 25% of overall holiday spending, according to The NPD Group. This year, it's expected to drive 18% to 20% — a potential loss of $5 billion to $7 billion in sales for the season, the market research firm estimates.
The shift towards online shopping — which is expected to outlast the pandemic — is forcing companies to crack a retail riddle: How do you get consumers to toss extras into their baskets without the help of Christmas tunes & catchy displays?
"What stores used to do is utilize the crowds, utilize the price points, utilize the floor to have product that you didn't expect to see in places where they wouldn't normally be," said Marshal Cohen, chief industry advisor for The NPD Group. "Without the traffic in the store, how do I navigate online to get you to see things you didn't expect to see? That's the challenge retail has today."
Some retailers are turning to targeted ads, emails and other digital tools to recommend items or nudge purchases. Walmart, for example, added a "Last Minute Deals" page on its website that teases fun items, from toys to small kitchen appliances, that shoppers may buy on impulse. Bed Bath & Beyond put together collections of products that shopper may buy together — such as the "Cozy Backyard Holiday Collection" with throw pillows, copper mugs for hot beverages, candles and fire pit. It also reduced the number of steps to checkout on its website, something that can cause shoppers to click away. —Melissa Repko
At-home Covid tests may be available in drugstores in February, says Ellume CEO
As soon as February, the at-home coronavirus tests recently approved by the FDA could be available in U.S. drugstores, according to Ellume CEO Dr. Sean Parsons.
The product is the first at-home diagnostic test for Covid-19 that does not require a prescription to be granted emergency use authorization.
"We'll be shipping first product in the beginning of January. That will be ramping up through the months of January, February and March," said Parsons, who also founded the diagnostic products company based in Australia. "We would anticipate that in the second part of February or March, we would like to have that available in the major retailers across the U.S."
— Kevin Stankiewicz
Antibody drugs could cut Covid hospitalizations by half, but they're not being used
With Covid-19 hospitalizations soaring across the country, one powerful weapon against the virus remains relatively unused, CNBC's Meg Tirrell reports.
Antibody drugs could cut hospitalizations by 50% to 70%, according to Moncef Slaoui, chief scientific advisor to the U.S. government's Operation Warp Speed, but only 5% to 20% of available doses are being put to use.
"It should be used much more," Slaoui said in a telephone interview.
There are a couple complicating factors at work: The drugs are not simple to administer, and they need to be given early in the course of the disease. There are also funding limitations for states that are already seeing massive strains on their budgets and health systems.
—Sara Salinas
Fed commits to continue bolstering the economy until U.S. recovers from Covid-era unemployment
The Federal Reserve said it would continue to support the economy and promised to continue buying Treasury bonds until the U.S. recovers from Covid-era unemployment, CNBC's Jeff Cox reports.
The central bank also upgraded its economic outlook held its benchmark interest rates near zero after concluding its two-day meeting.
Central bank leaders said in a statement they would continue to buy at least $120 billion of bonds each month "until substantial further progress has been made toward the Committee's maximum employment and price stability goals."
The Fed's historic spending and lending efforts helped prop up the U.S. economy amid unprecedented unemployment and economic shutdown.
—Thomas Franck, Sara Salinas
Gottlieb worries states will struggle with Covid vaccine administration
Dr. Scott Gottlieb told CNBC he was concerned that states may struggle with the last-mile delivery of coronavirus vaccines, just like there has been issues with the administration of Covid-19 antibody drugs.
"The experience with the antibody drugs is not a good harbinger," Gottlieb said on "Squawk Box." "As we get into the next tranche of people to be vaccinated, which is going to be in the community, it might be challenging for states to distribute those vaccines if they can't distribute the antibody drugs."
The state-by-state variability in vaccine distribution plans may add to the difficulties, the former FDA commissioner and Pfizer board member said.
"If we are leaving this fully up to 50 states, we can expect to see a lot of differences between how well this is run and who gets access to it and who doesn't, and that's going to be unfortunate because in an ideal world, you want to see more uniformity," he said.
—Kevin Stankiewicz
Disclosure: Scott Gottlieb is a CNBC contributor and is a member of the boards of Pfizer, genetic testing start-up Tempus and biotech company Illumina. Gottlieb also serves as co-chair of Norwegian Cruise Line Holdings′ and Royal Caribbean's "Healthy Sail Panel." 
Member of Biden press pool tests positive, staffer for president-elect will quarantine
A member of the group of reporters traveling with President-elect Joe Biden has tested positive for the coronavirus, the president-elect's transition team said.
Following the positive test results, one person on Biden's communications team who had been in close contact with the reporter will spend a week in self-quarantine, the transition team said in a statement.
Other members of the press pool who were near that reporter "are not on pool duty today and will not be until they clear the window for being infectious," said the statement from the office of the president elect.
Biden tested negative for Covid on Tuesday. His office said that the reporter who tested positive "was not ever in close contact" with Biden, in accordance with the definition from the Centers for Disease Control and Prevention.
The reporter "adhered to masking and social distancing guidelines at all times during the trip," the statement noted.
"No other member of the President-elect's staff has been assessed to be at risk for exposure or transmission of the virus," the office added.
— Kevin Breuninger
Pfizer vaccine shipments in California, Alabama got too cold, vials had to be quarantined and replaced
U.S. officials quarantined Pfizer coronavirus vaccine shipments in California and Alabama after they said a transit issue left the vials too cold.
Pfizer's vaccine requires a storage temperature of around minus 70 degrees Celsius. Vials of the vaccine are stored in trays, which carry a minimum of 975 doses each, according to the CDC.
Gen. Gustave Perna, who oversees logistics for Operation Warp Speed, told reporters that two trays of vaccine that arrived in California had to be returned to Pfizer after the temperature somehow fell to minus 92 degrees Celsius. He said the "anomaly" happened again in Alabama.
"All the way on the other side of the country in Alabama, two trays were received at one location. Same anomaly, went to minus 92. We were able to stop and quarantine the vaccine, stop and get a replacement shipment to Alabama," he said.

–Berkeley Lovelace Jr.
Secretary of State Mike Pompeo to quarantine after Covid exposure
Secretary of State Mike Pompeo is quarantining after coming into contact with a person who tested positive for the coronavirus, the State Department said.
"Secretary Pompeo has been identified as having come into contact with someone who tested positive for COVID. For reasons of privacy we can't identify that individual," a spokesperson for the department said in a statement. "The Secretary has been tested and is negative. In accordance with CDC guidelines, he will be in quarantine. He is being closely monitored by the Department's medical team."
Pompeo had canceled a speaking appearance scheduled for Tuesday at an indoor holiday party at the State Department, according to The Washington Post.
It was not immediately clear if Pompeo would also skip a Cabinet meeting Wednesday with President Donald Trump, which is scheduled to start at 11:30 a.m.
—Kevin Breuninger
Delta starts shipping Pfizer vaccine on passenger planes
Delta Air Lines became the latest carrier to fly coronavirus vaccine doses on its passenger flights.
United Airlines earlier said it had started transporting doses of the Pfizer vaccine in passenger aircraft bellies. United had used cargo-dedicated planes to bring vaccines into the U.S. starting last month but the domestic shipments, which began after U.S. officials approved the vaccine last week, are smaller and can fit on almost any plane in United's network.
Delta said it flew vaccines from its Detroit hub, a roughly two-hour drive from Pfizer's plant in Kalamazoo, Michigan, to San Francisco and Atlanta.
Big shipping companies like FedEx and United Parcel Service, which are taking the lead in vaccine distribution, routinely contract passenger airlines to carry cargo volumes above what their networks can handle.
—Leslie Josephs
Developing $900 billion Covid aid deal would include direct payments
After months of political sniping, Congress has finally come within reach of a deal to send more help to Americans during the coronavirus pandemic.
The top four leaders on Capitol Hill have come close to a $900 billion pandemic aid agreement, CNBC and NBC News confirmed. The lawmakers will put aside liability protections for businesses and state and local government relief, the two biggest hurdles to reaching a deal in recent months.
The developing rescue package would include a direct payment to Americans, which could come out to about $600 per person. It would also have about $300 billion for Paycheck Protection Program small business loans and funds for Covid-19 vaccine development and distribution, among other provisions.
GOP Sen. Steve Daines of Montana told CNBC he is optimistic congressional leaders will release an agreement today and vote on it by the end of the week.
Congress hopes to tie relief measures to a funding package that it needs to pass by a midnight Friday deadline to avoid a government shutdown. If lawmakers fail to extend lifelines put in place this year, millions will lose unemployment benefits or face eviction at the end of the month.
—Jacob Pramuk
Midwest daily new cases show signs of slowing, while surge continues elsewhere in the U.S.
U.S. stocks open higher on stimulus hopes
The S&P 500 and Nasdaq Composite opened slightly higher as apparent progress in the U.S. fiscal stimulus talks helped to offset disappointing retail sales data, reports CNBC's Fred Imbert and Maggie Fitzgerald.
Both market benchmarks rose 0.1% at the session's start. The Dow Jones Industrial Average was flat.
—Melodie Warner 
Southwest trims January flights as demand cools, launches new outdoor destinations
Southwest Airlines says customers are canceling more trips and that demand is soft for travel into early 2021 as Covid-19 infections climb and state and local governments introduce new restrictions.
Southwest isn't alone. Competitors American, United, Delta and JetBlue have also noted a slowdown in bookings in recent weeks.
Southwest says its January capacity will be down 40% to 45% from a year earlier, more than a previous forecast of no more than a 40% cut. Revenue that month will likely fall 65% to 75% from a year earlier.
The Dallas-based airline forecast a fourth-quarter cash burn of about $12 million a day, up from a previous estimate of between $10 million and $11 million. It also expects as much as a 75% revenue decline in December from a year ago, more than its earlier projection of as much as a 65% drop.
Southwest is launching a host of leisure destinations targeting travelers looking for outdoor space. In the second quarter, it plans to start serving Santa Barbara, California, and Fresno Yosemite International Airport.
—Leslie Josephs
How Time Out rebranded to entertain people stuck at home
Time Out Group CEO Julio Bruno discusses how the company temporarily rebranded itself to "Time In" at the start of Covid-19 lockdown measures to focus on at-home entertainment, local businesses and deliveries.
—Melodie Warner 
U.S. retail sales fell 1.1% in November, more than expected
U.S. retail sales dropped 1.1% in November, more than the 0.3% decline expected, offering another sign the economic recovery from the pandemic recession is slowing, Reuters reported.
The Commerce Department also said data for October was revised to show sales fell 0.1% instead of climbing 0.3% as previously reported. October's decrease was the first since April when business restrictions were implemented to control the first wave of coronavirus cases.
—Melodie Warner
United starts voluntary passenger contact tracing program with the CDC
United Airlines this week will start asking passengers to voluntarily provide information like an e-mail address, phone number and address at their destination to help federal health officials' contact-tracing efforts.
"Contact tracing is a fundamental component of the nation's public health response strategy for controlling the spread of communicable diseases of public health concern," CDC Director Robert Redfield said in news release. "Collection of contact information from air travelers will greatly improve the timeliness and completeness of information for COVID-19 public health follow-up and contact tracing."
Travelers can opt in to the program on the airline's app or website or at the airport. United said in the coming weeks the program will expand to all of its domestic and international departures. Delta Air Lines earlier this month launched a similar voluntary contact information program with support from the CDC for travelers arriving in the U.S.
—Leslie Josephs
The head of the American Ballet Theatre on the financial cost of the pandemic
Kara Medoff Barnett, the executive director of the American Ballet Theatre, discusses the group's difficult decision to cancel the 2021 season at New York's famed Metropolitan Opera House.
Health experts are concerned prisoners have been excluded from vaccine plans
Health experts and criminal justice advocates have expressed deep concern over the notable absence of prison populations among coronavirus inoculation plans.
It comes as both the U.S. and U.K. begin their national vaccination programs to curb the spread of Covid-19.
"If the biggest hotspots for Covid are prisons, doesn't it make sense to inoculate everyone from the guards to the prisoners?" said Ashish Prashar, a justice reform advocate and senior director of global communications at Publicis.
Health officials have been warning about the dangers of epidemics for those incarcerated for years, citing an inability for people to maintain safe physical distancing in correctional facilities because of their confinement in small shared spaces.
—Sam Meredith
Read CNBC's previous live coverage here:
Covid updates: FDA approves first over-the-counter rapid at-home Covid test; NYE in Times Square closed to the public
Copyright CNBCs - CNBC