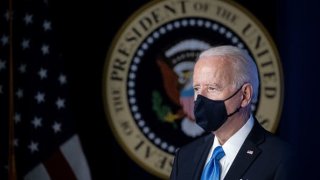 The Biden administration will resume wearing masks in areas of the U.S. where new CDC guidance applies.
The CDC recommended that fully vaccinated people resume wearing masks indoors in areas of the nation with high transmission rates.
"I hope all Americans who live in the areas covered by the CDC guidance will follow it; I certainly will when I travel to these areas," President Joe Biden said.
WASHINGTON – President Joe Biden and White House officials will resume wearing masks indoors when traveling to parts of the nation with high Covid transmission rates, in accordance with updated guidance from the Centers for Disease Control and Prevention that calls for fully vaccinated people to put on face coverings in high-risk places.
"I hope all Americans who live in the areas covered by the CDC guidance will follow it; I certainly will when I travel to these areas," Biden said in a statement after the CDC issued its guidance.
The CDC on Tuesday recommended that fully vaccinated people wear masks indoors in public places, in the wake of new data showing those immunized – though well protected from severe illness – can still spread the virus to people who are not inoculated sometimes.
"In areas with substantial and high transmission, CDC recommends fully vaccinated people wear masks in public, indoor settings to help prevent the spread of the delta variant, and protect others. This includes schools," CDC Director Rochelle Walensky said.
The CDC also recommended that everyone in grade schools wear masks indoors, "including teachers, staff, students and visitors, regardless of vaccination status."
Two months ago, the CDC told fully vaccinated people they no longer needed to wear masks in most settings, and the White House had pitched the lead up to the July 4 holiday as a "summer of freedom" to celebrate progress made fighting the virus.
However, the highly transmissible delta variant has become the dominant strain since then, leading to a spike of infections across the country, particularly in areas with low vaccination rates. The Biden administration, after making major inroads in its vaccination campaign during the winter and spring, has struggled to boost immunization rates during the summer.
The weekly average of new daily Covid infections in the U.S. is more than 57,000, an increase of 65% from the week prior, according to a CNBC analysis of Johns Hopkins University data. As recently as July 5, the nation's seven-day average of new daily infections was just below 12,000.
Biden, in his statement Tuesday, encouraged Americans to get vaccinated.
"Today's announcement also makes clear that the most important protection we have against the Delta variant is to get vaccinated. Although most U.S. adults are vaccinated, too many are not. While we have seen an increase in vaccinations in recent days, we still need to do better," the president said.
Biden told reporters that his administration was also considering whether to require federal employees to receive the Covid-19 vaccine, a move that comes one day after the Department of Veterans Affairs implemented such a mandate.
"That's under consideration right now," Biden said, adding that unvaccinated people are contributing to the ongoing pandemic.
"If those other 100 million people got vaccinated, we'd be in a very different world. So, go get vaccinated," the president said.
White House press secretary Jen Psaki told reporters that the president was briefed on the updated CDC guidance Tuesday morning by Dr. Anthony Fauci, the administration's medical advisor on the coronavirus.
"We will of course be abiding by every aspect of the CDC guidelines on masking that they will provide this afternoon," Psaki said during a press briefing.
"That means we will be prepared to wear masks again if required," she said.
When asked if the White House was disappointed by the CDC guidance, Psaki noted the severity of the emerging delta variant.
"We are all dealing with an evolving virus where there's no playbook and no historic precedent," Psaki explained. "What the American people should feel confident in is that we are going to continue to be guided by science and look at public health data in order to provide new guidance."
-- CNBC's Berkeley Lovelace and Kevin Breuninger contributed to this report.
Copyright CNBC