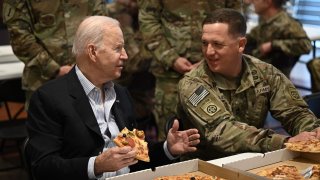 This has been CNBC's live blog covering updates on the war in Ukraine. [Follow the latest updates here.]
U.S. President Joe Biden stopped in Poland on Friday to meet with U.S. troops, President Andrzej Duda and Ukrainian refugees, in a bid to signal Western unity against Russia's onslaught.
It comes as the U.K.'s Defense Ministry said Ukraine was pushing Russian troops back and regaining ground near Kyiv.
The Ukraine President Volodymyr Zelenskyy marked one month since Russia launched its full-scale attack by thanking his country's armed forces, suggesting Moscow may not have launched its invasion if it knew the extent of Ukraine's resistance.
U.K. Ministry of Defence says Russians likely to concentrate firepower on urban areas
The U.K. Ministry of Defence said Russia seems likely to focus its artillery on urban areas.
"Russian forces are proving reluctant to engage in large scale urban infantry operations, rather preferring to rely on the indiscriminate use of air and artillery bombardments in an attempt to demoralise defending forces," the ministry said in its daily intelligence update.
It said, however, this strategy will likely come "at the cost of further civilian casualties" as Moscow looks to "limit its own already considerable losses."
The ministry said Russia's onslaught continues in a number of Ukrainian cities, including Kharkiv, Chernihiv and Mariupol.
— Christine Wang
Pentagon official says Russian forces focusing more on Donbas, less on Kyiv
Russian forces appear to be prioritizing efforts in Donbas in eastern Ukraine, a U.S. Department of Defense official said Friday.
"That's where still there remains a lot of heavy fighting and we think they are trying to not only secure some sort of more substantial gains there as a potential negotiating tactic at the table, but also to cut off Ukrainian forces in the eastern part of the country," the official said.
While airstrikes on Kyiv continue, the Pentagon official said Russian forces currently do not appear to be pursuing a ground offensive in Ukraine's capital city.
The official also said the Pentagon has seen Russian troop movements in Georgia, which they said could indicate reinforcements may be sent into Ukraine.
Reports of military movements in Ukraine continue to be difficult to confirm as the situation across the country remains fluid and changes rapidly.
The official also confirmed Ukrainian forces destroyed a Russian ship in Berdyansk earlier in the week, but declined to say what weapons were used, in order to protect operational security. The official also said the department does not know how many Russians were onboard when the ship was hit or how many casualties there were.
— Christine Wang
Venture capital fund backed by Russian oligarch removes all traces of operations online
A venture capital fund backed by sanctioned Russian billionaire Roman Abramovich appears to be trying to wipe any trace of its operations since he was sanctioned by the United Kingdom and European Union as the Kremlin wages war on Ukraine.
Impulse VC, an investment fund that has offices in Russia and Germany, has wiped nearly every part of their website that identifies who they are. Their website as of the publication of this story only shows their name "Impulse."
However, a search on the internet archive Wayback Machine shows that in the buildup to the sanctions placed on Abramovich by U.S. allies, the fund's site showed extensive details of its operations and investors, including its portfolio, office locations and target investments in perspective companies.
— Brian Schwartz
Biden compares war scenes in Ukraine to those of 1989 Tiananmen Square protests
President Joe Biden compared images from the Russian invasion of Ukraine to those seen during the famous 1989 protests in Beijing's Tiananmen Square.
Biden made his remarks during a humanitarian aid-focused press conference in Poland, a key stop on his European tour to drum up sustained support for Kyiv and its resistance to Moscow's assault.
"I think even you Poles, who know Ukraine so well, have to be a little surprised at how much courage and capacity and resilience of the Ukrainian people," Biden said. "When you see a 30-year-old woman standing there in front of a tank with a rifle. I mean, talk about what happened in Tiananmen Square. That's Tiananmen Square squared."
The Tiananmen Square protests of 1989 ended in the forcible suppression of pro-democracy demonstrators by the Chinese Communist Party's People's Liberation Army, who had occupied the site. Chinese forces killed and injured thousands in putting down the protests.
Biden appeared to draw a parallel to the most famous image of the protests, which captured a lone man standing in front of a line of tanks.
— Thomas Franck
Miles from Ukraine, Biden sees refugee crisis in Poland
Just miles from Ukraine, President Joe Biden saluted Poland for giving refuge to more than 2 million refugees who have fled Russia's invasion, then he met with humanitarian experts on the ground about what will be needed to mitigate the growing suffering.
Biden said he had hoped to get even closer to the border but was prevented because of security concerns. Still, he said he wanted to visit Poland to underscore that the assistance it is providing is of "enormous consequence" as Europe experiences the biggest refugee crisis since World War II.
"It's not stopping," Biden said of the devastation in Ukraine. "It's like something out of a science fiction movie."
— Associated Press
We're in a fight between democracy and oligarchs, Biden tells U.S. troops in Poland
U.S. President Joe Biden stopped near Rzeszow, Poland to thank the U.S. Army 82nd Airborne Division ahead of his meeting with the country's President Andrzej Duda in Warsaw.
"We're in the midst of a fight between democracy and oligarchs," Biden said.
"What's at stake here is not just what we're doing in Ukraine to try to help the Ukrainian people and try to keep the massacre from continuing," Biden said. "Beyond that is what are your kids and grandkids going to look like in terms of their freedom."
"What you're engaging in is much bigger than whether or not you can alleviate the pain and suffering of the people of Ukraine. We're in a new phase, we're at an inflection point," he said. Biden added that the world will not be the same in 10 or 15 years and the question is: "Who's going to prevail," democracy or autocracy.
"You are the finest fighting force in the history of the world," Biden said.
In addressing the troops, Biden invoked his son Beau Biden, a lawyer and officer in the Army Judge Advocate General's Corps who served in Iraq and Kosovo.
"There are hundreds of thousands of people like my son, like all of you. So thank you, thank you, thank you, thank you," Biden said.
— Dawn Kopecki, Getty Images/Reuters
U.S. Treasury Secretary Yellen says China sanctions are not needed right now
Treasury Secretary Janet Yellen told CNBC on Friday that she does not see reason to impose economic sanctions against China now as the U.S. works to stifle aid to Russia.
The U.S. and its NATO allies have for weeks warned Beijing that efforts to outfit Moscow with arms or provide economic relief in violation of Western sanctions would result in unspecified consequences.
China has thus far refused to denounce Russia's assault on Ukraine, and U.S. officials say that Russia has asked Beijing for help as it struggles to seize control of its neighbor.
"We would be very concerned if they were to supply weapons to Russia, or to try to evade the sanctions that we've put in place on the Russian financial system and the central bank," Yellen said of China. "We don't see that happening at this point."
— Thomas Franck
Yellen says Russian oligarch Abramovich 'could face sanctions' by U.S.
Treasury Secretary Janet Yellen said Russian billionaire Roman Abramovich "could face sanctions" from the U.S., despite his claims of being a peace-broker between Ukraine and Russia.
Abramovich, the highest profile oligarch in the West, has been sanctioned by the U.K., European Union and Canada. But questions have swirled around why the U.S. has been slow to act. Ukraine's President Volodymyr Zelensky advised President Biden to hold off sanctioning Abramovich, who he said could act as a go-between with Russia to negotiate peace, according to The Wall Street Journal.
Secretary Yellen told CNBC that Abramovich could still face sanctions.
"I would hold open the possibility that — certainly not take off the table the possibility — he or other individuals could face sanctions in the future," she said.
— Robert Frank
Polish president's plane makes emergency landing in Warsaw
The airplane carrying Polish President Andrzej Duda to meet U.S. President Joe Biden in eastern Poland has made an emergency landing after returning to Warsaw, Duda's advisor Jakub Kumoch was cited as saying by state-run news agency PAP on Friday.
The head of Duda's office, Pawel Szrot, told Reuters that the Polish president did not face any danger.
— Reuters

Biden to meet Ukrainian refugees, give 'major address' on Saturday
President Joe Biden will travel to Warsaw, Poland, on Saturday to meet with Ukrainian refugees and Americans providing humanitarian aid before delivering a "major address," the White House said.
Biden's speech "will speak to the stakes of this moment, the urgency of the challenge that lies ahead, what the conflict in Ukraine means for the world, and why it is so important that the free world sustain unity and resolve in the face of Russian aggression," national security advisor Jake Sullivan told reporters on Air Force One.
"He'll also talk about the context and history of this conflict, and where he sees it going from here," Sullivan said.
The president will give the speech Saturday afternoon before boarding his flight back to the U.S., Sullivan said.
Biden will also meet with Polish President Andrzej Duda on Ukraine's western border that has quickly become a magnet for Ukrainians fleeing Russian aggression.
— Kevin Breuninger
Putin reportedly says the West is seeking to cancel Russia's cultural icons
Russian President Vladimir Putin has claimed the West is trying to cancel some of the nation's cultural icons, Reuters reported, citing the works of composers such as Pyotr Tchaikovsky and Sergei Rachmaninoff.
His reported comments come after a number of music venues have moved to cancel performances of Russian artists in the wake of the Kremlin's unprovoked war with Ukraine.
For instance, the Chubu Philharmonic Orchestra of Japan and the Cardiff Philharmonic Orchestra of Wales recently both dropped performances of "1812 Overture," Tchaikovsky's popular military-themed piece.
— Sam Meredith
Russian stocks fall on second day of trade; Aeroflot, Gazprom lead losses
Russian stocks closed lower on their second day of trade, with flag carrier Aeroflot and state-owned energy giant Gazprom leading the losses.
The Moscow Exchange closed down 3.7% in another shortened session. Wild moves on Thursday saw the bourse close 4.4% higher.
Prior to reopening in the previous session, Russian stocks had not traded on the benchmark exchange since Feb. 25, the day after the Kremlin launched its unprovoked assault on Ukraine.
Aeroflot tumbled 18.2% on Friday, adding to losses of 16% in the previous session. Gazprom, meanwhile, closed 12.1% lower.
— Sam Meredith
Ukraine's city of Chernihiv reportedly cut-off by Russian armed forces
Ukraine's northern city of Chernihiv has effectively been cut-off by Russian troops, Reuters reported, citing the regional governor.
"The city has been conditionally, operationally surrounded by the enemy," Governor Viacheslav Chaus reportedly said in televised remarks.
He added the city was under attack from artillery fire and warplanes.
— Sam Meredith
More than 3.7 million people have fled Ukraine since Russia's invasion, UN says
The U.N. refugee agency says over 3.7 million people have fled Ukraine since Russia launched its unprovoked assault on Feb. 24, the vast majority of whom are women and children.
To date, over 2.2 million people have fled Ukraine to neighboring Poland, while around 570,000 have sought safety in Romania and roughly 370,000 have fled to Moldova.
— Sam Meredith
Around 300 people believed to have been killed in bombing of Mariupol theater, officials say
Mariupol city council has said, citing eyewitness accounts, that about 300 people are thought to have been killed in the bombing of the besieged city's theater earlier this month.
CNBC has not been able to independently verify this claim.
More than 1,000 people were estimated to have been sheltering in the Mariupol theater when it was leveled in an attack on March 16.
"The Drama Theater in the heart of Mariupol has always been the hallmark of the city," Mariupol's city council said via Telegram, according to a translation.
"Now there is no more Drama Theater. In its place, a new point of pain for Mariupol residents appeared, ruins that became the last refuge for hundreds of innocent people."
— Sam Meredith
Biden heads to Poland to witness refugee crisis
U.S. President Joe Biden on Friday is slated to visit the city of Rzeszów in southeast Poland, approximately 80 kilometers (50 miles) from the Ukrainian border.
Biden is expected to meet with U.S. troops stationed in Poland who have recently been deployed to provide further assistance to NATO's eastern flank. He is also scheduled to meet aid workers assisting refugees in the country.
More than 2 million people have fled Ukraine to Poland since Russia launched its full-scale attack on Feb. 24.
— Sam Meredith
U.S. vows to deliver at least 15 billion cubic meters more of LNG to Europe this year
The U.S. has said it will work with international partners to provide at least 15 billion cubic meters more of liquified natural gas to Europe this year.
U.S. President Joe Biden and European Commission President Ursula von der Leyen announced a joint task force to reduce the bloc's dependence on Russian fossil fuels as the Kremlin's war with Ukraine continues.
It comes amid heightened concern that energy-importing countries continue to top up President Vladimir Putin's war chest with oil and gas revenue on a daily basis.
— Sam Meredith
U.K. sees Ukraine pushing Russian forces back, reclaiming ground
Ukraine has re-occupied control of towns and defensive positions up to 35 kilometers east of the capital Kyiv, according to the U.K.'s Defense Ministry, with Russian troops seen falling back on "overextended supply lines."
The Defense Ministry said via Twitter that Ukrainian forces are likely to continue to attempt to push Russian forces back along the northwestern axis from Kyiv toward Hostomel Airfield.
Meanwhile, in the south of Ukraine, Russian forces are seeking to circumvent Mykolaiv as they look to move west toward the port city of Odesa, the ministry said. Their progress is being slowed by logistical issues and Ukrainian resistance, it added.
— Sam Meredith
China has the power to stop the war in Ukraine, professor says
Russia will have to comply if China wants Moscow to end the war in Ukraine, says Phillips Payson O'Brien, a professor of strategic studies at the University of St. Andrews.
If Beijing told Moscow that they want the war to end, Russia would have "no choice but to try and end this war relatively soon," O'Brien told CNBC's "Street Signs Asia" on Friday.
"China has that much influence," he said.
However, China doesn't want to look like it is abandoning one of its important partners, and is playing a very "intricate and delicate game."
"There's a strategic interest not to abandon Russia and not have Russia be too humiliated. But there's an enormous economic interest to have good relations with the West," he said.
China's economic interest in Russia is "tiny" compared to the interest in NATO or European Union countries, O'Brien added.
— Abigail Ng
U.S. says NATO will 'respond' if Russia uses chemical weapons in Ukraine
U.S. President Joe Biden has insisted NATO "would respond" if Russian President Vladimir Putin uses chemical weapons in Ukraine, without providing further details of what this might mean.
"We would respond if he uses it," Biden said at a press conference, referring to Putin. "The nature of the response would depend on the nature of the use."
His comments came after a flurry of meeting summits with the European Union, G-7 partners and NATO allies.
— Sam Meredith
Ukraine's Zelenskyy says EU sanctions against Russia came 'a little bit too late'
Ukrainian President Volodymyr Zelenskyy says European sanctions against Russia over its invasion came "a little bit too late" and pushed for the EU to swiftly bring Europe's second-largest country into the bloc.
"You implemented sanctions — we are thankful," Zelenskyy said, according to a translation of a video posted on his official Telegram channel. "These are powerful steps, but it was a little bit too late. Because if it happened preventatively, Russia would not have started a war, or at least — nobody knows for sure — there was a chance."
Zelenskky said Ukraine needed to be in the EU "soon" and called on lawmakers to make sure Kyiv's accession to the bloc did not happen too late.
"And now we are preparing the membership of Ukraine in the European Union. Finally. And here I am asking you to not be too late. Please."
— Sam Meredith
Read CNBC's previous live coverage here:
NATO leaders promise Zelenskyy aid, more troops in east; Ukraine says it sank Russian warship Orsk
Copyright CNBC