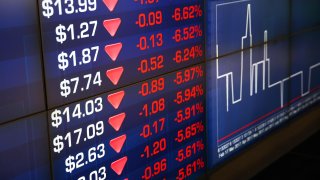 This is CNBC's live blog covering Asia-Pacific markets.
Asia-Pacific shares fell on Friday as investors continue to weigh the Federal Reserve's aggressive stance.
In Australia, the S&P/ASX 200 fell to its lowest levels since July on its return to trade after a holiday on Thursday, then recovered some losses to close 1.87% down at 6,574.70. South Korea's Kospi dipped 1.81% to 2,290.
Hong Kong's Hang Seng index lost 1.18% in the final hour of trade. Mainland China stocks were also lower, with the Shanghai Composite shedding 0.66% to 3,088.25 and the Shenzhen Component losing 0.972% to 11,006.41.
MSCI's broadest index of Asia-Pacific shares outside Japan was down 1.35%. Japan markets were closed for a holiday Friday.
Elsewhere in Asia, inflation in Malaysia came in in line with expectations, while Singapore's consumer price index rose more than expected. The Straits Times index extended losses after the announcement and was 1.14% lower in afternoon trade.
On Wall Street overnight, stocks fell for a third consecutive day over recession fears following the Fed's latest 75-basis-point rate hike.
The S&P 500 was 0.8% lower at 3,757.99, while the Nasdaq Composite lost 1.4% to 11,066.81. The Dow Jones Industrial Average dipped 107.10 points, or 0.3%, to 30,076.68.
— CNBC's Samantha Subin and Sarah Min contributed to this report.
Oil prices drop as recession fears offset stalled Iran nuclear deal
Oil prices dipped on Friday as recession fears offset a deadlocked Iran nuclear deal, according to a Reuters report citing a U.S. State department official.
Brent crude futures shed 1.82% to stand at $88.81 per barrel, while U.S. West Texas Intermediate also dropped 2% to $81.84 per barrel.
"We've hit a wall," the U.S. official was quoted as saying on the sidelines of the U.N. General Assembly as Iran refuses to budge its stance.
— Lee Ying Shan
Singapore's inflation rises at fastest pace in 14 years
Singapore's headline inflation figure for August jumped more than expected from a year ago to 7.5%, the fastest pace of increase since 2008. The print is higher than analysts' predictions of 7.2%.
Core inflation, which is closely watched by the Monetary Authority of Singapore, rose 5.1%, slightly above than the expected 5%.
In Malaysia, inflation came in at 4.7% for August, in line with expectations.
— Abigail Ng
Singapore, Malaysia inflation for August expected to accelerate
Core inflation in Singapore is expected to rise to 5% in August from a year ago, up from 4.8% in July, according to a Reuters poll of economists.
Headline inflation is set to increase to 7.2%, compared with July's 7% print.
In neighboring Malaysia, the consumer price index for August is predicted to rise to 4.7%, a faster pace than July's 4.4%, another Reuters poll forecasts.
— Abigail Ng
Nomura downgrades China's 2023 growth outlook
Nomura downgraded its forecast for China's 2023 annual growth to 4.3% from 5.1%.
Analysts cited a potentially prolonged Covid-zero policy or a spike in the nation's infections after a possible reopening in March.
The latest downgrade comes after Goldman Sachs lowered its outlook earlier this week to 4.5% from 5.3%.
William Ma of Grow Investment Group told CNBC's "Street Signs Asia" he's optimistic on policy changes he sees coming after the People's Party Congress in mid-October.
—Jihye Lee
CNBC Pro: Is it time to buy Treasurys? Here's how to allocate your portfolio, according to the pros
The latest threat to stocks now isn't any macro risk — it's rising 2-year Treasury yields, according to some fund managers and strategists.
Short-term, relatively risk-free Treasury bonds and funds are back in the spotlight as the yield on the 2-year Treasury continues to surge.
So should investors be fleeing equities and piling into bonds?
Pro subscribers can read what the pros say about how to allocate your portfolio right now.
— Weizhen Tan
Australia's S&P Global flash PMI shows growth in private sector
Australia's flash manufacturing Purchasing Managers' Index (PMI) rose slightly to 53.9 in September from 53.8 in August, according to data from S&P Global.
The flash services PMI ticked higher to 50.4 in September, compared with 50.2 in August.
"The latest survey data indicated that the manufacturing sector was the primary driver of Australia's private sector growth during September," S&P Global wrote in a release.
"The service sector, though expanding more quickly than in August, saw activity rise only marginally with activity and new business growth rates remaining below the historical averages," it said.
— Abigail Ng
Japanese yen hovers around 142 against the U.S. dollar
The Japanese yen traded at 142.33 against the greenback in Asia's morning the day after Japanese authorities said they intervened in the currency market for the first time since 1998.
The yen strengthened to 140-levels before heading back to 142-levels.
"In our view, the Ministry of Finance [in Japan] needs to convince the U.S. Treasury to join the intervention," Joseph Capurso of the Commonwealth Bank of Australia wrote in a Friday note, adding solo intervention by Japan "fails within a few weeks."
— Abigail Ng
CNBC Pro: Back hedge funds to outperform equities and bonds this year, UBS says
As both stocks and bond prices fall simultaneously, hedge funds have broadly outperformed and are "well placed to navigate current market volatility," according to a new report by UBS.
As market volatility persists, the Swiss bank shared the types of hedge funds it prefers.
Pro subscribers can read more here.{=null}
— Ganesh Rao
Copyright CNBC