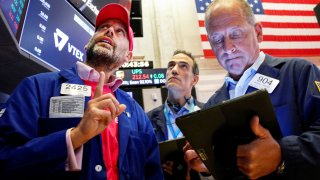 Here are the most important news, trends and analysis that investors need to start their trading day:
1. Wall Street dips after another day of record-high closes
U.S. futures were under some pressure Tuesday, one day after the Dow Jones Industrial Average, S&P 500 and Nasdaq logged a fifth straight session of gains and another day of record-high closes. The Federal Reserve's two-day July meeting begins Tuesday, with the future for rates, bond-buying and inflation on the agenda. Big Tech earnings are set to begin Tuesday afternoon. The second-quarter earnings season has been stronger than expected. So far, 88% of S&P 500 companies reported a positive EPS surprise, according to FactSet. If that's the final tally, it would be the highest since FactSet began tracking the metric in 2008.
2. Big Tech earnings coming after the closing bell
Apple, Microsoft and Google parent company Alphabet are scheduled to deliver quarterly results Tuesday afternoon, along with Visa and Starbucks. Facebook and Amazon are set to report earnings later this week. Twitter and Snap led the way last week, delivering better-than-expected results on their top lines and bottom lines. At Twitter, second-quarter ad sales surged 87% from a year earlier. Snap reported higher-than-expected daily user metrics. Both companies issued upbeat forecasts.
3. Tesla tops $1 billion in quarterly net income for first time ever
Shares of Tesla rose about 1.5% in Tuesday's premarket, the morning after the electric automaker reported earnings of $1.45 per share on $11.96 billion in revenue. Both beat expectations. Tesla passed $1 billion in quarterly net income for the first time, 10 times higher than the year-ago period. The company also reported a $23 million impairment related to the bitcoin it holds on its balance sheet. The world's largest cryptocurrency plunged more than 40% in Q2, so Tesla's holdings would be worth much less than the nearly $2.5 billion at the end of the first quarter. During Tesla's post-earnings conference call, CEO Elon Musk said he won't likely appear on future calls unless he has "something really important" to communicate.
4. GE, UPS best estimates on earnings, revenue
Shares of General Electric jumped more than 3.5% in premarket trading, after the struggling conglomerate exceeded estimates with second-quarter earnings and revenue. GE also said Tuesday it expects 2021 free cash flow to be $3.5 billion to $5 billion, up from its prior forecast of $2.5 billion to $4.5 billion. Free cash flow is closely watched by investors as a sign of the health of a company's operations and ability to repay debt.
Shares of United Parcel Service dropped about 2% in the premarket, after the delivery giant on Tuesday reported second-quarter earnings and revenue that beat estimates. Under CEO Carol Tome, UPS has been reining in costs and focusing on high-margin packages under her "better not bigger" strategy.
5. House select panel on Capitol attack to hold first hearing
The House select committee investigating the deadly pro-Trump invasion of the U.S. Capitol will hold its first hearing Tuesday. The panel will hear directly from four law enforcement officers about their struggles to defend the Capitol from the mob. Wyoming Rep. Liz Cheney, who was ousted from GOP leadership after refusing to stop criticizing Donald Trump for falsely claiming the 2020 election was rigged, is one of two Republicans appointed to the committee. The other Republican is Rep. Adam Kinzinger of Illinois. House Speaker Nancy Pelosi previously rejected two of GOP Leader Kevin McCarthy's picks for the committee — combative Trump supporters Reps. Jim Jordan of Ohio and Jim Banks of Indiana.
— Reuters contributed to this report. Follow all the market action like a pro on CNBC Pro. Get the latest on the pandemic with CNBC's coronavirus coverage.
Copyright CNBCs - CNBC