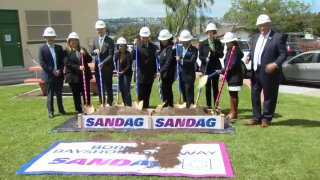 A groundbreaking ceremony was held Thursday to celebrate the beginning of a project that will connect the U.S.-Mexico border to the Bayshore Bikeway.
The Border to Bayshore Bikeway project will connect the Imperial Beach portion of the path to the San Ysidro Port of Entry, the San Diego Association of Governments (SANDAG) announced. Local government officials and cycling advocates gathered to mark the constriction of the project.
As it is now, the bicycle path stands as a 24-mile loop that surrounds National City, Chula Vista, Imperial Beach, Coronado and Barrio Logan. Upon its completion, the project will add a new 6.7-mile cycling path to Bayshore Bikeway.
"This community infrastructure project is just one steppingstone in SANDAG's vision to ensure there are alternative modes of transportation for people of all ages and abilities traveling to and from Mexico," SANDAG Chairwoman Nora Vargas said in a press release.
Crews are expecting to complete the additional bike path sometime in 2025.
The project will cost $18.6 million and is funded through the California Transpiration Commission's Active Transpiration Program and the regional half-cent sales tax dedicated for transportation.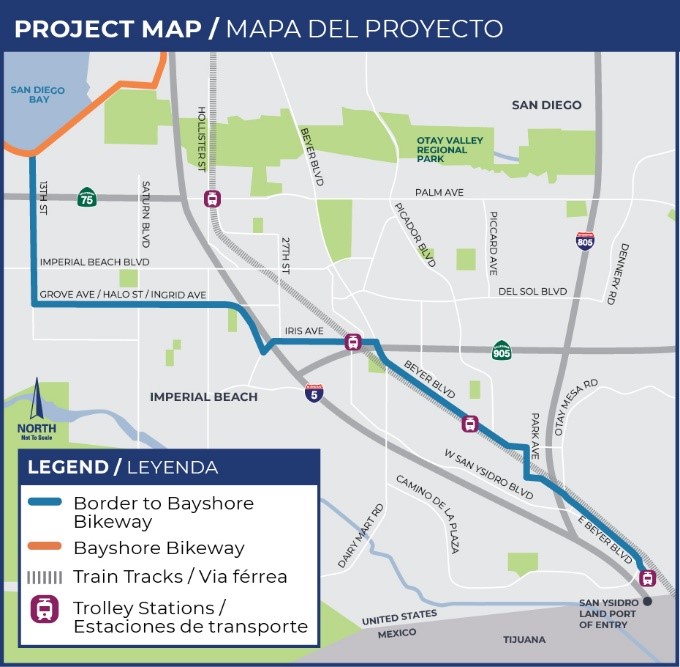 A map of what the added bike path is slated to look like. (SANDAG)