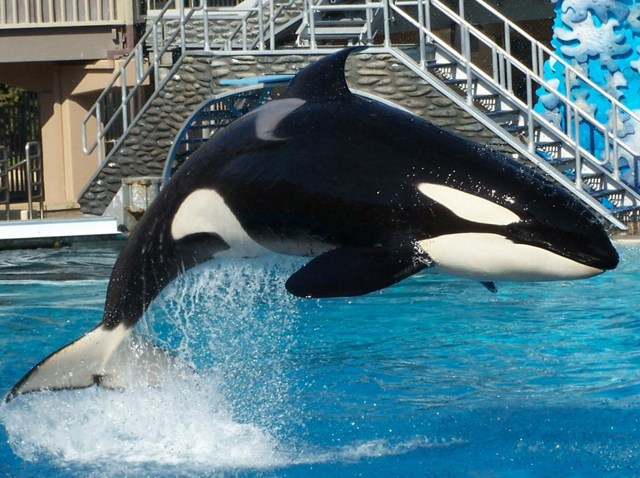 Shamu and his pals are getting a new corporate daddy.

Anheuser-Busch InBev said Wednesday it will sell its theme parks, including San Diego's SeaWorld, to private equity firm Blackstone Group for at least $2.3 billion.

The world's largest brewer, based in Belgium, has been shedding assets to help pay for the $52 billion takeover of St. Louis-based Anheuser-Busch that formed the company last year.

The two sides confirmed the deal Wednesday, saying Blackstone will pay $2.3 billion in cash and give Anheuser-Busch InBev the right to up to $400 million of Blackstone's initial returns.

New York-based Blackstone's other investments include Universal Studios Orlando and Madame Tussauds wax museums, so the theme parks fit into its portfolio.

Anheuser-Busch InBev's Busch Entertainment Corp. consists of 10 amusement parks, including SeaWorld parks in San Diego, Florida and Texas, Busch Gardens in Florida and Virginia, and other parks including Sesame Place and Adventure Island.
The park in San Diego was built in 1964 on 22 acres of bayfront property in Mission Bay.

It is considered the second-largest entertainment park operator in the U.S. after Walt Disney Co. and has about 25 million visitors a year and 25,000 employees.

Carlos Brito, the brewer's CEO, said in a statement that the business performs well but is not a core focus for Anheuser-Busch InBev.

Blackstone sees opportunity investing in media and entertainment businesses, said Michael Chae, senior managing director at Blackstone.

"We are delighted to be investing in a company with such iconic brands, irreplaceable assets and strong growth prospects," he said.

It's not clear how much the business is worth. According to Anheuser-Busch InBev's annual report from 2008, the entertainment unit had pro-forma revenue of 932 million euros, or about $1.37 billion. It has not included the unit's quarterly performance in its results this year.

Busch Entertainment CEO Jim Atchison said the company looks forward to growing the business under its new owners, who he said have strong experience in the entertainment industry.

Park guests and employees should expect to see only improvements, he said.

"We're very committed to growth, to maintaining the quality of the parks, the investments of the park," he told The Associated Press.

The brewer of top-selling Bud Light started Busch Gardens in 1959 at the Tampa brewery, Atchison said, first adding animals and eventually a full-fledged theme park.

Atchison said it was bittersweet that Anheuser-Busch would no longer be the company's owner, especially for him because he started his career parking cars at the Tampa Busch Gardens as a teenager.

The unit will add some clerical and other jobs to perform tasks that its parent had covered.

Busch Entertainment will maintain its headquarters in Orlando, Fla., and for now, the Busch name, Atchison said.
Copyright AP - Associated Press