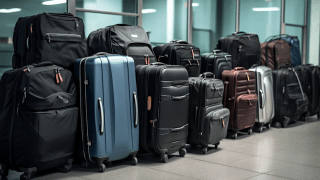 Imagine standing by the luggage carousel after a long flight, only to have your bag never arrive. It's a common scenario during the busy holiday season, according to Melissa Lambarena with Nerdwallet.
"We know that people tend to travel with more bags as they are traveling with gifts and other items. That's why it's important to be prepared for this situation," Lambarena said. 
Nearly 2 million bags were mishandled by 15 different airlines during domestic flights from January through August of this year, according to the U.S. Department of Transportation. That's compared to 1.8 million misplaced bags during the same time period in 2022.
"Honestly, I rarely have any concern," said air traveler Ted Moran. "I put a lot of faith in the system and technology. I know, usually, when there's a connecting flight, sometimes you take a risk, definitely in direct flights. I don't think about it twice." 
But better safe than sorry. So, what should you do before boarding your next flight?
"It's important to document everything that you're traveling with, everything that you're going to put in a checked bag, and you also want to keep receipts for these items," Lambarena said.
One way to avoid a lost bag is to travel light with a carry-on. But sometimes that's not realistic, especially when you're carrying holiday gifts. If you do have to check a bag, don't put anything valuable in it.
"These might be things of sentimental value or monetary value, like jewelry or electronics and anything that you might need immediately like your medications, keys, a passport or documents," Lambarena said. 
Some travelers, like Ted Moran, say they trust the system and prefer to check bags instead of carrying on.
"I just want the least amount possible to get in the plane," Moran said. "It's easier to sit down, relax, and one less thing to worry about." 
If your luggage is misplaced, Lambarena says to report it to the airline immediately and ask for a copy of the report, so that it's documented. Be sure all of your bags have your name, address and phone number on them. And for some extra peace of mind, consider putting a tracking device in your bags, so you'll know where they are at all times.