The threat of wildfires in California has gotten so bad that insuring homes in some areas has become very expensive, or even impossible. Thousands of homes have been destroyed by fires in the last few years.
Sharon Rabell's condo in Santee is considered by insurance companies to be located in a high-risk area.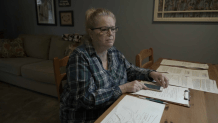 "I don't want to lose my home, and have to move in with a relative," she said as she pointed to all the vegetation surrounding the complex. Trees, bushes and grass that will start drying out as we approach the summer months.
But it is not the flames that Sharon fears will someday take her home away from her. It is the rising cost of property insurance that keeps her up at night.
Back in December, she was notified by her Homeowners Association that they were having a hard time getting coverage due to wildfire risk. They found one policy for partial coverage with a price tag of almost $320,000 for the complex. A 600% jump from the previous year.
"Is this going to continue? Is this now the new normal? Is this going to continue to go up, and up, and up?" Sharon asked.
Her answer came five months later. A second notice indicated that her HOA had found a policy for full coverage for more than $560,000. A 1,000% jump from the year before.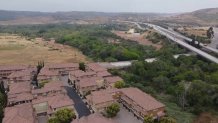 From bad to worse news for Sharon who is a retired emergency dispatcher. The extra cost was passed down to the homeowners as an additional $265 a month.
"I'm worried that it's going to come to a point where I'm going to miss a payment, that's what concerns me, and that's like the downfall of everything that I've worked so hard for," she said.
To be clear, most Californians' property insurance won't shoot up by 1,000%. But families shouldn't be surprised if they see an increase on their next renewal.
"Insurance is simply the cost of claims, and as those costs rise, typically our premiums will follow," said Karen Collins, Vice President of the Property and Environmental Department with the American Property Casualty Insurance Association.
She added that the rise in premiums is fueled by the increase of wildfires in the last five years, rising costs of repairs and repairs due to inflation, and growing populations in high-risk areas.
"In 2017 and 2018 in California, we experienced the highest number of wildfire losses that wiped out insurance profits dating all the way back to the early 1990s," said Collins.

California's Insurance Commissioner Ricardo Lara blames climate change for the growth of wildfires and the higher costs of insurance to protect homes against them.
"All these various factors are happening around the world," he said, "This issue didn't happen overnight so unfortunately we're not going to get out of this overnight."
The California Department of Insurance (CDI) has taken steps that could help homeowners lower the cost of their policies.
Safer from Wildfires
This plan requires insurance companies to give discounts to homeowners who mitigate the risk of wildfires by reinforcing their home, their surrounding, and their community.
"Really reducing the losses is the key to reducing our costs and improving the affordability and availability of insurance," Lara said.
Moratorium on Non-Renewals
California also has a one-year moratorium on non-renewals that keeps companies from not renewing a policy when they deem the wildfire risk to be too high.
"People who have lost their home in a fire, the last thing they want to worry about is if they're going to get canceled or if they're going to get non-renewed," said Lara.
Sharon says nobody has been able to tell her what will happen in a year. That really scares her.
"I feel really blessed, and I love my little home, and I just feel like things like this, if they get so out of control, I'm going to end up losing my home someday," she said.
If you have an insurance policy make sure to grab your camera and take pictures of all your valuables. Go room by room. You never know when you might need them to file an insurance claim.
CDI also has a tool on their website where you can type in your address and find the brokers and insurance companies that offer coverage in your area. This could help you compare policies to find the best suited for your home and budget.