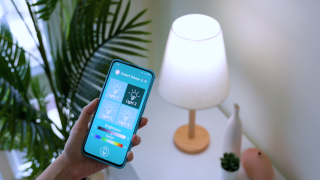 Maybe you've seen those fancy-looking homes where everything is automated or powered by the touch of a button. Well, if you've got smart home envy but feel like you're stuck in the Stone Age with a not-so-smart home, Consumer Reports is here to help. It turns out some inexpensive upgrades of everyday items can bring many smart home features to you.
Both smart bulbs and plugs can turn any lamp into a smart lamp that you can control from anywhere using an app or a smart speaker like Alexa or Google Assistant. But how do you know if those bulbs or plugs are best for your home?
Smart bulbs are a better choice for lamps that have a lampshade because the bulbs themselves are kind of ugly-looking. The bulbs are also a great choice for fixtures that can't be plugged in, such as overhead light fixtures. If you want lighting that can change color or even color temperature (from warm to cool), then you also may want a smart bulb.
After evaluating nearly a dozen smart bulbs, CR says the models from TP-Link Kasa Smart Light Bulb Multicolor (a 4-pack) for $39.99 and the Cree Lighting Connected Max Color Changing (6-pack) for $49.99 are great budget options.
If you want to dip more than your toes into the smart home trend, smart plugs offer a lot of options. With smart plugs, you can automate much more than just lighting. You can use them to control any appliance in your home, whether it's a fan or even a coffee maker. They're also really great for fire safety when using devices like space heaters, hair straighteners, and hair dryers. If you forget to turn them off, you can do it remotely from your phone even if you're not home.
CR says the GE Cync Indoor Smart Plug for $14.99 is one of the easiest to set up and works with both Alexa and Google Assistant.
The TP-Link Kasa Smart Wi-Fi Plug Slim (4-pack) for $49 is also easy to set up and use, and it works with Amazon, Apple, Google, and Samsung assistants.
Some smart plugs even offer energy monitoring, so you can figure out which devices in your home hog the most energy and turn them off when they aren't in use.