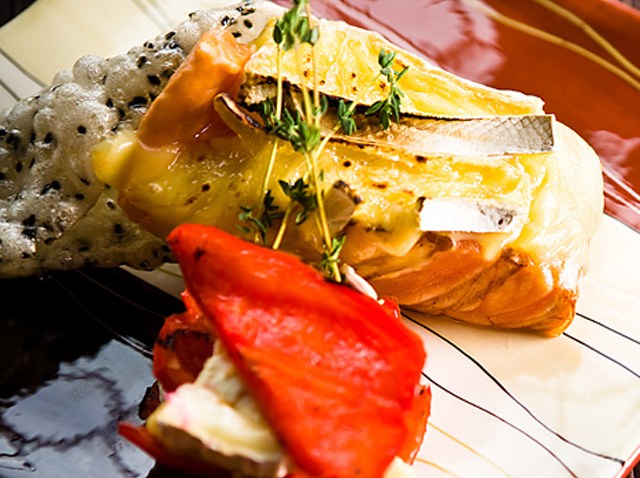 San Diegans can get a taste of fine dining for a fine price.
From Monday, June 21 through Sunday, June 27, Yelp.com and 15 restaurants around San Diego are joining together for Yelp Eats Week. The participating restaurants will be offering prix fixe menus for only $25 (plus tax and gratuity) during Yelp Eats Week.

The menus surely won't disappoint foodies who are out for a great deal on some of the best food San Diego has to offer.
Check out what's in store:

All American Grill
Bibb Lettuce Salad, Seasonal Soup of the Day
Grilled Salmon, Char Grilled 10 oz. Prime Top Sirloin Steak, Grilled Double Cut Sweet Brined Pork Chop
All American Snicker's Pie, Warm Chocolate Cake
Candelas Reestaurant
Spinach Salad, Vegtable Soup
Poblano Chile Stuffed, Red and Green and Yellow Mole, Red Snapper
Guanabana Fruit Mousse, Traditional Tres Leches Cake
Candelas On The Bay
Spinach Salad, Vegetable Soup
Poblano Chile Stuffed, Red and Green and Yellow Mole, Red Snapper
Guanabana Fruit Mousse, Traditional Tres Leches Cake
Croce's Restaurant & Jazz Bar
Ceviche with Citrus Marinated Alaskan Halibut, Warm Spinach Salad with Poached Figs
Pan Seared Alaskan Halibut, Wild Mushroom Potato Lasagna, baked in a Cilantro Lime Vinaigrette, Bordeaux Braised Short Ribs with White Cheddar Mac-n-Cheese
Fondant Au Chocolat, Vanilla Lavender Honey Crème Brulee
Jimmy's Famous American Tavern
Tomato Bisque, Simple Greens with Sherry Vinaigrette
The Jimmy Burger w/Pimento Cheese, Zinfandel Braised Short Ribs, BBQ Salmon Salad
Individual Homemade Chocolate Chip Cookie Sundae, Strawberry Poundcake
Kous Kous
B'stila Roll,Vegetarian Small Plates
Lamb Shank Tagine, Chicken Tagine, Vegetarian Stuff Tomato and Bell Pepper Tagine
Orange Blossom, Vanilla Bean Custard
Garlic Shrimp, Caprese Salad
Chef's Pasta, Beef Short Rib
Creme Brulee, Chocolate Fondant
Osetra Watergrill
Seafood Napoleon, Spicy Tuna Roll, Caprese Mozzarella
Lobster Ravioli, Lemon Chicken
Tiramisu, Ice Cream Of The Day
Osteria Panevino
Cesare, Zuppa Del Giorno
Pollo Parmigiana, Pennette Spicy Vodka, Arrosto Di Maiale
Tiramisu
Rice
Fresh Farm Field Greens, Roasted Heirloom Beet Salad
Grilled Swordfish, Block Cut New York Strip, Spring Pea and Ricotta Papardelle Pasta
Chocolate Temptation, Strawberry Shortcake
Suite & Tender
Deconstructed Vine Ripe Tomato Salad, Crispy Lump Crab Cakes
Miso Glazed Salmon, Petite Poussin, Double Short Rib
S&T Vanilla Bean Cheesecake, Warm Chocolate Truffle Cake
Tabule
Seared Diver Scallops, Duck Tacos
Chipotle Fettuccine Pasta, Chicken Picata
Double Chocolate Cake
The Glass Door Restaurant & Lounge
White Corn Soup, Braised Pork Belly with Pineapple Thai Chili Glaze and Soba Noodles
Roasted Chicken, Steak Frite, Tarragon & English Pea Agnolotti
Stone Fruit Pavlova, Chocolate Pot Au Crème
The Oceanaire Seafood Room
Cup of New England Clam Chowder, Diablo Squid
Contesa Black Tiger Shrimp Scampi, Stuffed California Sole, Black & Bleu Local Mako Shark
Blueberry & Hazelnut Cheesecake, Vanilla Bean Crème Brulee
The Turquoise, Cafe Bar Europa
Risotto Milanese, Huevos De Toro
Seared Atlantic Salmon, Pasta Al Dente
Grand Marnier Sundae, Chocolate Pot Du Creme
For locations and more info head over to Yelp.com