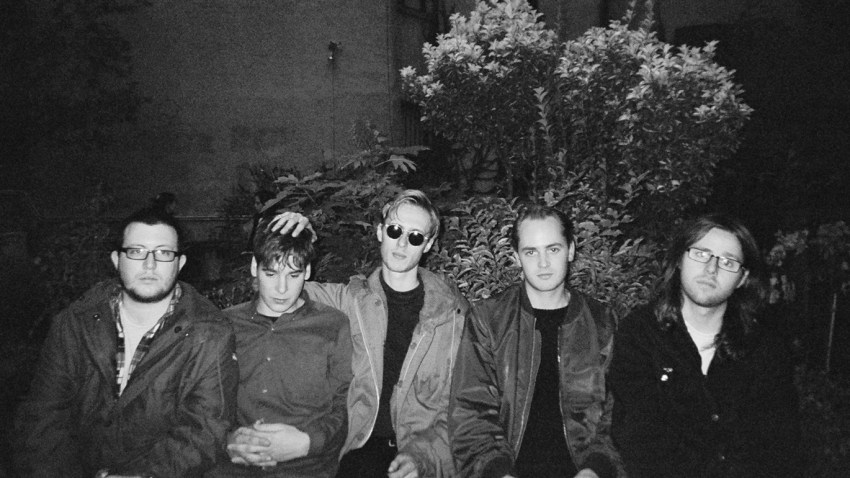 It may have taken four years, but when the first shards of post-punk guitar blast out of
Eagulls
' self-titled debut album, there is no doubt: It was worth the wait.
The quintet, which counts George Mitchell (vocals), Liam Matthews (guitar), Mark Goldsworthy (guitar), Henry Ruddel (drums) and Tom Kelly (bass) as members, released their first album on March 3 -- after originally banding together halfway through President Barack Obama's first term.
The Leeds-based band, which makes its first-ever San Diego stop at the
Soda Bar
on May 28, follow in the footsteps of some mighty post-punk torchbearers like Wire, Gang of Four, the Cure, Joy Division, and Killing Joke (who they actually covered for the B-side to last year's "Nerve Endings" 7-inch single), among others.
But lest they fall too squarely into the sum of their influences, Eagulls have loosely combined parts of each of those aforementioned bands and thrown them into a steaming hot cauldron of their own recipe over the course of 10 simultaneaously melodic -- and brutal -- tracks: Throat-shredding vocals ("Nerve Endings"), an angular two-edged guitar attack ("Possessed"), thick bass pummeling ("Footsteps") and a relentless uptempo pace join an uncompromising punk ethos that brings the entire witches' brew to a boil with biting social commentary. Buy it
here
.
Through the dismal snarl -- and don't forget the unadulterated
rock
-- the album surprisingly isn't subdued by its own heavy substance. Instead, the band's frontman, George Mitchell says, "[The album] does have a sense of misery about it but there's also a 'light at the end of the tunnel' feeling too. It's not like, 'This is it. This is the end.' There's hope too."
Mitchell talked with us at length by phone about today's musical landscape, their chaotic live performances and ending up on shows with easily digestible pop bands.
Dustin Lothspeich: You guys quit your day jobs to play SxSW this past March. Was that nerve-racking?
George Mitchell: Yea, it's a big step obviously -- every month you got money coming in and you feel safe when you got a job. But now, whatever happens happens. We chose to do it 'cuz we don't wanna be stuck in dead-end jobs forever.
DL: Did you ever think Eagulls would get to this point?
GM: I dunno. I moved to Leeds because of the band. I had a dead-end job for four years and we were basically working those jobs to do Eagulls. But it's what we wanted to do. It's got to the point now, where we're capable of living from the band, going everywhere and playing shows.
DL:
You guys played
Late Show with David Letterman
in January [watch it
here
]. Was that weird for you guys?
GM: It was. It was a very weird and surreal experience for us. We know how massive that show is, even though we're British. They have these TVs in the waiting rooms backstage and we were watching the show live while we were waiting to perform. Then someone comes in and goes, "OK, guys, ten minutes" and then you're in the TV you were watching in that room. You go from watching it to being in the TV.
DL: You guys came together in late 2009 -- how has it taken over four years for us to finally have a full-length?
GM: It was needed. It all makes sense, the amount of time it took. When we were working at our day jobs, full-time for four years -- as well as doing the band, struggling to pay bills and going on tour. We had to do everything ourselves. We had written and recorded our album before we even met with our record label. We learned who we were as people and as a band.
DL: Are we going to have to wait another four years for another one?
GM: Nah -- we're obviously touring a lot so we don't get to write and record very much. But don't worry about a four year wait for the next one.
DL: You were the last member recruited for the band -- did you know any of the other guys?
GM: I was friends with Henry [the band's drummer] since we were about five years old. We grew up together. He had met the others, and I'd go to Leeds for parties and shows, so I already knew them. They asked me and I was like, "I'm good doing my artwork." I was an illustrator at the time. They kept buggin' me about it, so finally I said "Fine, I'll do it." We wrote a decent song and it got released, and right around that time, I broke my arm, so I figured I'd do the band thing -- and that's it.
DL: The album sounds like it's from another time, like it should've been released in 1984 -- do you feel like your style of music fits into today's music scene?
GM: Well, there are a lot of people that really like it. I don't think there are lot of bands around that are doing this sort of thing -- talking about real things in life; about problems and stuff. They take the easy route; they write songs about any old thing -- basically love songs. And everyone will enjoy that because it's easy and it's very digestible. Our style is more abrasive and it takes more thought to listen and understand it. But yea, there is a place for it.
DL: Your guys' live shows have frequently been described as "confrontational" -- what are your thoughts before taking a stage?
GM: I don't ever really think about it. I just do what I do. As soon as we start playing, something starts happening. I just project my thoughts through the songs. Every show is different. We just set out to do our best. We nitpick about little things in our performances, or little annoyances but people in general don't notice the stuff we do.
DL: How do you feel about some bands these days trying to look like they don't know what the hell they're doing? Like, they don't give a s--- about playing well or anything?
GM: It's weird. There are definitely some talented musicians that try to play badly. You can tell. If you're talented, you should try to use that. Don't hide it. We're not trained musicians, but we play the best we possibly can.
DL: When you're looking at lineups for shows you'll be playing, do you ever think "We just don't belong here"?
GM: Loads of times. There's no point in some of these bands who are currently playing music -- 'cuz they all the sound the same. They're all easy-listening, poppy sort of stuff. People enjoy it enough - and we stand out when we're next to them. It's good 'cuz it makes people realize there is guitar music that's meaningful, not just any old easily-digestible pop music. I don't have a problem playing with different bands -- it's good to have diversity.
DL: British bands seem to nail that post-punk sound. Is there just something in the water in your land that inspires that kind of harshness?
GM: I think so. I think it's a bit of everything about Britain. It's a cocktail of things that create s---. All these people grow up in these dead-end cities and town, and then they move to the city to try and be the next person in the rat race. They create these sort of people; this sort of British thing. You see it in other countries, sure, but yea -- it must be something in the water. And the water tastes good.
DL: Do you think the year-round rain over there just gets to people after awhile?
GM: Yea, the weather is a big thing to do with it. You can't go outside when it's raining. You're stuck inside and that's when you get creative.
DL: San Diego doesn't really have weather like that. Not that much misery in our part of the world.
GM: We'll bring a couple bottles of our water over.

Dustin Lothspeich plays in Old Tiger, Chess Wars and Boy King. Follow his updates on Twitter or contact him directly.