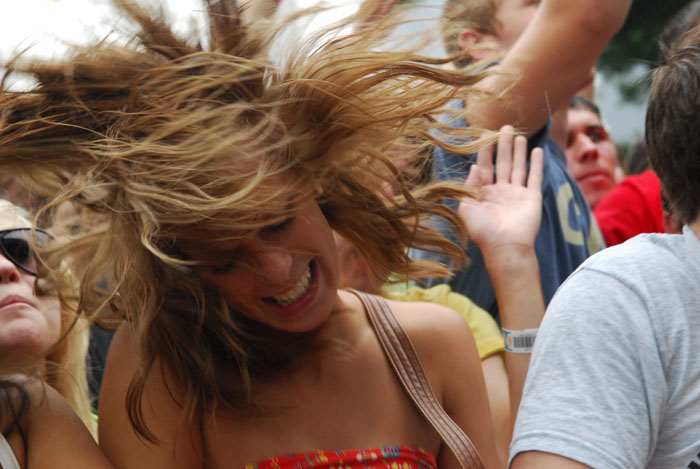 It takes a certain something to draw 75,000 otherwise rational souls out into the elements for three days of rain, mud and intense heat.

Fortunately for its organizers, this year's Lollapalooza, inside Chicago's sprawling Grant Park, was heavy on that certain something.

Nearly 150 bands, spanning a huge spectrum of musical styles, kept the weather-weary fans coming back for more, despite the extreme conditions that beset the festival.

For those trying to soak up as much of the music as possible, Lollapalooza requires thick soles, a working watch and a willingness to compromise. Lou Reed or Snoop Dogg? Fleet Foxes or Crystal Castles? Band of Horses or Silversun Pickups? You get the idea.

The toughest decisions came at the end of each night when two headliners would face off for the hearts and minds of the fans. The first night pitted New Wave legends Depeche Mode against a family of Southern rockers, Kings Of Leon. While Depeche Mode was given the bigger stage, it appeared the crowd for KOL was both larger and more enthusiastic. Playing up to the locals, lead singer Caleb Followill took it upon himself to kick off the Chicago weekend in a loud, rock fashion.

Day two could have been a blowout with prog-rock giants Tool going up against New York's Yeah Yeah Yeah's, a last minute replacement for the Beastie Boys. While the crowd at Tool was definitely larger, the Yeah Yeah Yeah's held their own, with lead singer Karen O proving herself every bit a headliner, singing and dancing away in a large Indian headdress.

The final night also showcased a pair of heavyweights: Lollapalooza founder Perry Farrell's seminal alternative band, Jane's Addiction vs. the glam-rock stylings of The Killers. Farrell might have been disappointed to see The Killers draw a bigger crowd, but those who opted for Jane's were not disappointed. The original band, playing together for the first time in years, ripped through a hits-heavy set complete with helicopters, burlesque dancers and all the theatrics you come to expect from a Jane's Addiction show.

With so much music and so little time, most musicians (legends like Lou Reed & Jane's Addiction gave themselves a pass) at Lolla had to show military-like discipline in getting on and off the stage in their allotted time. As soon as one band took a bow, the first notes from the neighboring stage could be heard. The hour long set-times for non-headliners could leave some fans wanting more, but that's the point of a festival like Lollapalooza, where the music is served up smorgasbord style: a little of everything.

For those who didn't make the trip out to Chicago, plenty of the weekend's music will be coming to you at Street Scene later this month. If bands like Cage The Elephant, Silversun Pickups, of Montreal, Band of Horses, Ra Ra Riots, Deerhunter, No Age, The Knux and San Diego's own Delta Spirit put as much heart and sweat into Street Scene as the did at Lollapalooza, all of us should be in for a great weekend.