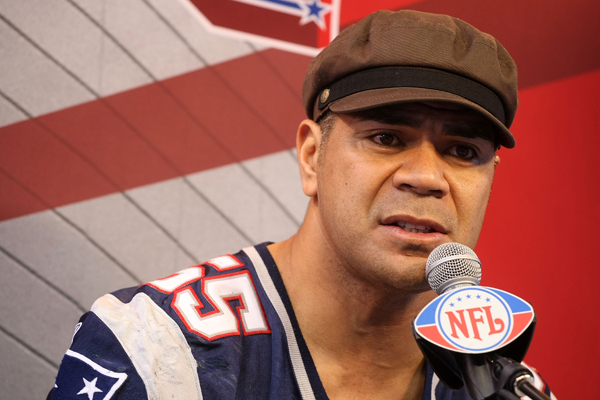 Now that he's been released from the hospital, former Chargers linebacker Junior Seau will face consequences from his arrest on domestic violence charges.
The former Pro-Bowler has been on a rollercoaster ride over the last 36 hours beginning with his arrest just after midnight on Monday, Oct. 18. Hours after his release from custody, Seau was found behind the wheel of an SUV that had crashed over a cliff onto the beach below.
Seau was weak and bruised but surrounded by a very supportive family, according to a longtime friend who visited the 41-year old football player at Scripps La Jolla Hospital.
"I looked at a person like probably all of us in different ways go through various things that with God is going to pull out of it," said Shawn Mitchell, Chargers team chaplain.
Those various things include possible felony charges. Oceanside police booked Seau into the Vista Detention Facility Monday for spousal assault P.C. 273.5 after an argument between the football palyer and his 25-year old live-in girlfriend at Seau's home on the South Strand in Oceanside.
According to San Diego defense attorney Geoff Morrison, the charge could be levied as a felony or a misdemeanor.
Penal Code section 273.5 makes it a crime to willfully inflict injury resulting in a traumatic condition on a person with whom the accused enjoys, or has enjoyed, a romantic relationship.
"Traumatic condition requires, from a practical standpoint, proof of some sort of actual injury," Morrison said. "This can be charged as either a felony or a misdemeanor; the decision as to whether to charge it as a felony rests on the severity of the injury, as well as the criminal history of the accused."
If San Diego County District Attorney Bonnie Dumanis decides to pursue felony charges, the maximum punishment is four years in prison if convicted, assuming no prior record. If it is charged as a misdemeanor, the maximum punishment is one year in jail, if convicted.
The lesser charge would not require proof of injury.
With either conviction, a defendant must complete a year-long Domestic Violence Recovery Program (DVRP).
According to the San Diego County Sheriff's Department spokesperson, Seau is out on $25,000 bail. His first court appearance is set for Monday, Oct. 25.
Carlsbad police have not said if Seau will face charges for Monday morning's crash at Carlsbad Boulevard and Solamar Avenue that damaged the linebacker's white Cadillac SUV and landed him in the hospital with minor injuries.
According to a police news release, a "preliminary investigation shows the vehicle left the roadway and traveled over the cliff, landing on the beach below." By Monday afternoon, police were confirming accounts by sources close to Seau that he fell asleep before going off the roadway.
Get Breaking SMS Alerts:
Be the first to know when news breaks:
Text SDBREAKING to 622339

View Junior Seau Arrest and Car Crash in a larger map