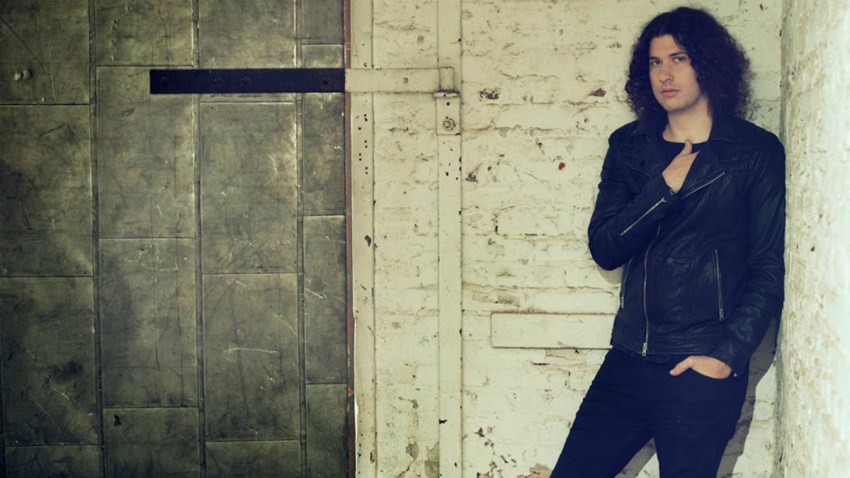 The last time I saw Ilan Rubin, the San Diego born-and-raised musician was helming the drum set (and a few other instruments as well) for none other than Nine Inch Nails at Sleep Train Amphitheatre. His mane of dark, curly locks flew around him while wave after wave of thundering percussion, gut-curdling industrial stomps and manic goth/punk rhythms left us all wondering, "Is this real life?"
To say his musicianship is impressive is doing him a disservice. Turns out Trent Reznor isn't the only guy enamored with Rubin's musical prowess (the Nine Inch Nails mastermind has referred to him as "irritatingly talented"): He's also manned the kit at one time or another for Angels & Airwaves, Paramore and Lostprophets.
As if he's not busy enough, Rubin also records and performs in his own project, the New Regime, who perform at the Casbah on Tuesday, May 26. March saw the release of his fourth solo album, "Exhibit B"[listen to it here] -- which, according to him, is intended as the second half of a double album that started with 2013's "Exhibit A." Atmospheric and calculated, the new album moves effortlessly between intricate, moody strings-laden anthems and sprawling, gothic-leaning alt-rock. [Buy it here]
In what is probably the farthest cry from that massive stage in Chula Vista, when I rang Rubin up for our interview, he was holding court at -- where else? -- the DMV. We quickly got to talking about his new record that he ended up recording by himself while on tour with Nine Inch Nails, and what he'll be bringing to the stage come Tuesday.
"I'll have a whole band with me," Rubin said. "I'll be trying out a three-piece format. Before, I had a four-piece: two guitars, bass and drums. But I like to improvise a bit in certain sections of the songs, and with some of the new music being able to be done in that three-piece format, it'll be a fun time and hopefully yield an interesting experience for the people there."
Given that Rubin came right out of a working environment with Reznor (a notorious perfectionist in both the studio and live settings), his affinity for improvisation is surprising. What was it like having to recreate those beloved Nine Inch Nails records down to the last detail day in and day out?
"When I first got the call to join Nine Inch Nails, I immediately realized that everything you've ever heard about [Reznor's] work ethic and how he approaches music is absolutely true. And I wanted to be a part of it. I've never worked with anyone who has been so organized. And with other bands I've played in, people have been threatened by other skills, whereas Trent goes, 'When you're not playing drums, I want you to do this and that and everything else. Go play piano and then run back to the drums.' He's very secure, and he's happy to exploit my talents [laughs]. I love to play music, and I'm not just a drummer. So it's great to be able to use my skills."
Considering Rubin's resume, I was curious to know he's disappointed that people might know him for what he does in other bands versus what he does in his own.
"I would love for people to know everything that I do. I don't know if it's possible. The crossover from Angels & Airwaves to Nine Inch Nails to Paramore would be very slim. I love when people take a liking to me from my other bands and search out to see what else I do though. That takes effort, and it's very respectful."
Turns out that happens more often than not.
"Recently, I've had to run around for cases and backup gear for the shows coming up, and I found a specific case I've been looking for on Craigslist. So I called up this guy, and we met up somewhere, and I bought the case. On the way home, I got a text from him, and he goes, 'I knew I recognized you! I saw your Guitar Center session this morning!' -- because we had filmed some stripped-down versions of New Regime songs for Guitar Center [watch it here], and he had stumbled across it earlier that morning. It goes back to what we were talking about before: This guy saw something, and he enjoyed it. That's what it's all about."
The New Regime headline the Casbah on Tuesday, May 26. Pumphouse and Jara open. The show is 21+, and tickets are $7, available at the door.

Dustin Lothspeich plays in Old Tiger, Diamond Lakes and Boy King. Follow his updates on Twitter or contact him directly.