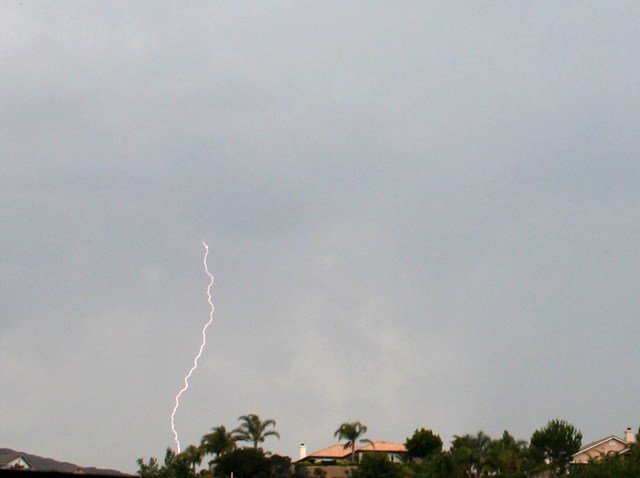 Lightning was spotted out East and in North County, and rain fell at the coast on Thursday in an afternoon round of wild weather.
Triple digit temperatures took over several East County communities on Thursday and so did something else -- rain, wind, lightning, and thunder. The summer storm sparked lightning caused fires and prompted a flash flood warning.
Around 5:30, North County residents spotted lightning over Carlsbad, too, with ominous clouds along the coast. Farther south, rain began falling around 6 p.m. heading north, though significant amounts were not reported. To the east, heavy rain gave La Mesa a drenching.
Farther east still, Cal Fire was called out to fight fires near the communities of Warner Springs, Scissors Crossing and San Felipe.

The largest of the fires was the Felipe Fire east of Lake Henshaw. The flames spread rapidly, but no structures were threatened. Cal Fire said at about 6 p.m. that the blaze had spread to 100 acres.
---
Track the Storm Using This Live Radar
---
"There are several fires on both sides of the County Line in Riverside and San Diego, with new fires being reported," Cal Fire spokeswoman Roxanne Provaznik said.
A flash flood warning was issued for Palomar Mountain and the 2007 Poomacha Fire burn area. At least 2 inches of rain fell when several bands of heavy rain passed through the area.
"I hear thunder from Lakeside and it's 108!" Kayci Criss said.
Send your weather pictures to isee@nbcsandiego.com