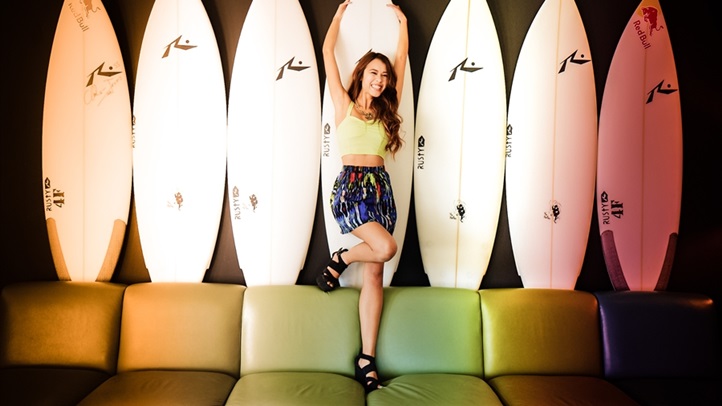 WHAT WAS IN YOUR LAST HOTEL ROOM? Do you recall? There was probably a television of some sort, a remote control, a chair or two, a bureau, some wall art. We'll wager that your just-for-the-night spot was pretty complete, overall, but it likely didn't come with its own DJ booth. We don't want to make assumptions, and if you spent the night in the new Red Bull Dogtown Suite at Hotel Erwin in Venice Beach, well then, you most certainly did have a DJ booth of your very own, not to mention funky art, a patio facing the water, and a very au courant atmosphere (or just "atmos" if you want to be particularly hip). The steps-from-the-boardwalk property has recently undergone a freshening-up, both on the rooms front and the extras front, and the suite is at the lead of the luxe touches.
THERE'S ALSO... the roaming Happy Hour cart, which will eventually find you. Typically a Happy Hour-type set-up means that the patron has to locate the bar, but sit tight and enjoy the sunset from your room: A cart may brimming with "handcrafted cocktails," vino, and brews may soon materialize at your door. A new menu at High, the restaurant offering sweeping, Pacific-pretty vistas, just debuted at the start of summer, and brunch at Barlo Kitchen + Cocktails? Look for old-school cartoons to screen and an "all-you-can-eat cereal bar with a buffet of vintage cereals plus lunch box milks." That's every Saturday and Sunday at 11 a.m.
TOUR DE VENICE: That social media-happy contest is afoot through September, so if you're in a hashtagging type of mood, and you pay a visit to the hotel, you could post your snapshots and maybe win "an ultimate Venice vacation package." We'll raise a spoonful of vintage cereal and milk to that.
Copyright FREEL - NBC Local Media