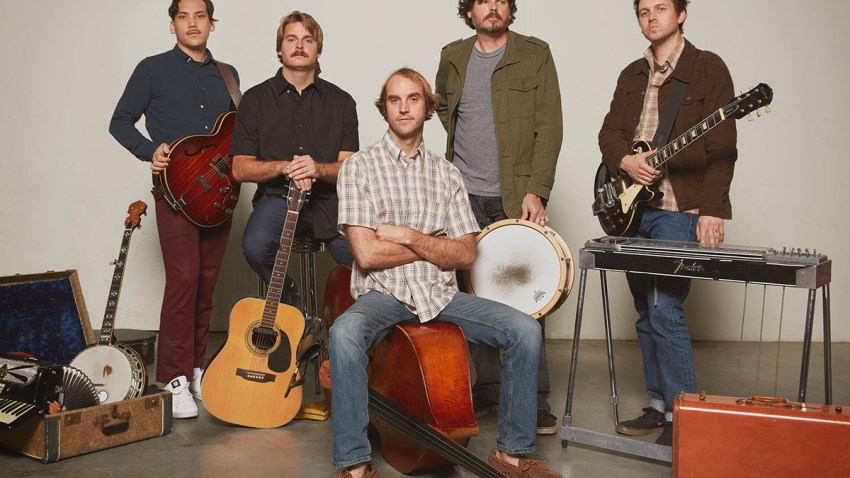 It's a helluva shame that Carlbad's Trouble in the Wind are still one of San Diego's best-kept musical secrets. Here at SoundDiego, we'd love nothing more than to wake up one morning and find 'em hauling off to a musical mecca like Nashville with a record deal underarm and touring plans lined up with Jason Isbell or something. But while we wait for more outside success to come their way, the San Diego Music Award-winning rock & roll group keeps on doing what they do: writing great tunes.
The band -- comprised of singer/guitarist Robby Gira, multi-instrumentalist Kyle Merritt, bassist Trevor Mulvey, lead guitarist Keith Haman and drummer Larry Doran (who recently departed the group; Dylon Garcia has since joined in his stead) -- hit their stride with 2013's 16-track alt-country opus, "Slide Rock," but somehow managed to one-up it entirely with "Lefty" three years later, an award-winning collection of songs that pooled all of their respective talents into a buzzing, heartfelt masterpiece.
After the release of 2017's stellar "Pineapple Moon" EP and last year's unheralded "Hammer On" album, the boys are back in town with their latest extended play. Released on May 17, the six songs on "All the Boys" swing from laidback happy-hour odes ("Yuengling Time") and rollicking numbers (the title track) to shuffling ballads ("On the Square") and classic country Western romps ("Cloudy Eyes") -- all with a bounty of finger-lickin' good electric guitar pickin', sweeping organ runs, haunting lap steel, and dusty piano tickling. Boasting in-the-red, saturated production courtesy of their trusty home studio (pretty much the band's sixth member at this point), the EP sounds like TITW is rehearsing right outside your bedroom door.
The record's fourth track, "Weather Proof," lands as a rare misstep for the group though. On it, Haman takes lead vocal duties and it's clear he struggles to get through the whole thing on key (some people will dig that; I don't). While he's an incomparable talent on the ol' six-string, his voice is more of an acquired taste -- a tough prospect especially when you've got a guy like Gira on the bench. But hey, even the Beatles threw Ringo a bone on each album.
However flat "Weather Proof" falls, it is immediately redeemed by Gira's assuring croon on the EP's crown jewel, "On the Square" -- a great example of this band at its best. A slowly strummed acoustic love song with a powerful chorus, TITW's Hawaiian-shirt-sporting frontman practically performs heartstring surgery with mournful lyrics that sound like he's wallowing in a confession booth at The Church of the Brokenhearted. Son, I don't know what you've done, but you are forgiven. Go in peace (but keep the songs comin').
While Gira can smooth it out like nobody's business for starcrossed lovers, he's also got a straight-up cannon of a voice that lets fly when the band is chargin' full speed ahead on barnburners like the EP's finale "Out on a Wing." That great dichotomous voice -- which we so easily take for granted as a hometown regular -- really only comes along every once in a very long while.
Trouble in the Wind may not be a national household name right now (despite all of our best efforts), but if they keep pumping out rock & roll gem after rock & roll gem on efforts like "All the Boys," it's only a matter of time until they are.
Trouble in the Wind perform at Karl Strauss Brewing Company for Art & Amps Vol. 16 on June 22. Go here for more info. Listen to 'All the Boys' on Spotify and elsewhere. Be sure to visit their website and follow 'em on Facebook, Instagram and Twitter.

Dustin Lothspeich is SoundDiego's senior associate editor, a San Diego Music Award-winning musician, and talent buyer at The Merrow. Follow his updates on Twitter or contact him directly.