You know that feeling you get when you meet someone you've admired for a long time, and you have visions in your mind about it going incredibly awesome, but it ends up being a tragic example of fanboydom? I kinda did that with Ben Folds.
We had been speaking on the phone for a while when his publicist jumped on the phone and said, "Ben, we've got to get you ready for your next call. I'm sorry."
My heart sank. I had so many questions. I needed so many answers. Unexpectedly, Ben (as we're on first-name basis now of course) said, "If you got one more that we can kind of wrap it up with, we can do that so you don't just end on Justin Beiber." Indeed, somehow we had been on the subject of the Beibs -- but more on that later.
I froze. One single solitary question that would become the legacy of my conversation with Mr. Ben Folds -- the man behind the classic indie-rock albums like "Whatever and Ever Amen" and "Rockin' the Suburbs." What could I ask him that would make him think, "You know, that SoundDiego guy had his s--- together. I liked him. We should hang out when I'm in San Diego to play Summer Pops on July 30"? I racked my brain, quickly scoured my notes/questions in front of me. What epic question did I have that I could close this thing out with?
"So…I'm sure you've heard this a million times at this point," I stuttered, "but I just have to say I have such a huge personal connection to 'Brick' in particular. It is such an awesome song." His momentary silence was deafening. I started sweating. "Is it strange knowing that a song you've written has such a huge personal impact on so many people?"
"Um, no," Folds replied. "I'm happy [laughs], but it doesn't strike me as weird. Ever since I've gotten into the business of writing and putting my stuff out there -- that's really what you hope for. So yeah…yay."
OK, not as horrible as I expected. But still, no grand slam. After all, Folds didn't invite me to his Summer Pops after party, and we haven't exchanged emoji-laced texts. However, that's the life of a music journalist (ahem). No regrets. And in fact, Folds and I still managed to have a fascinating conversation despite my over-eager, wide-eyed befuddlement.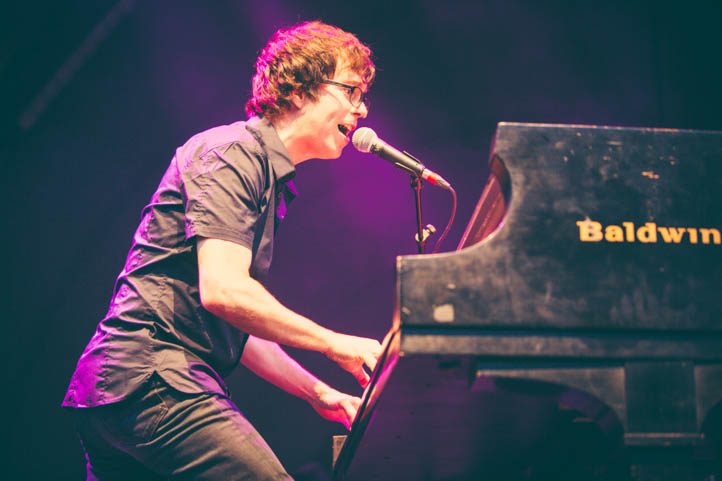 You see, the bespectacled indie-rock pianist (who is releasing a new collaborative album with the yMusic Ensemble titled "So There" on Sept. 11) kinda has a thing for classical music, and the way it can be involved with pop music -- which is what the first of his two upcoming San Diego concerts with the San Diego Symphony on Thursday, July 30, aims to emphasize.
"I love playing with orchestras," Folds said. "I think 50 of my shows last year were with orchestras. We have loads of great charts and scores, so it's nice to play 'em, and we know what we're doing. It's not just me showing up and playing with an orchestra. We have a system -- we have stuff. It takes stuff to do. Sorry, that's a terrible answer [laughs]."
I laughed too (probably too much) and asked him whether he typically enjoys playing with an orchestra rather than in a rock-band situation.
"I think more than a standard band, yes. Yes, I do," said Folds. "When it's a band, it's really dependent on the personality and the specific chemistry of the band. You can't just bring three or four guys onstage and make that work… With an orchestra, there's so many people -- they do have personalities but they don't depend on them. You can switch people out, it's OK, and it still works. An orchestra is a lot about the conductor sometimes, and it says a lot about a city who has a good symphony orchestra. It's a very important thing for a city to have."
Of course, a show like Summer Pops is about more than just jumping onstage and playing songs the way they're recorded with an orchestra playing blandly in the background.
"It's important to me that it's done in the right way," Folds said. "The Pops concert is not a new thing, but the way that you do it really needs to lift or highlight something different or new about the music being played. Some bands just play what they normally do, and the orchestra is just playing whole notes, and it can be demoralizing for them because they're having to do what they're not good at, and it doesn't sound good [laughs]. And they're being blasted over with electric instruments. But what does work is when someone can take an angle on a song or something they've been doing one way and step out of the way and let the orchestra do what they're amazing at. Get out of the way and properly arrange some stuff so the orchestra becomes the powerful part. I think at that point, it is new, and I love when people do that."
Case in point: One of my favorite musical artists of all time.
"I recently saw some Boyz II Men with an orchestra and it was fantastic," Folds enthused. "They got out of the way. They did what they do best, which is sing, and they let the orchestra flourish. I thought it was really artful and really well done."
For a diehard B2M fan like myself, I jumped at the opportunity to wax poetic about the vocally blessed group and how their albums, in my opinion, are criminally underrated. I asked Folds if he thought any of his own records didn't get the love he thought they deserved.
"Well, there's just no time for that," said Folds. "You have to realize what that venue is: You love the record, and you'd like to think you're the only one, but if you went knocking on doors and asking people, you might find that a lot of people enjoy the same thing. It just may not be 'trending.' Especially with the aging rockers, I'm always surprised by how well they do. You would think 'Well, they could put a record out and no one would care.' That might be true or not, but if you go down to the Coliseum, it's packed. Those Boyz II Men guys -- the Boyz II Men men -- they're craftsmen. They're f---ing great. They stick to what they do, which is amazing. They come off extremely old school these days, and it's refreshing. They introduce the songs, talk about who wrote it, thank you for coming out, make a joke -- it's not current but in the best way. No one does that stuff. It's like you're seeing the Ink Spots or something. They're becoming a classic. I know what you mean about things not receiving credit, but there's not much room on that shelf. It's the same way I always joke that I tweet out about Justin Bieber, and it gets a lot of retweets, but if I talk about Leonard Bernstein, it'll get two. That's totally fine, and that's just the way it is."
Indeed. Most old school vs. modern conversations will routinely end up with a couple sharply divided camps, but when it comes to classical side of music and rock & roll, Ben Folds explained that there's plenty of crossover between eras -- even if it's not obvious at first glance.
"You can do a lot more than you think with an orchestra," he said. "Many times, I've written songs and dictated the orchestration onstage. Sometimes everything is very described and notated, but sometimes I create something onstage in the moment. If someone's been practicing their craft and instrument since they could walk and have played every day of their lives, they can play anything. I can dictate anything to them -- if it's on the instrument, they can play it. They act like they can't [laughs], but they also live in the modern world. They want to act like they grew up in the 19th century, but the fact is, they've likey heard Kendrick Lamar and probably like him [laughs]."
See Ben Folds perform with the San Diego Symphony on Thursday, July 30, at 7:30 p.m. for the 2015 Summer Pops Concert Series at Embarcadero Marina Park South. The show is all ages. Tickets range from $22-$79 and are available for purchase online here.

Dustin Lothspeich plays in Old Tiger, Diamond Lakes and Boy King. Follow his updates on Twitter or contact him directly.