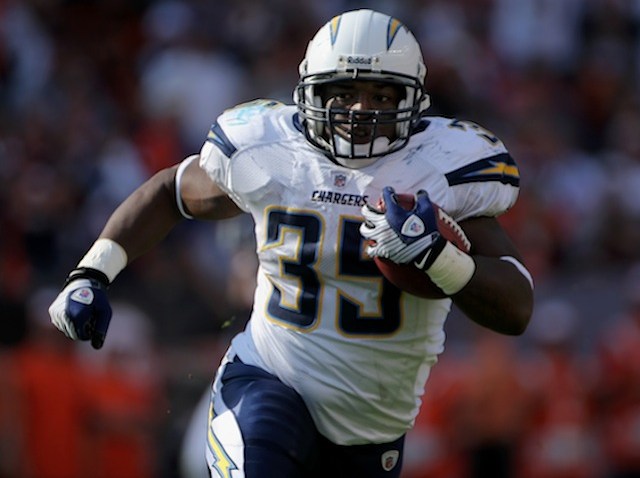 Ryan Mathews is the workhorse. Darren Sproles is the speedy complement.
In the garage, beneath a blue tarp, past the yellow tape of "Do Not Cross," a special weapon is waiting to join the Chargers running back rotation this season.
A manila folder inside a locked file cabinet upstairs has a sheet of paper. In small, black print, inches below a red-ink stamp that cautions "Classified" in capital, underlined letters, the weapon's profile reads like a ghost story counselors might tell at linebacker summer camp under a full moon by a crackling campfire.
Height: 5-foot-9.
Weight: 243 pounds.
Development Launch: 11/23/1985 in Carrollton, Ga.
Summary: A bowling ball on a collision course with a football in hand. Will run through defenders like a brick wall on rollerblades.
WARNING: Handle with caution.
Chargers fans know fullback Mike Tolbert as the team's stocky special teams and blocking ace for the past two seasons.
This year, he'll have a more extensive role.
As games wear on, when Mathews needs to take a breather, Tolbert will take the field and knock the wind out of defenders.
No mercy.
"Mike's perfect for that," coach Norv Turner said. "There's no question he'll be good in short-yardage and goal-line (situations). ...He's hard to tackle in the fourth quarter when you get in that mindset where you can just pound them."
Tolbert showed that last season.
He rushed 25 times for 148 yards — 5.9 yards per carry — and a touchdown. He also had 11 receptions for 192 yards and three scores.
Tolbert, however, exceeded seven touches in a game just once last season. This year figures to be different.
The yellow tape is cut. The blue tarp has torn off. The garage door is open.
"I'm just there to give Ryan and Sproles a break when they need one," Tolbert said. "I'm looking forward to the challenge, and I'm ready to go at it."