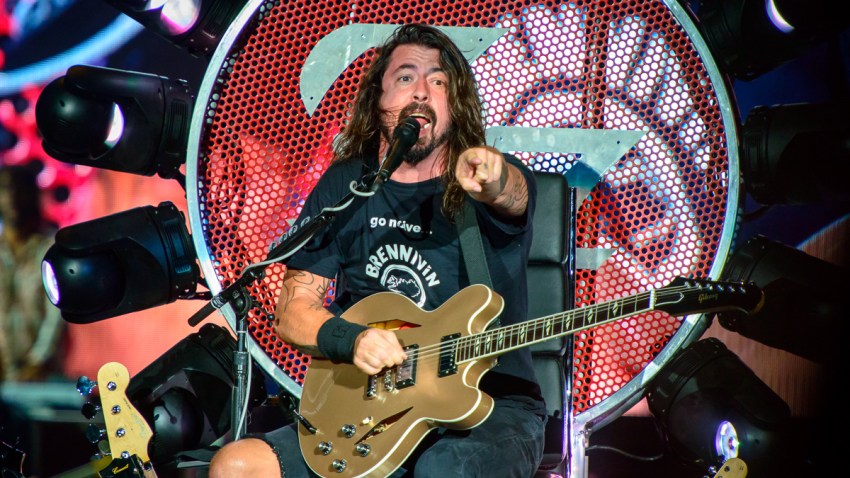 Hello consumers, are you ready to consume? I am here to hold your hand, take you on an escorted trip to the best bands playing San Diego. I have done my best to curate a list, but you have many resources, so don't just take it from me. I am here to help, though. I am excited to host the next SoundDiego LIVE on Sept. 21 at Soda Bar, so please join me at the party -- it's the least you can do, and it would mean the most! Don't forget to RSVP....
Sept. 1: Escorted Trips Music and Arts Festival at the Che Cafe with a stellar lineup that includes Fashion Jackson, Ignant Benches, Nite Lapse, Monsoon Season, Contact, Oak Palace, Miss New Buddha, Sights and Sages, Ethics, Retra, Imagery Machine, Ingonoir & Snapghost. The show starts at 1:30 p.m., it's all ages, there are two stages and there's vegan food! Presented by Loudspeaker 30.
Sept. 2: Booty Bassment at the Casbah -- it's a dance party! No work, no school tomorrow!
Sept. 3: Labor Day! Take a day off from your labor....
Sept. 4: The Lagoons at Soda Bar. Synth-pop, jazz, soul and electronica for your mind and body.
Sept. 5: Leon Bridges at Cal Coast. Retro-soul -- it's like stepping back in time....
Sept. 6: Pinback at the Casbah. Local legends, small club. Get sweaty with Rob and Armistead Burwell Smith IV.
Sept. 7: Sports at Soda Bar. Simple explanation from band: Sports is a band of wizards from Oklahoma, conjuring pop music spells for ears just like yours.
Sept. 8: Jade Bird at the Casbah. She is British but steeped in Americana sounds.
Sept. 9: Peter Case at Bar Pink. He's from the Plimsouls, who were awesome in the film "Valley Girl."
Sept. 10: The Frets, Pacific Radio and the In-Itself at the Casbah. Support local music, that I booked! Just saying....
Sept. 11: Kommunity FK at Soda Bar. I had no idea this goth-rock band began their career in 1978....
Sept. 12: Enuff Z Nuff, Great White and Bullet Boys at House of Blues. Hair-metal tour with bands that were big before Nirvana destroyed them.
Sept. 13: Rostam at the Belly Up. He used to be in Vampire Weekend, but you should see him now.
Sept. 14: Kaaboo begins in Del Mar, it's three days and if you don't know about it, well you must be living under a rock....
Sept. 15: Youth Brigade at Soda Bar. Old-school SoCal punk! Also on the bill: Jon Cougar Concentration Camp!
Sept. 16: Oxbow and Blood Ponies at Soda Bar. Get experimental and expand your horizons with the avant-garde side of rock.
Sept. 17: Gringo Star, the Lucy Ring and Mt. Pleasant at Casbah. Atlanta-based psych-rock band headlines a night of sonic sounds from the rock spectrum.
Sept. 18: The Distillers and Starcrawler at Observatory North Park. Brody Dalle is back! And Starcrawler might be your new favorite band!
Sept. 19: The Neighbourhood at Observatory North Park. Is it sweater weather yet?
Sept. 20: Yungblud at Casbah. Infectious energy from this U.K. based hip-hop and rock-influenced artist. His grandfather performed with T. Rex in the '70s.
Sept. 21: SoundDiego LIVE at Soda Bar with Hazel English and the Havnauts. I'm your host, RSVP here.
Sept. 22: Nothing at Soda Bar. Shoegaze, noise rock and sonic butter for the ears.
Sept. 23: Eleanor Friedberger at Casbah. She is also one half of the Fiery Furnaces, so she has that going for her on top of a successful solo career. It's all icing.
Sept. 24: Yuno, Well Well Well and Bruin at Casbah. Pop sonic sounds, sweet to the ears and slightly psychedelic.
Sept. 25: Culture Club at Cal Coast Credit Union Amphitheatre. Do you really want to hurt me? Tom Bailey of Thompson Twins opens -- remember the '80s?
Sept. 26: Deep Purple and Judas Priest at Mattress Firm Amphitheatre. Rob Halford of Judas Priest lives in San Diego or has in the past....
Sept. 27: Beyonce and Jay-Z at SDCCU Stadium. I think they are married....
Sept. 28: The Wombats at House of Blues. U.K. alternative-rock band with a sense of wit and irony.
Sept. 29: Freestyle Explosion with Taylor Dane, Debbie Deb and Lisa Lisa at Valley View Casino Center. And more! It's an R&B party -- reminds me of the sounds you would hear out of the clubs of Tijuana when I was under 21....
Sept. 30: Natalie Prass at the Casbah. Nashville-based artist that may remind some of Dusty Springfield. You know, that soulful sophisticated pop sound that all the kids are into....
I love music, and I love live music! Since the demise of the record industry and the rise of streaming, this is how bands support themselves more than anything -- it truly is about the live experience. If you want physical product from a band, this may be your only option to get cool, exclusive stuff directly from the band. I won't be at all of the above-listed shows, but if you know me, then you know I will be at quite a few, so come up and say hello! On that note, I'll see you at a show!

Tim Pyles, a longtime local who grew up in La Jolla, is the unofficial mayor of local music and hosts Loudspeaker via 91x every Sunday from 7-10 p.m. He also books local acts at the Casbah, hosts the weekly Anti-Monday League, books/hosts the monthly Maryjane's Underground at the House of Blues and is an entertainment writer for Pacific San Diego Magazine. Check out his website thelocalpyle.com and and follow him on Twitter @thelocalpyle. You can reach him directly here pyleste@yahoo.com