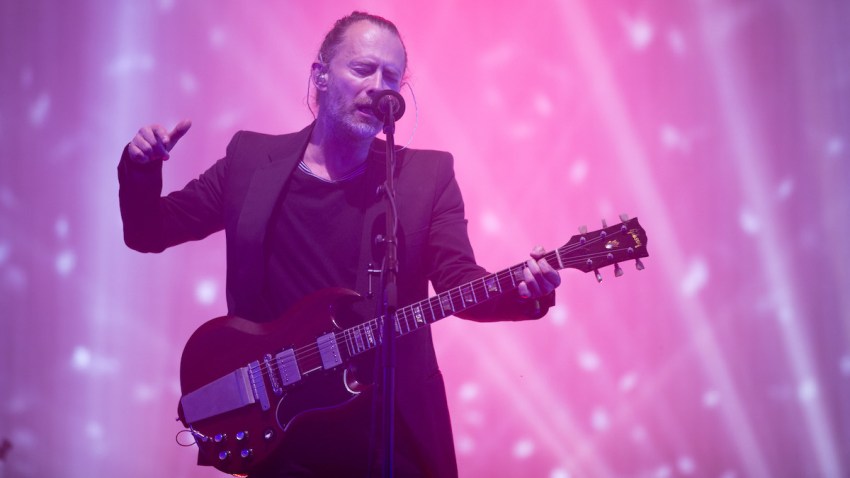 It's the last month of celebrations for the 30th year of Loudspeaker on 91x, so we have two cool shows for you. If you can believe it, I booked seven of the nights at the Casbah in December, but I won't list them all here. I would be remiss if I didn't tell you about Tuesdays at the Merrow, where you can find me EVERY Tuesday night hosting local and touring bands. I would love to see you! A December to remember is laid out before you, and on a couple nights I couldn't make a choice so I gave you multiple options. Enjoy the list, and I'll see YOU at a show!
Dec. 1: El Ten Eleven and Tennis System at the Casbah. Mostly instrumental cinematic tunes that rock from El Ten Eleven, a band featuring Kristian Dunn of Inch, Lakeside Orchestra and the Softlightes -- all legendary local bands.
Dec. 2: Old 97s' Holiday Extravaganza at the Belly Up. How about a show for the Holidays that will get your toes a tappin' and is always a good time?
Dec. 3: Dweezil Zappa at the Belly Up. It's the Choice Cuts Tour, a show filled with some of Franks Zappa's most notable tracks.
Dec. 4: The Charlie Daniels Band at the California Center for the Arts. Why? Because the devil went down to Georgia, that's why....
Dec. 5: F----- Up at Soda Bar or Red Kross at Casbah. I would go to either one, because both are going to be great, F----- Up's new record is an opus, and Redd Kross are legends.
Dec. 6: Loudspeaker 30 presents the return of Irradio and Dewey Defeats Truman, plus Demasiado and Miss New Buddha at the Casbah. Come celebrate 30 years of local music on 91x and the first 100 people through the door will get a free limited edition Dewey Defeats Truman blue vinyl seven inch, courtesy of Silver Girl Records!
Dec. 7: Har Mar Superstar at the Merrow, Wavves/Beach Fossils at the House of Blues or the Ataris at the Casbah. Make a choice: Heart Bones -- Har Mar Superstar and Sabrina Ellis do the songs of Dirty Dancing -- the sonic waves of punk from local hero Wavves or pop punk from your youth.
Dec. 8: Author & Punisher at the Casbah. The most metal thing ever and it's functional art, creating industrial and metal sounds from machines and contraptions he builds himself.
Dec. 9: Cayucas at House of Blues Voodoo Room. Formerly know as Oregon Bike Trails, this band makes indie pop sounds and was created by the Yudin brothers, who are twins.
Dec. 10: A.F.I. at Observatory North Park. A Fire Inside is back with a new EP called the Missing Man, which features five brand new songs.
Dec. 11: Jose Feliciano at the Balboa Theater. Because Feliz Navidad, and he shreds, like really shreds! If you aren't familiar with him, he's sight impaired....
Dec. 12: Valley Maker at Soda Bar. Austin Crane is Valley Maker and Rhododendron is his latest album featuring a cavalcade of players and friends backing him up.
Dec. 13: Middle Kids and the Shacks at Soda Bar. Indie rock from Sydney and the dreamy sounds of the Shacks.
Dec. 14: 91x Wrex the Halls with Death Cab for Cutie, Third Eye Blind, Billie Eilish, Barns Courtney, Lord Huron and the Interrupters. It's a 91x holiday party, so wear your ugly sweater!
Dec. 15: Green Jello, aka Jelly, at Brick by Brick or night two of Fu Manchu at the Casbah. Both bands rock; one wears costumes.
Dec. 16: Earthless at the Belly Up. A band that takes you on a journey in your own mind, and they always have epic visuals!
Dec. 17: Thom Yorke at Observatory North Park. Radiohead front man....
Dec. 18: Vera Sola at Soda Bar. Poet, vocalist, multi-instrumentalist -- a Renaissance woman.
Dec. 19: Aviator Stash, Ariel Levine, the Frets and Headphone at the Casbah. So much great local music in San Diego -- get out and support!
Dec. 20: Lumerians, Jjuujjuu and Cat Scan at Space. More psychedelic mind tripping rock with epic visuals to escort you on your journey.
Dec. 21: Dead Feather Moon and Bad Suns at Soda Bar. Locals Dead Feather Moon don't play as much as they used to, so don't miss these opportunities.
Dec. 22: Dirty Sweet, Band of Gringos and Alivino & the Dwells at the Casbah -- same as above, see above....
Dec. 23: El Vez Merry Mexmas, the Exbats and Pony Death Ride at Casbah. If you haven't had a Merry Mexmas, then you don't know what you are missing hearing songs like "Brown Christmas."
Dec. 24: Exile on Kettner Boulevard at the Casbah. Started by a group of friends surrounding the Dragons, it is a Casbah Christmas Eve tradition that involves the Rolling Stones and their music.
Dec. 25: Merry Chrismahanakwanzaka!
Dec. 26: Easy Wind performing songs from "The Closing of Winterland" 40th anniversary at the Belly Up. A tribute to Grateful Dead authentically performing classic Grateful Dead, and I don't even like the Grateful Dead.
Dec. 27: Karl Denson's Tiny Universe and Z Trip at the Belly Up. It's Karl Denson's birthday, the man from the Greyboy All-Stars and the Rolling Stones -- the freakin' Rolling Stones -- and Z Trip lives in San Diego these days, which is super cool.
Dec. 28: Hideout, Heavy Hawaii and the Gloomies at Soda Bar, or the Paladins, Big Sandy and the Tighten Ups at the Casbah. Local, local, local -- I love local bands, and these bands have fans all over the world, but you must choose.
Dec. 29: Keepers and Sixes at Soda Bar or Get Back Loretta, the Heavy Guilt, Shane Hall and Nena Anderson at the Casbah -- because I love local bands, have I told you that?
Dec. 30: 91x Loudspeaker 30 final show! Free show and live broadcast from the world-famous Casbah featuring the Great Electric Quest, the Bassics, the Petty Saints and the Oxen. It's sponsored by Thorn Brewing and Gaglione Brothers, and doors are at 7 p.m.
Dec. 31: If you can't find something to do tonight on your own, then I have no faith in our city's residents. Good luck and be safe! As one option, Weatherbox and Pistolita at the Soda Bar or the Redwoods Revue -- Dani Bell & the Tarantist, the Midnight Pine, Cardinal Moon, Birdy Bardot at Loew's Coronado Bay Resort, or the Schizophonics, the Creepy Creeps and the Widows at the Casbah. OK, I'm done....
It truly is a December to remember, but next month is the beginning of the Casbah's 30th anniversary and they have a stacked calendar, so forgive me if every show is a Casbah show. I do my best to cover a diverse list of music and venues, so I hope I assist in helping you find something to do. I truly appreciate your taking the time to read this. Merry Christmas or Merry fill in the blank....

Tim Pyles, a longtime local who grew up in La Jolla, is the unofficial mayor of local music and hosts Loudspeaker via 91x every Sunday from 7-10 p.m. He also books local acts at the Casbah, hosts the weekly Anti-Monday League, books/hosts the monthly Maryjane's Underground at the House of Blues and is an entertainment writer for Pacific San Diego Magazine. Check out his website thelocalpyle.com and and follow him on Twitter @thelocalpyle. You can reach him directly here pyleste@yahoo.com