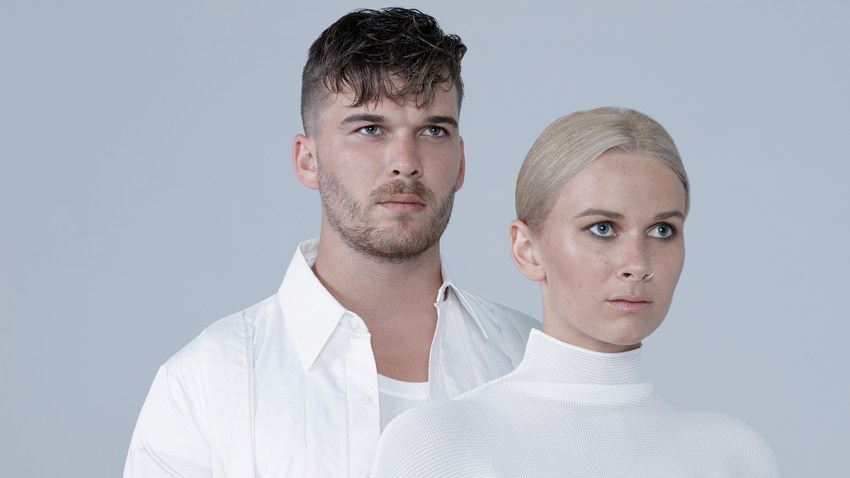 There are so many reasons to get out and experience live music tonight, so it's nice that we've got some great choices to help us do just that. The Casbah will be packed with familiar faces as Three Mile Pilot return for one night only while Kiwi electro-pop duo Broods perform at the Observatory North Park. I'll be at the Irenic for New Yorkers Against the Current and their pop-rock sensibilities and Belly Up kinda goes off whenever they do a Beatles vs. Stones night. With yesterday's news about Her's, I wanted to say that sometimes we take it for granted that such incredible musicians take the time and risk to come to our towns to play venues, often making barely enough to cover their expenses, and when such a tragedy occurs, all I know to do is go out and support the road-touring artists even more and let them know we love them and appreciate the two, four, or 10 uncomfortable and sleepless hours it took them to be here.
Friday, March 29:
Broods, Bad Sounds @ The Observatory North Park
Nipsey Hussle @ Bassmnt
Three Mile Pilot, Systems Officer, Pall Jenkins, Murderbait @ Casbah
Against the Current, Chapel, GucciHighWaters @ The Irenic
Beatles vs. Stones ft. Abbey Road & Jumping Jack Flash @ Belly Up
Ukulele Orchestra of Great Britain @ Balboa Theatre
Messer Chups, Action Andy & the Hi-Tones, Johnny Deadly Trio @ Soda Bar
If Only, Calmgrove, Dream Haze, Sadderday, Going Under @ Ken Club
The Secret Samurai, Masteria, Gentroside @ Black Cat Bar
Gregory Page @ Templar's Hall, Old Poway Park
Ian Buss Blue Morpho ft. Jonathan Pinson @ Dizzy's
Nox Novacula, Seventeen at This Time, New Skeletal Faces @ Whistle Stop
We Are Your Friends Indie Dance Party @ Blonde
Three Chord Justice @ Riviera Supper Club & Turquoise
Gimme Danger Nite featuring New Candys, more @ Space
Ugly Things presents the Loons, Reverberations, Allyrgic Reaction @ Bar Pink
Space Wax, Dream Burgar, Hip Priest (Fall tribute) @ Tower Bar
San Diego New Music: Colin McAllister & Christopher Adler present Aeneas In The Underworld @ La Jolla Athenaeum
Black Mountain, Drug Hunt, Desert Suns @ Brick By Brick
The Addiction @ Seven Grand
Little Heroine, KleinaHexa, Pocket Hole, Neutral Shirt @ Lestat's
Pink Talking Fish @ Winston's (9:30 p.m.)
Canaan Cox @ Moonshine Beach
The Matte Gray Band @ Moonshine Flats
Jack McCain Band @ De Oro Mine Co
Emo Night Brooklyn @ House of Blues (8:30 p.m.)
Mario Esteban & the Blessed Hellhounds, Polux Band @ Manhattan Bar
Reyno @ House of Blues (7 p.m.)
Bronze Radio Return, Wildermiss @ Quartyard
Musica En La Plaza: Los Guevera @ California Center for the Arts, Escondido
Rock en Espanol with Zenith @ Border X Brewing
Reverie Noise, Lunar Garden @ Rosie O'Grady's
Great Electric Quest, Wizzerd, Drum Duel -- Mucho Drums & Cody Tarbell @ Pour House
NUVintage @ Pour House (5 p.m.)
Condemned, Gravespell, Defixion, Corpsemaker @ The Merrow
Janice, Nathan & Tony @ Martini's Above Fourth
She Wants Revenge, Warbly Jets @ Music Box
Lady Dottie @ Wildwood Crossing
Chauncey Maynor @ Til-Two Club
All-Vinyl Happy Hour w/Monsieur Turbeau @ The Office (6 p.m.)
Fishfonics @ U-31
Salsa & Bachata @ Tio Leo's
Avenue Army, Film Speed, Soft Deadlines @ Salty Frog
Patrick Howard Trampus @ Renegade
Beta Maxx @ Humphreys Backstage Live (9 p.m.)
Backwater Blues Band @ Humphreys Backstage Live (5 p.m.)
Sometimes Julie, Jet Pack Mojo @ Navajo Live
DJ Ikon, DJ Mustard @ Parq
Cut Snake @ Bang Bang
Coast Club @ Omnia
Beatnick @ FLUXX
Shaded, Evan Casey, more @ Spin
Techno Sabbath 016 ft. Ray Kash @ Kava Lounge
Rosemary Bystrak is the publicist for the Casbah and writes about the San Diego music scene, events and general musings about life in San Diego on San Diego: Dialed In. Follow her updates on Twitter or contact her directly.