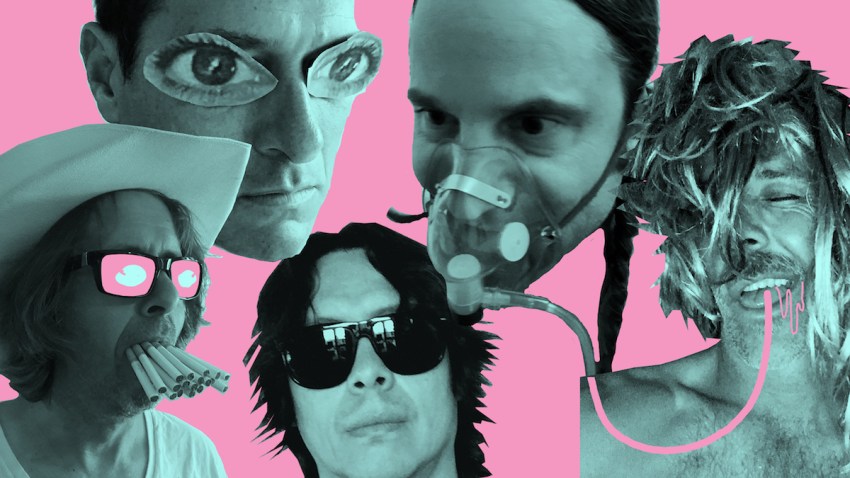 Apparently 2018 is the year of Hot Snakes.
The seminal San Diego post-hardcore group ("Swami" John Reis, Rick Froberg, Gar Wood, Jason Kourkounis, and Mario Rubalcaba) have finally announced a local show at the Casbah on Wednesday, March 7.
Heads up: Tickets go on sale at this link on Friday, Jan. 5, at noon PST.
The band, which signed to Sub Pop in August of last year, has been a roll as of late. On Jan. 19, that iconic independent label will reissue the band's three albums on colored vinyl and cassette (and will also come with six new Froberg-designed stickers): 2000's "Automatic Midnight," 2002's "Suicide Invoice" and 2004's "Audit in Progress" -- go ahead and pre-order them here. That follows a brief North American tour late last year that, for some reason, omitted a hometown show.
Well, apparently good things come to those who wait. Now we can rest easy knowing we'll get some Hot Snakes action with the rest of the upcoming stops on their newly announced tour.
If that weren't enough to get you psyched, they've also announced that they're working on a new album (their first in 14 years) and it's slated for release later this year. For more information, visit Sub Pop's Hot Snakes page and stay tuned.
Hot Snakes North American Tour Dates
March 7: San Diego, CA at the Casbah
March 9: Chicago, IL at Thalia Hall
March 10: Detroit, MI at El Club
March 11: Cleveland, OH at the Grog Shop
March 13: Nashville, TN at Mercy Lounge
March 14: St. Louis, MO at Blueberry Hill
March 15: Milwaukee, WI at the Cactus Club
March 16: St. Paul, MN at Turf Club

Dustin Lothspeich books The Merrow and runs the music equipment-worshipping blog Gear and Loathing in San Diego. Follow his updates on Twitter or contact him directly.