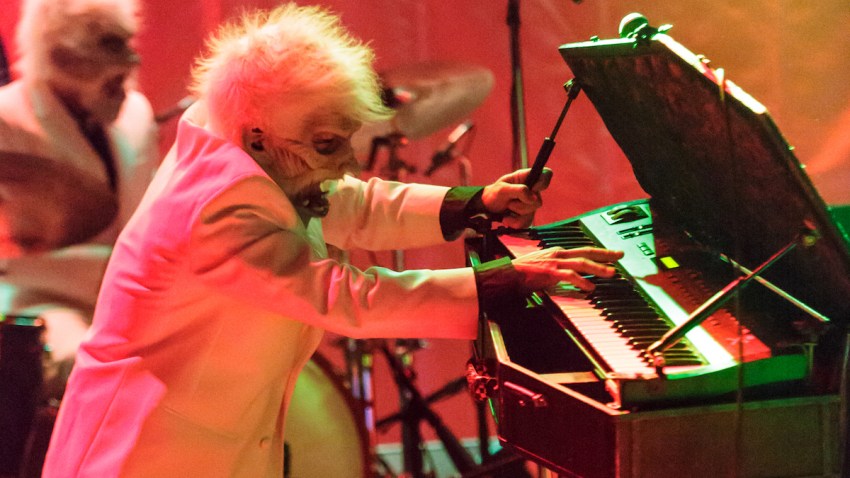 If your Monday night is wide open like mine is, might I help you plan your itinerary? First, head down to Shelter Island and order up a Mai Tai or Zombie (make sure someone else is driving) and kick back with a free evening show by the Creepy Creeps' more loungey variation of Creepxotica. The masked surf-punk band is sacrificing to keep their look even in this tropical summer weather, so the least you can do is support them. As they wrap up, hail a taxi or ride service down the street to the Casbah, where Seattle punk band the Spits take the stage. Over the years, the band has played all over from Tower Bar to Ken Club and Soda Bar to Til-Two, but I can't recall them ever playing the Casbah -- though I'm sure they have -- so tonight, see them in the flesh. It's a solid lineup, and chances are, you'll have a light Tuesday anyway seeing as we've got the midweek holiday. Around town, Faun Fables play Soda Bar, perennial favorite KC & the Sunshine Band play the San Diego County Fair's big stage and Queen Nation play the Coors Light stage.
Monday, July 1:
The Spits, the Widows, Therapy @ Casbah
Creepxotica @ Bali Hai (7:30 p.m., free)
Faun Fables, Bonfire Madigan @ Soda Bar
KC & the Sunshine Band @ Corona Grandstand Stage, San Diego County Fair
Queen Nation @ Coors Light Rock On Stage, San Diego County Fair
Motown on Mondays @ The Office
Summer Organ Festival: Raul Prieto Ramirez @ Spreckels Organ Pavilion
Electric Waste Band @ Winston's
Makossa Mondays with DJ Tah Rei @ Seven Grand
Blue Monday: Dark '80s Night with Camila Robina & Aaron Wallace @ Blonde
Casey Hensley @ Humphreys Backstage Live
Siopao presents Fitness, Supplement, the Heavy Twelves, Skinny Veny, Milky Wayne, Psychopop @ Space
Kickin' the Blues Potluck with the Moneymen @ Winston's (6 p.m.)
Andy & Nathan @ Martini's Above Fourth
Strictly Acoustic @ Navajo Live
Electric Relaxation '90s Hip-Hop/Chill Beats & Board Games @ Whistle Stop
Salsa & Bachata Night @ Tio Leo's
Wheels of the Industry @ Live Wire
Open Mic @ Lestat's
Game Night @ Henry's Pub
31 Flavors @ U-31
Rosemary Bystrak is the publicist for the Casbah and writes about the San Diego music scene, events and general musings about life in San Diego on San Diego: Dialed In. Follow her updates on Twitter or contact her directly.