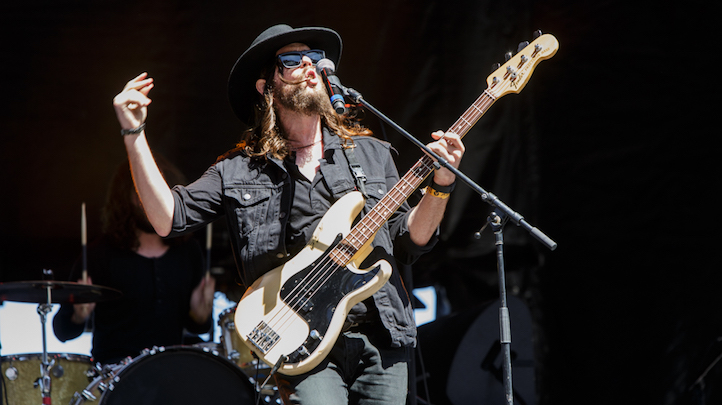 If you're a San Diegan who has been into the local scene for some time, you've certainly missed and noticed the absence of the Silent Comedy. Since co-frontman Joshua Zimmerman moved to New York and other members became dads, we don't get to see them often enough, so it should come as no surprise that their show at the Casbah is completely sold out. We hope that a new record (read out about it here) could mean more San Diego dates in the near future, but we can't be certain. Another sold-out show in town is with relative newcomer Maggie Rogers, who left us so impressed when she sold out the Irenic last year that it was only a matter of time before she moved into larger venues. If you didn't grab your tickets to either of those, your best bet tonight is to catch Devon Welsh (formerly of Majical Cloudz) at Soda Bar or our favorite mariachi metal band, Metalachi, at Belly Up.
Friday, Oct. 19:
The Silent Comedy, Creature Canyon, Stray Monroe @ Casbah (SOLD OUT)
Maggie Rogers, Mallrat @ The Observatory North Park (SOLD OUT)
Metalachi, Madly @ Belly Up
Devon Welsh, T. Gowdy @ Soda Bar
Zombie Barbie, Motorbabe, Dinosaur Ghost, the Pictographs @ Ken Club
Teenage Goo Goo Muck Misfits Tribute with DJs Gary Shuffler and Javi Nunez @ Bar Pink
(Hed) P.E., 1001, the Flood, Van Brando, J. Andrew @ Brick By Brick
Wingtips, Provoker @ Whistle Stop
Twin Guns, Hiroshima Mockingbirds, Thee Allyrgic Reaction @ Black Cat Bar
Portamento, Shameface, Blu Nites, Group Photos, No Kings, Jaws, Beldum @ SOMA
At the Gates, Wolves in the Throne Room, Thrown Into Exile @ House of Blues
Abolishment of Flesh, Begat the Nephilim, Mutilated By Zombies @ Space
Kaminanda Live Band, DJ Alchemic @ Winston's
The Frets, Aviator Stash, BlackSky Nectar @ 710 Beach Club
Montague Street @ Templar's Hall in Old Poway Park
Jesse Labelle @ Moonshine Beach
Redwood Black @ Moonshine Flats
The Naked I @ De Oro Mine Co.
Tori Roze & the Hot Mess @ The Rabbit Hole
Burlap the Sac @ City Pub
Hellmarch @ Til-Two Club
Salem's Bend, Stone Deaf, Mean Heat @ Tower Bar
Blue Frog Band @ Crossroads, House of Blues
Slow Hollows, Temporex @ The Che Cafe
Zenith @ Border X Brewing
Custard Pie @ Pour House (10 p.m.)
California Rangers @ Pour House (5 p.m.)
Lost Dakota, Dead End Drive-in, the Midnight Block, Lineup Rookie, the Waste Aways @ Bancroft Bar
Janice & Nathan @ Martini's Above Fourth
All-Vinyl Happy Hour w/Monsieur Turbeau @ The Office (6 p.m.)
Kid Wonder @ U-31
Blue Largo CD Release @ Tio Leo's
Wildside @ Humphreys Backstage Live (9 p.m.)
Mercedes Moore @ Humphreys Backstage Live (5 p.m.)
Santana Pa Ti, the Finns @ Navajo Live
Now & Later with DJ Artistic and friends @ El Dorado
The Lemon Twigs, Jungle Green @ Music Box
Touch Sensitive @ Bang Bang
SD Union with LTJ Bukem, Garva, Ghost M.D., Rebellion, EVLO, Mayeski, NIX, MC Ridda, Subliminal @ Spin
John Scofield Combo 66 @ TSRI
We Are Your Friends Indie Dance Party @ Blonde
Steven Lin, piano: 2018-2019 Chamber Series @ La Jolla Athenaeum
Cash Cash @ Omnia
Beatnick @ FLUXX
Pulsar Arises Live Music & Art Show @ Kava Lounge
Rosemary Bystrak is the publicist for the Casbah and writes about the San Diego music scene, events and general musings about life in San Diego on San Diego: Dialed In. Follow her updates on Twitter or contact her directly.